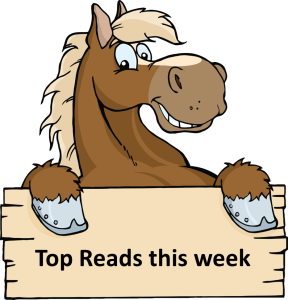 Rounding up top reads from around the web, including articles shared by fellow investors in the Financial Horse Facebook Group.
---
The spread of the disease caused by the virus, Covid-19, has sent financial markets into a tailspin despite some of the biggest emergency stimulus measures since the global financial crisis announced by dozens of central banks across Europe, the Americas, Asia and Australia.
The panic was clear in stocks, bonds, gold and commodity prices, underlining expectations of severe economic damage from the outbreak.
"The evolving news on Covid-19 has triggered 'forecast leap frogging,' with economists and strategists repeatedly lowering their forecasts. Among the big three economies, the US and the euro area will see negative growth, while Chinese growth is expected to come in at a paltry 1.5 per cent," said Ethan Harris, head of global economics at BofA.
"Our first piece on the virus shock was titled 'bad or worse'; now we amend that to 'really bad or much worse.' We now expect Covid-19 to cause a global recession in 2020, of similar magnitude to the recessions of 1982 and 2009."
---
Lawrence Wong, Singapore's minister for national development, said the fight against the new coronavirus disease — or COVID-19 — could "drag on for a year and beyond a year."
"So, whatever the timing of the election, because it has to be held by April 2021, it is very likely that it will have to be held when COVID-19 is still circulating in our midst — that's the reality," said Wong.
---
Mr Iswaran, together with Ms Sim, greeted and thanked around 90 Malaysian postal crew members who had decided to stay in Singapore to ensure the continuation of the postal service here. SingPost has arranged for more than 400 of its Malaysian staff to stay in three different hotels.
---
CNMC Goldmine Holdings, listed on the Catalist board, said it has stopped all mining activities in Kelantan to comply with Malaysia's movement-control order from March 18 to March 31, it said on Wednesday. Meanwhile, Malaysia-based developer Aspen (Group) Holdings has closed its headquarters, offices and sales galleries in Malaysia, and halted construction works for ongoing projects due to the government order, it said on Tuesday.
---
The Federal Reserve's recent interest-rate cuts have done little to stop the stock market crash.
The Fed's series of rate cuts over the past six months, when there was no imminent signs of recession, left it without the ammunition to fight a real economic crisis, like the coronavirus.
Once the crisis passes, there's a good chance of a lopsided recovery with slow output growth with accelerating prices and inflation; in other words, stagflation. 
---
Billionaire entrepreneur Mark Cuban told CNBC that companies that receive federal assistance in response to the coronavirus should be prevented from buying back stock ever again. 
"Not now. Not a year from now. Not 20 years from now. Not ever," Cuban said.
He also said, "Whatever we do in a bailout, make sure that every worker is compensated and treated equally."
---
Giant employers of lower-wage workers like McDonald's and Starbucks spent and borrowed money for stock buybacks and dividends.
Now companies are trying to tap credit to manage cash, avoid layoffs.
Labor unions and experts say all that shareholder money could have gone to worker raises and to shore up the balance sheet during the bull market to better prepare for a financial downturn.
The tax cuts of 2017 are also now being scrutinized. 
---
Investor Bill Ackman urged President Donald Trump and corporate America in an impassioned plea on CNBC to shut down the country for 30 days to contain the fast-spreading coronavirus, calling it the only option to rescue the economy. "What's scaring the American people and corporate America now is the gradual rollout," Ackman told Scott Wapner on "Halftime Report" on Wednesday. "We need to shut it down now. … This is the only answer." 
"The hotel industry and the restaurant industry will go bankrupt first, Boeing is on the brink, Boeing will not survive without a government bailout," Ackman said. "Capitalism does not work in an 18-month shutdown, capitalism can work in a 30-day shutdown."
---
"Singapore Airlines is suspending additional services across its network amid an unprecedented time in the airline industry," it said in a news release on Tuesday (Mar 17). With the suspensions, SIA will operate only 50 per cent of its scheduled capacity up to the end of April.
---
Budget carrier Jetstar Asia will be suspending its operations for three weeks, from March 23 to at least April 15, amid the Covid-19 pandemic. This is "the result of the introduction of new government restrictions across multiple jurisdictions in recent days," the Singapore-based carrier said in a travel alert on Tuesday (March 17).
---
From Friday through Tuesday, Connecticut saw 30,000 new claims for jobless benefits vs. 3,000 in a typical week, the Hartford Courant reported. On Tuesday, Marriott International (MAR) said it had begun to furlough what it expects will be tens of thousands of employees across the globe.
Even if Goldman's forecast proves accurate, that implies an outright economic contraction of 1.25% over the first six months of 2020. The Economic Policy Institute estimates that would cost 3 million jobs, "even with moderate fiscal stimulus."
That might be optimistic. The U.S. Travel Association warned that millions of 3.6 million travel-industry job losses alone by June. As Mnuchin pushes for a massive stimulus, he has reportedly warned of 20% unemployment, twice that seen at the height of the financial crisis.
---
Nothing was spared. Oil prices looked like they were reliving the 1970s, dropping 24 percent to near $20 per barrel for the commodity's third-biggest rout in history. All 11 Standard & Poor's sectors were in the red. The day's poorest performers were in the travel and tourism sphere: Marriott down 34 percent. United Airlines, 33 percent. MGM Resorts, 30 percent. Alaska Air, 32 percent.
---
Just three weeks ago, the U.S. stock market was at record highs—but is now down nearly 30% from those levels. Trading has been halted several times in the last ten days in an unsuccessful bid to halt the market's free fall. After last week's massive losses, U.S. stocks are now deep into bear market territory—when that happens, a recession has followed 80% of the time, according to Bloomberg. Trump himself acknowledged on Monday that the coronavirus outbreak could last longer than expected—until August, and that the U.S. subsequently "may be" heading for a recession; experts agree.
Healthcare
Work from home economy
Self-quaratine 
Consumer Goods
---
"Worldwide panic is setting in," says John Spensieri, head of U.S. equities trading at Stifel. "The number of infections are growing, businesses are shutting down and schools across the country are closed. The reality is this will definitely hurt small businesses and hourly wage earners. The totality of everything is just too much for the market to bear all at once."
"There's no clarity. We don't know what the real effects from these monetary and fiscal policies are going to be for a while," says Rich Sega, global chief investment strategist at asset manager Conning. "We need to see data that shows that the infection rate has peaked."
A global recession is Morgan Stanley's "base case," with growth expected to fall to 0.9% this year, analysts said in a note. Global growth is forecast to contract 0.3% in the first quarter and 0.6% in the second quarter, they said. A "strong monetary and fiscal policy response" from the U.S. government is expected to help revive global growth in the third quarter.
In Europe, the FTSE 100 in London dropped 4.2% and Frankfurt's DAX skidded 5.2%. France's CAC 40 shed 5.4%. In Asia, the Shanghai Composite Index fell 1.8% and the Nikkei 225 in Tokyo shed 1.7%. Hong Kong's Hang Seng skidded 4.2%.
---
Many economists and analysts are worried that the coronavirus outbreak could disrupt life in the U.S. for an extended period and in turn drag the economy into a recession. Monday's severe stock selloff and worse-than-expected economic data from China and the U.S. have further intensified that fear.
While the Fed has shown full commitment to mitigate the damage, a low-rate environment over the past few years has depleted much of its firepower. The central bank on Sunday cut interest rates to a range of 0 to 0.25%, which means it is effectively out of basis points, unless officials decide to move to negative rates.
The Fed also announced on Tuesday that it was taking measures to support the market for short-term corporate debt. Fed Chair Jerome Powell said on Sunday that the central bank still has plenty of other tools, but also emphasized that fiscal actions are needed to help Americans keep paying bills even if they are stuck at home.
If Saudi Arabia and Russia continue to oversupply the oil market in their price war, the built-up inventory could keep crude prices low for an extended period and severely pressure the oil industry. Meanwhile, the U.S. presidential election has left investors even more uncertain about what economic policy and the health-care system will look like a year from now, and uncertainty discourages risk-taking and capital spending.
Looking for a comprehensive guide to investing? Check out the FH Complete Guide to Investing for Singapore investors.
Stock Watch 2020: Support the site as a Patron and get market updates. Like our Facebook Page and join the Facebook Group to continue the discussion!