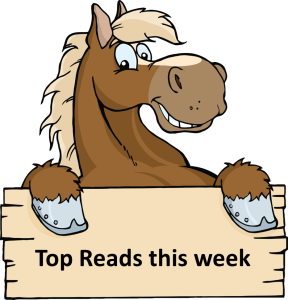 Rounding up top reads from around the web, including articles shared by fellow investors in the Financial Horse Facebook Group.
---
Mid-March to present: Second wave of imported cases. This has seen numbers doubling in a week from 266 to 558 as of Tuesday, and almost 80 per cent of these were imported. The patients are not from China, even though about 1,000 Singapore permanent residents and long-term pass holders have returned from China in the past week. Instead, the new cases are Singaporeans and residents returning from three key countries: Britain, the United States and Indonesia. The big worry now: "Over the coming weeks, the number of cases will continue to rise, as some of our around 200,000 overseas Singaporeans return home from all over the world," said Mr Gan.
---
MTI downgraded its 2020 growth forecast to a range of -4.0 to -1.0 per cent this year, from an earlier estimate of -0.5 per cent to 1.5 per cent. The last time Singapore registered a full-year contraction of its economy was in 2001 during the Dot-com Bust when growth fell by 1 per cent. The outlook was slashed after advance GDP growth estimates showed the economy contracting by 2.2 per cent year on year in the first quarter of this year.
---
Describing the coronavirus pandemic as an "unprecedented crisis of a highly complex nature", Mr Heng said: "In economic terms alone, this will likely be the worst economic contraction since independence." Setting out the grim economic outlook worldwide, Mr Heng said the global economy is now facing both a supply and demand shock. The country has stepped up its measures as the outbreak worsened worldwide, he noted. However, the Covid-19 pandemic is likely to take at least a year to be resolved, and the economic repercussions will last even longer, Mr Heng said.
---
The joint statement, which was issued by ministers from Singapore, Australia, Brunei, Canada, Chile, Myanmar and New Zealand, recognised the "mutual interest" between countries in ensuring trade lines remain open to facilitate the flow of goods and essential supplies.
---
To slow the spread of the coronavirus, Singapore has taken some drastic measures this week. First, the doors were closed to tourists and short-term visitors. Then pubs and entertainment outlets were ordered to be shuttered and large gatherings banned. As the country's coronavirus infections climb, surging to new double-digit highs daily, calls for the Government to impose a lockdown have become louder. The belief is that if daily life grinds to a near-halt, so too will the virus' spread. This strategy had helped to defeat the Sars-CoV-2 virus, which causes Covid-19, in the Chinese city where it first emerged.
---
The number of coronavirus patients aged between 20 and 29 has overtaken that of patients aged 60 and above to become the largest infected group, with most young adults having caught the bug overseas, primarily in Britain.
---
The head of Oversea-Chinese Banking Corp's private banking arm said the coronavirus-fueled crisis has yet to peak and leveraged clients should take advantage of market rallies to offload some investments. "You use the rebound to sell some of the items, some of the securities that you do not want to hold. That's the best time to do it," Bank of Singapore chief executive officer Bahren Shaari said in a Bloomberg Television interview on Wednesday (March 25). "We are only beginning to see the first part of the crisis," he said. "Many countries are still not well prepared, still do not have a clear plan of how to deal with it."
---
 Singapore Airlines' (SIA) stock price saw some volatility on Friday morning (March 27), shortly after the flag carrier proposed issuing bonds as well as new shares at a hefty discount to raise some $8.8 billion.
---
Trump said at a news conference Monday night that at some point soon the damage being done to the economy could be worse than the threat of the virus spreading further. He said the decision could be based geographically with areas of the country with a low number of positive cases moving back to a normal routine while areas such as New York remain under restrictions.
---
The legislation would expand and extend unemployment benefits, send most Americans a $1,200 per person check, incentivize and compensate businesses to keep workers employed, facilitate new loans and grants to large and small businesses, increase aid to states, spend more on hospitals, offer targeted tax relief, and enact other tax and spending changes.
---
The Senate passes a roughly $2 trillion economic relief plan in response to the coronavirus pandemic.
It includes direct payments to Americans, strengthened unemployment insurance, loans to businesses small and large and increased health care resources for hospitals, states and municipalities. 
---
Mark McCormick, strategist at TD Securities, said the fiscal stimulus could "cushion the blow to the economy, but we don't think that it's all systems go for risk assets. At least, the path ahead will be choppy."
Management Risk appetite for corporate credit did seep back on Wednesday. The iShares iBoxx $ High Yield Corporate Bond ETF, better known as HYG, was up about 3.6 per cent on the day, though it is down over 15 per cent so far this year. Bourses across Europe, meanwhile, advanced after rollercoaster trading earlier in their sessions. The continent-wide Stoxx 600 was up 3.1 per cent, having jumped close to 5 per cent. The index on Tuesday posted its third-best day on record. London's FTSE 100 was up 4.4 per cent. The 10-year US Treasury yield was unchanged on the day at 0.85 per cent. Brent crude edged higher by 2 per cent to $27.71 a barrel.
Investors remained deeply sceptical over whether stock markets had really hit bottom. "Markets stop panicking when politicians start panicking," said Andrew Slimmon, senior portfolio manager for Morgan Stanley Investment Management. "It's a relief rally, but the problem is we haven't seen companies announce guidance — there will be the drip of continued bad news that will test these levels in the market."
---
"Coming on the heels of the central banks, there is increasing optimism that politicians are starting to understand the scale of the economic stop coming our way, as the death toll across Europe and the US continues to rise," wrote Michael Hewson, chief market analyst at CMC Markets UK, in a research note. Even so, he noted that most bear markets experience "sharp and violent counter moves to the upside," adding that was the case during the 2008 global financial crisis. Recent upswings "could well be another bull trap, and an opportunity to sell at better levels, if politicians disappoint," Hewson added.
The novel coronavirus "very well might" become cyclical and the US needs to be prepared for it to return seasonally, Dr. Anthony Fauci said at the White House on Wednesday.
"I know we'll be successful in putting this down now, but we really need to be prepared for another cycle," Fauci, the nation's top expert on infectious disease, told reporters at the daily coronavirus briefing.
Fauci said this emphasizes the need to rapidly develop and test a vaccine for the novel coronavirus.
---
Experts warned of a "catastrophic unemployment crisis" after the labor department announced jobless claims filed by individuals seeking unemployment benefits rose by more than 3 million to 3.28 million from 281,000 the previous week. The figure is the highest ever reported, beating the previous record of 695,000 claims filed the week ending 2 October 1982.
---
China's National Health Commission reported 47 new confirmed cases and four more deaths as of March 24. It said all new cases were all imported, meaning they traveled from overseas.
Malaysia has reported another 172 cases of the coronavirus, taking the country's total confirmed cases to 1,796, Prime Minister Muhyiddin Yassin said in a televised address. 
The White House and Senate leaders reached a deal on a massive $2 trillion coronavirus stimulus bill to combat the economic impact of the outbreak.
---
Spain's death toll from the coronavirus has surpassed the official figure from China, becoming the second highest in the world. The number of deaths rose by 738 in 24 hours – a daily record – to 3,434, higher than the 683 announced in Italy. By comparison, China has officially reported 3,285 deaths, while Italy – the worst affected country – has 6,820. Spain's rate of infection has increased by a fifth and almost 27,000 people are being treated in hospital.
---
So far, 578 people in the United Kingdom have died after testing positive for coronavirus and the number of confirmed cases has risen to 11,658. The UK toll is the seventh worst in the world, after Italy, Spain, China, Iran, France and the United States, according to a Reuters tally.
---
Singapore residents or long-term pass holders who insist on leaving the country despite the Government's travel advisories will have to pay full hospital charges if admitted for coronavirus-related treatments.
About 1,000 continue to travel daily, risking the health of other Singaporeans and residents when they return, the Ministry of Health (MOH) said on Tuesday (March 24).
---
Hospital staff in the city say there is no evidence that these patients became infectious after recovery
Tests carried out on patients suggest between 3 to 10 per cent gave positive tests after being discharged
---
Chinese volunteers in a clinical trial for the first COVID-19 vaccine developed by the country's military scientists received injections on Friday, marking a significant breakthrough that highlights China's strong research capabilities, according to experts. The first batch of volunteers, all Wuhan permanent residents aged between 18 and 60, has been divided into three groups, each consisting of 36 members, the Science and Technology Daily reported on Saturday. They will be quarantined for 14 days and researchers will follow them for six months to monitor any adverse reactions. The  product is a recombined vaccine jointly developed by Tianjin-based biotechnology company CanSino Biologics Inc and a research team headed by Chen Wei, an expert of biological hazard prevention and control from the PLA Academy of Military Medical Sciences and a major general of the Chinese military. 
---
The US has now surpassed China and Italy — two countries hit hard by the coronavirus — with at least 82,100 reported cases, but several health officials and experts say it's still the beginning. When President Donald Trump said he hopes to have Americans back at work by Easter, he was making an "aspirational projection," said Anthony Fauci, one of the country's top health officials.
---
Looking for a comprehensive guide to investing? Check out the FH Complete Guide to Investing for Singapore investors.
Stock Watch 2020: Support the site as a Patron and get market updates. Like our Facebook Page and join the Facebook Group to continue the discussion!