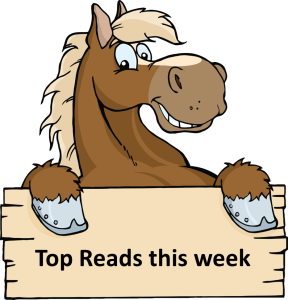 Rounding up top reads from around the web, including articles shared by fellow investors in the Financial Horse Facebook Group.
---
Since the start of the Covid-19 pandemic, indicators of dollar funding costs in foreign exchange markets have risen sharply, reflecting both demand and supply factors.
The demand for dollar funding has grown in recent years, reflecting the currency hedging needs of corporates and portfolio investors outside the United States.
Against this backdrop, the financial turbulence of recent weeks has crimped the supply of dollar funding from financial intermediaries, sharply lifting indicators of dollar funding costs.
These costs have narrowed after central banks deployed dollar swap lines, but broader policy challenges remain in ensuring that dollar funding markets remain resilient and that central bank liquidity is channelled beyond the banking system.
---
Additional support for businesses and families will be announced by Deputy Prime Minister Heng Swee Keat next week, when Parliament sits from Monday (April 6). DPM Heng's Facebook post elaborates on some of the measures announced by Prime Minister Lee Hsien Loong a couple of hours earlier in an address to the nation. These "circuit breaker" measures to curb the spread of the coronavirus in Singapore include a shutdown of most workplaces and a full roll-out of home-based learning for students. PM Lee acknowledged that the measures will severely impact businesses and workers.
---
A NEW Bill in Singapore aims to grant temporary relief for six months to those who cannot fulfill contractual obligations – such as rent payments or planned events – because of Covid-19, such that tenants cannot be evicted and deposits are not automatically forfeited. In a rare example of retroactive legislation, the measures will apply to contracts that were entered into or renewed before March 25, 2020, and cover contractual obligations to be performed on or after Feb 1, 2020. The Bill also temporarily raises the monetary thresholds and time limits for bankruptcy and insolvency, making it harder for individuals to be declared bankrupt or businesses to be declared insolvent. If there are disputes, parties can apply to a body of assessors, at no cost, with resolution to come within five days.
---
Individuals can apply to their banks and insurers to defer repayment of property loans, as well as premium payments for life and health insurance plans, as part of a package of measures to ease their financial strain arising from the Covid-19 outbreak. The package, rolled out by the Monetary Authority of Singapore (MAS) and the financial sector on Tuesday (March 31), also offers cash flow support to small and medium-sized enterprises, such as by ensuring continued access to bank credit and insurance cover.
---
Takings at the till sank in February, with the coronavirus outbreak causing the steepest month-on-month fall in 12 years, according to figures released by the Department of Statistics (Singstat) on Friday (April 3). Retail sales slid for the 13th consecutive month, by 8.6 per cent, compared with the same period last year. Excluding motor vehicles, retail sales fell by a larger 10.2 per cent. From the previous month and seasonally adjusted, retail sales in February fell 8.9 per cent, the biggest drop since July 2007.
---
---
Finance Minister Olaf Scholz urged leading companies to refrain from taking rash action that could hurt property owners. "It's irritating when large companies simply announce a halt on paying rent," Mr Scholz told the Bild daily, urging retailers to reach out to landlords to find solutions. "Now is the time to work together," he said. The move comes after the German government unveiled a major rescue package to protect companies and jobs from the economic impact of the pandemic.
---
Stocks fell slightly on Friday to end another volatile week of trading as investors weighed a massive drop in U.S. jobs along with a spike in oil prices. U.S. payrolls fell by 701,000 in March, marking the worst jobs report since 2009, while the unemployment rate jumped to 4.4%. However, the report failed to capture the full extent of the economic blow being dealt by the coronavirus outbreak. On Thursday, the Labor Department said jobless claims jumped by a record of 6.6 million for the week of March 27. However, the decline in stocks was mitigated by a 12.4% rally in crude, which added to oil's record rally from the previous session. West Texas Intermediate futures soared 24% on Thursday for their best day ever, lifting the major stock indexes.
---
Wilmington Trust's Meghan Shue warns two grim quarters are ahead — not just one. "We can't help shake the feeling that the markets are still pricing in the best case scenario," she added. "The market is expecting a bit of a light switch turning on of the economy at designated time, and we don't think that's likely."
She thinks the economy will restart gradually once there's confirmation coronavirus cases are flattening. That could mean the pain will persist deep into the third quarter, too. "We need more data so people can get more comfortable with the risk that they face going back out and eating at restaurants or going to the movies," said Shue. Shue, who has $107 billion in assets under management, went underweight to stocks in late February as coronavirus risks were growing. However, shes seeing pockets of opportunities and is starting to position for a market comeback. Shue predicts the market will ultimately regain its footing between the end of the year and early 2021.
---
Total sum: S$5.3 billion.
Number of rights shares to be issued: Up to 1.778 billion rights shares to be issued, on the basis of 3 rights shares for every 2 shares of SIA that currently exist. There are 1.185 billion SIA shares that exist right now.
Price per rights share: S$3.00.
Renounceable? Yes, this rights shares issue is renounceable, so you will get to trade the rights.
Changes in SIA's book value per share (BVPS) and earnings per share (EPS) because of the rights issue: As of 31 December 2019, SIA's BVPS and trailing-12-months EPS were S$10.25 and S$0.67, respectively. After the rights shares issue, the BVPS will fall to around S$5.89 while the EPS will decline to S$0.27, assuming everything else stays constant.
What you have to effectively pay for SIA's shares: At the time of writing (11:20 am, 30 March 2020), SIA's share price is S$5.82. If you subscribe for your full allotment of rights shares, you're effectively paying a price of S$4.13 per share for SIA's shares. The math works this way: Effective price per share = [S$5.82 + (S$3.00 x 1.5)] / 2.5.
The effective valuations you're getting: At an effective share price of S$4.13, SIA will have a price-to-book ratio of 0.7 and a price-to-earnings ratio of 15.
---
Following an announcement by the Monetary Authority of Singapore to provide relief to consumers and small businesses via deferred payments and other measures, a report by Jefferies signaled bigger hits to profits. In the worst-case scenario, UOB could lose 18 percent of revenue followed by OCBC's 16 percent and DBS's 14 percent due to the new measures that could pressure banks to provide payment deferrals and rate cuts on mortgage and personal loans.
---
Moody's downgraded the outlook for Singapore's banking sector to "negative" from "stable", citing risks of rising bad loans and deteriorating profitability due to an economic slowdown and a decline in interest rates amid the coronavirus outbreak. "Credit costs will rise as asset quality worsens, while interest rates will decline due to monetary easing, weighing on net interest margins," the ratings agency said in a report on Thursday (April 2).
---
"We turn cautious on the retail S-Reit (Singapore Reit) sector in view of unprecedented tightening measures introduced by the government. With a focus on conserving cash due to worsening operational outlook, we anticipate potential cuts in payout ratios (from 100 per cent to 90 per cent) for most retail S-Reits and cut our distribution per unit to the tune of 14 per cent to 27 per cent, on the back of rental rebates offered by landlords to affected tenants," the analysts noted. 
DBS added that further tightening rules and advisories against travelling to shopping malls and suspension of entertainment outlets or tuition centres will have a significant near-term impact on retail landlords. Meanwhile, the potential release of a Covid-19 temporary measure Bill which absolves tenants of their rental obligations for up to six months will introduce further uncertainty to an already challenged retail sector, the analysts said.
---
Singapore gaming company Razer announced plans on Wednesday (Apr 1) to set up an automated face mask manufacturing line within 30 days to produce "a couple of million certified masks" each month. Razer CEO Tan Min-Liang announced the plans on his Facebook page at about 9am, calling on Singaporeans or Singapore companies to buy the first US$50,000 worth of masks off the line.
---
People infected with the novel coronavirus can transmit the infection one to three days before symptoms start to appear, according to a study published by the US Centers for Disease Control and Prevention (CDC). The study, which underscored the importance of social distancing to fight the coronavirus outbreak, looked at 243 cases of COVID-19, the illness caused by the coronavirus, reported in Singapore between Jan 23 and Mar 16.
---
Residents in Housing Board flats who have been using their keys or other objects to prod lift buttons during the coronavirus outbreak can now set their minds at ease, as a self-disinfecting coating that lasts for three months has been applied to buttons in all HDB lifts as well as lift lobbies in Singapore. The coating, called sdst, kills bacteria, viruses and fungi upon contact and remains in place even with repeated scrubbing and cleaning, as chemical bonding agents help it to adhere tightly to surfaces at a molecular level.
---
As the coronavirus pandemic wrecks economies, markets and fortunes, three founders of a company that makes ventilators have added a combined US$7 billion (S$10 billion) to their wealth this year. Shenzhen Mindray Bio-Medical Electronics Co shares have climbed 40 per cent, fuelled by a surge in demand for the life-saving devices. Covid-19, the disease caused by the virus, has flooded hospitals worldwide with patients struggling to breathe. Chairman Li Xiting, a Singapore citizen and the city-state's richest man, has added US$3.5 billion to his net worth this year and had a US$12.5 billion fortune as of end-Thursday, according to the Bloomberg Billionaires Index. That puts him among the top five gainers in the world. Mr Jeff Bezos – the world's richest person – is up US$3.4 billion, while Mr Bill Gates is down US$15.3 billion.
---
Looking for a comprehensive guide to investing? Check out the FH Complete Guide to Investing for Singapore investors.
Stock Watch 2020: Support the site as a Patron and get market updates. Like our Facebook Page and join the Facebook Group to continue the discussion!