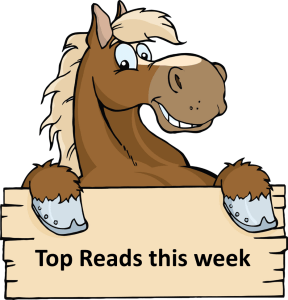 Rounding up top reads from around the web, including articles shared by fellow investors in the Financial Horse Facebook Group.
---
The manager of Mapletree Commercial Trust has agreed to acquire Google's Asia Pacific headquarters in Singapore as part of a S$1.55 billion ($1.14 billion) purchase of four buildings in the city's Pasir Panjang area.
Mapletree Commercial Trust Management, in an announcement to the Singapore stock exchange on Friday, said that it had agreed to acquire the second phase of the Mapletree Business City office development from the trust's sponsor, Mapletree Investments, in a move which adds 1.2 million square feet (111,484 square metres) of office space to the Singapore-listed REIT's portfolio.
While the structure and timing of the equity fund raising has yet to be determined, post-acquisition distributions per unit are forecast to increase 4 percent to 9.51 cents, and net asset value per unit is expected to increase 2.2 percent to S$1.65.
---
Singapore and Hong Kong were once British colonies. But unlike Singapore, Hong Kong continues to struggle to find its own identity, said historian Wang Gungwu. Part of the reason lies in Hong Kong's deep historical connections and reliance on China as a hinterland, even when it was a British colony, said Professor Wang, adding that the connection is so entrenched that Hong Kongers find it difficult to carve their own course.
This challenge requires Singapore to do both – to connect with places far away to survive economically, politically and security-wise, and unless it reconnects with the neighbourhood, with the nearby states, it will find it extremely difficult to face the next few decades.
---
Private home prices in Singapore rose for the second consecutive quarter, with apartments in the central region proving most popular with buyers. The private residential property index increased 0.9 per cent to 152.2 points in the third quarter, data from the URA showed.
In the landed property segment, prices fell by 2.2 per cent in the third quarter, compared with the 0.1 per cent decrease in the previous quarter. Prices for private homes in the non-landed segment rose 1.7 per cent, compared with the 2 per cent increase in the previous quarter. Those in the Core Central Region (CCR) rose the most at 2.9 per cent, followed by apartments in the Rest of Central Region (RCR) at 1.6 per cent and those in the Outside Central Region (OCR) at 0.7 per cent.
---
Singapore has agreed to Malaysia's request for an additional one-month suspension of the Rapid Transit System (RTS) project in the spirit of bilateral cooperation, and also agreed to waive additional costs incurred during the period, said a Ministry of Transport (MOT) spokesman.
Both governments signed a bilateral agreement last year to build the 4km cross-border MRT link from Woodlands in Singapore to Bukit Chagar in Johor to help alleviate congestion on the Causeway. But in March, Malaysia requested a six-month extension to respond to Singapore on issues relating to the RM4 billion (S$1.3 billion) project. Then in May, both countries agreed to suspend work on the RTS link until Sept 30.
---
The bottom fell out of gold on Monday, driving it to a near-two-month low while palladium surged to record highs on fears of a supply deficit.
U.S. gold futures for December delivery settled down $33.50, or 2.2%, at $1,472.90 per ounce on the Comex division of the New York Mercantile Exchage. The session low was $1,470.65, marking a bottom since Aug. 6.
---
High-income households spend more money on cultural experiences and travel
Households in the 91st-100th income decile spend the least on children's pocket allowances
High-income households spend the least on tobacco products
Despite differences on a granular level, there are many similarities between high-income and mid-income household expenses.
---
In what should send shudders through the retail healthcare market, Amazon took another step into the industry by announcing the creation of Amazon Care in September. The pilot program, currently only available for its Seattle employees and their families, melds telemedicine with in-home or in-office visits.
With the new service, employees can have video visits via the app with doctors, nurse practitioners, or registered nurses. They are able to text a nurse and get answers in minutes. If the worker or his or her dependents need in-person care, a nurse will come to their home or office. Amazon Care participants also get their prescription drugs filled through Amazon; they can be delivered or picked up at a participating pharmacy.
---
Edward McQuarrie, a professor emeritus at the Leavey School of Business at Santa Clara University in California, has painstakingly reconstructed U.S. stock- and bond-market returns back to the late 1700s. Except for 40 of the past 220 years — 1942 through 1982 — stocks and bonds have produced essentially equal returns.
The net effect of his findings is to reduce estimates of what researchers refer to as the "equity premium" — the margin by which stocks outperform bonds. Previous research had found this premium to be much larger — as much as six or more annualized performance points, according to some studies. McQuarrie's best guess, based on the entire period since 1793, is that the premium is just 1.7 annualized percentage points.
The more shocking implication of McQuarrie's data is not that the equity premium is far smaller than previously thought. It's that, for some periods over a lifetime and longer (think about your heirs), there is no equity premium at all.
---
Real estate is real, and it's always a good idea to put your money in real assets. But let me be clear: That doesn't mean that all real estate is a good idea. I only buy certain types of properties, generally multifamily ones in upscale locations that provide consistent cash flow and great potential for future appreciation.
Most millionaires I know made more money from owning real estate than any other investment. Real estate consistently increases in value over time and outperforms other investments. Plus, it isn't as vulnerable to short-term fluctuations as the stock market. You get a tangible, usable asset, whether you're renting out an apartment or commercial building for income or buying a home. And there can also be tax benefits for investment properties. It's always a good time to buy real estate. In fact, the real wealth is made by buying when everyone else is selling and vice versa. While many are talking about a recession, the market is strong, with increasing prices and transactions.
---
Bitcoin (BTC-USD) is rallying after seeing its worst week in months, with shares trading above $8,000 as of Tuesday afternoon. Overall market volatility has the cryptocurrency top of mind for many investors.
This week, Bloomberg reported that stablecoin tether (USDT-USD) saw its daily volume surpass bitcoin's for the first time in April, even though its market capitalization is still significantly smaller than bitcoin's. Tether's monthly trading volume is 18% higher than bitcoin's, according to Bloomberg, which cited data from CoinMarketCap.com
Facebook's Libra — a cryptocurrency it plans to launch in 2020 — was also in the spotlight this week. CNN reported that it's facing more regulatory scrutiny over whether its appointed independent body would be able to stay neutral.
---
Do at least 10% more than you are asked.
Never, ever, to anybody present as fact opinions on things you don't know. Takes great care and discipline.
Be courteous and considerate always — up and down.
Don't knock, don't complain — stick to constructive, serious criticism.
Don't be afraid to make decisions when you have the facts on which to make them.
Quantify where possible.
Be open-minded but skeptical.
Be prompt.
---
Other laws, such as the Telecommunications Act and the Broadcasting Act, already criminalise falsehoods and enable the Government to penalise those dealing in mistruths. Pofma, on the other hand, gives the Government more targeted powers to stop the spread of any falsehoods which would hurt the public interest, such as by damaging Singapore's security, foreign relations, public peace, health, safety and finances.
Its ambit also includes falsehoods that: Influence elections; Incite hatred between different groups of persons.
---
OCBC subsidiary Lion Global Investors (LGI) has collaborated with Saxo Markets to launch the Saxo LGIDirect platform, the two firms announced in a joint statement on Tuesday. The platform is a bespoke version of the Saxo Investor platform, and allows investors to directly access LGI funds and single securities offered by Saxo. With Saxo LGIDirect, investors can expect a speedier sign-up process and low fees – its funds on the platform will not have sales charges or platform fees.
---
A sell-off in US and European stocks carried over into Asia-Pacific on Thursday amid renewed fears over the state of the global economy. As the global rout took hold in the region, Japan's Topix slid 2.1 per cent, setting the index up for its worst day in almost two months. Australia's S&P/ASX 200 also took a sharp downward turn, falling 2.2 per cent, putting the index on track for its worst one-day performance in seven weeks.  Hong Kong stocks fell 0.8 per cent, while China and South Korea are closed for public holidays.
Those falls came after London's FTSE 100 posted its largest one-day drop since January 2016 and on Wall Street, the S&P 500 slipped 1.8 per cent following poor US jobs data that added to a weakening outlook for the world's biggest economy. The ongoing US-China trade war, US tariffs on EU goods and Brexit also dragged on sentiment.
---
Samsung Electronics has ended mobile telephone production in China, it said on Wednesday (Oct 2), hurt by intensifying competition from domestic rivals in the world's biggest smartphone market. The South Korean tech giant's ceased phone production in China follows other manufacturers shifting production from China due to rising labour costs and the economic slowdown.
Sony also said it was closing its Beijing smartphone plant and would only make smartphones in Thailand. But Apple still makes major products in China. Samsung's share of the Chinese market shrank to 1 per cent in the first quarter from around 15 per cent in mid-2013, as it lost out to fast-growing homegrown brands such as Huawei Technologies and Xiaomi Corp, according to market research firm Counterpoint.
---
Looking for a comprehensive guide to investing? Check out the FH Complete Guide to Investing for Singapore investors.
Support the site as a Patron and get market and stock watch updates. Like our Facebook Page and join the Facebook Group to continue the discussion!