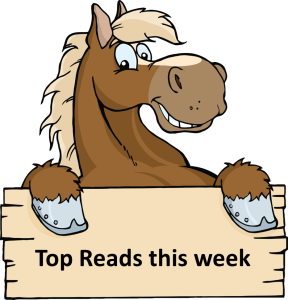 Rounding up top reads from around the web, including articles shared by fellow investors in the Financial Horse Facebook Group.
---
Coronavirus is no doubt the black swan of 2020, prompting an unprecedented lockdown in China with knock-on effects to global supply chains now starting to emerge. At the same time, the number of international cases and disruptions to economic activity continue to rise. 
In the latest edition of Top of Mind at Goldman Sachs, Allison Nathan interviews Harvard's Dr. Barry Bloom and University of Minnesota's Dr. Michael Osterholm to better understand what we know—and don't know—about the virus today. They explain that coronavirus is proving more virulent and contagious than the common flu, and its ability to be transmitted while patients are asymptomatic makes containment more challenging. Given disruptions to activity and consumption in affected areas, as well as spillover effects on global supply chains, our economists have substantially reduced global growth expectations to about 2% this year and now think central banks around the world will cut rates to help offset the economic blow, with the Fed already taking action in line with GS economists' expectations. 
---
---
I will repeat my overarching perspective, which is that I don't like to take bets on things that I don't feel I have a big edge on, I don't like to make any one bet really big, and I'd rather seek how to neutralize myself against big unknowns than how to bet on them. That applies to the coronavirus.  Still, there's no getting around having to figure out what this situation is likely to mean and how we should deal with it, so here are my thoughts for you to take or leave. In reading them please realize that I'm a "dumb shit" when it comes to viruses, though I do get to triangulate with some of the world's best experts. So, for the little that they're worth, here are my thoughts. 
Reactions to the virus (e.g., "social distancing") will probably cause a big short-term economic decline followed by a rebound, which probably will not leave a big sustained economic impact. The fact of the matter is that history has shown that even big death tolls have been much bigger emotional affairs than sustained economic and market affairs. My look into the Spanish flu case, which I'm treating as our worst-case scenario, conveys this view; so do the other cases.
While I don't think this will have a longer-term economic impact, I can't say for sure that it won't because, as you know, I believe that history has shown us that when a) there is a large wealth/political gap and there is a battle against populists of the left and populists of the right and b) there is an economic downturn, there are likely to be greater and more dysfunctional conflicts between the sides that undermine the effectiveness of decision making, and this is made worse when c) there are large debts and ineffective monetary policies and d) there are rising powers challenging the existing world powers.  The last time that happened was during the 1930s leading up to World War II, and the time before that was in the period leading up to World War I. Certainly, the wealth gap and political conflict leading to possible policy changes will be top of mind along with the coronavirus on this Super Tuesday. 
The world is now leveraged long with a lot of cash still on the sidelines—i.e., most investors are long equities and other risky assets and the amount of leveraging that has taken place to support these positions has been large because low interest rates relative to expected returns on equities and the need to leverage up low returns to make them larger have led to this. The actions taken to curtail business activities will certainly cut revenues until the virus and business activity reverse which will lead to a rebound in revenue. That should (but won't certainly) lead to V- or U-shaped financials for most companies.  However, during the drop, the market impact on leveraged companies in the most severely affected economies will probably be significant. We will show you what that looks like shortly. My guess is that the markets will probably not distinguish well between those which can and cannot withstand well the temporary shock and will focus more on their temporary hit to revenues than they should and underweight the credit impact—e.g., a company with plenty of cash and a big temporary economic hit will probably be exaggeratedly hit relative to one that is less economically hit but has a lot of short-term debt. 
---
United Airlines will cut service on domestic routes.
Companies plead with Americans not to overreact (and to keep traveling).
The I.M.F. gives a grim warning on economic fallout.
South by Southwest is still on, even as TikTok and Twitter bow out.
---
The market has been whipsawed by fears about the coronavirus. But one sector has plunged even more than the broader market in the past few days: transportation stocks, whose fortunes are inexorably intertwined with the macroeconomy.
Airlines are a barometer for sentiment. When people are traveling, it's generally a sign the economy is doing well. Right now people are staying home — and the markets are reflecting that fear. The Dow Jones Transportation Average (
DJT
), cousin to the more famous 
Dow 30
, is down 5% in the past week and is nearly 18% below its 52-week high. Amid the coronavirus worries, the transportation index is close to being in a bear market — which happens when a stock or index is 20% off a recent peak.
---
The Federal Reserve is likely to reduce interest rates, and other central banks are likely to join in. As a result, the stock market may rally.
The "buy the dip" mentality is alive and well. Expect the momentum (momo) crowd to buy this dip. The momo crowd is likely to buy speculative stocks such as Tesla TSLA, +0.54% and Virgin Galactic SPCE, -3.84%. Semiconductor stocks have been the leading indicator. Consider watching semiconductor stocks such as AMD AMD, +7.19%  and Nvidia NVDA, +7.00%.
Unless a cure is found for the coronavirus, prudent investors ought to increase the protection of long-term portfolios on rallies in the stock market. Increasing protection means a variety of measures including raising more cash, short-term hedges, medium-term hedges, more diversification and reducing concentration. Prudent investors should also consider taking advantage of short-term trading opportunities.
---
You should expect the market to stay volatile until the coronavirus situation has been handled. In the meantime, I would suggest picking up a few solid dividend stocks that add more value to your portfolio when stock prices are going down. Right now, three of the best options for a $10,000 investment would be technology giant IBM (NYSE:IBM), drugstore chain Walgreens Boots Alliance (NASDAQ:WBA), and tobacco titan Altria (NYSE:MO).
---
No industry has been punished more recently than oil companies. These undervalued companies have significant potential to reward shareholders. As we'll see throughout this article, ExxonMobil (NYSE: XOM), Gran Tierra Energy (NYSEARCA: GTE), and Occidental Petroleum (NYSE: OXY) are three companies with the ability to generate significant shareholder rewards if you invest today.
---
Worry that oil producing heavyweights Saudi Arabia and Russia were headed for a stalemate on production-cut talks sent crude prices lower on Wednesday, amid data showing U.S. output at a new record high.
Crude prices began the day up on reports that oil producers gathered in Vienna under the OPEC+ alliance would agree to a total production cut of at least 1 million barrels per day from this quarter onward to mitigate some of the demand destruction to energy from the novel coronavirus outbreak. Adding to a prior deal in December, OPEC+ would be removing a total 3.1 million bpd, or 3.1% of global supply, from the market if those reports proved true.
Yet Bloomberg reported by midday that Russian Energy Minister Alexander Novak had left Vienna, ahead of Friday's all-important meeting with the Saudis and the customary news conference that would announce the new deal. Bloomberg did not provide details but CNBC reported that while the Saudis had an appetite for higher oil prices, Moscow was "perfectly happy" with crude futures at between $50 and $60.
---
London's Metropolitan Police have released images of four men who allegedly assaulted Singaporean student Jonathan Mok in a coronavirus-related racist attack on Feb 24. The police have yet to make any arrests, but said in a statement on Wednesday (March 4) that they are trying to identify and speak to the four men pictured. Detective Sergeant Emma Kirby, the officer on the case, said the police are "committed to finding the perpetrators", noting that "there's no room on our streets for this kind of violent behaviour".
Mr Mok, 23, had opened up about the attack, which took place in Oxford Street near the London Underground's Tottenham Court Road train station, on Tuesday on Facebook. The law student at University College London said he heard a group of young people say "coronavirus" as he walked past them at about 9.15pm. When he turned around to face the group, he was punched in the face, with one of the suspects saying "I don't want your coronavirus in my country" before the group fled.
---
A $106 billion Unity Budget was unveiled by Deputy Prime Minister Heng Swee Keat on Feb 18. Along with strategies to tackle immediate and long-term challenges were measures to help Singapore's youth face a secure future with confidence.
To that end, the Government will provide every Singaporean aged 25 and above in 2020 with a one-off $500 SkillsFuture credit top-up to boost industry readiness. The top-up, which can be used from Oct 1, will expire at the end of 2025. This is in addition to the initial $500 SkillsFuture credit that was introduced in 2015 with no expiry date.

---
New research from Singapore published on Wednesday (Mar 4) showed that patients with the novel coronavirus extensively contaminate their bedrooms and bathrooms, underscoring the need to routinely clean high-touch surfaces, basins and toilet bowls.
On the other hand, the virus was killed by twice-a-day cleaning of surfaces and daily cleaning of floors with a commonly used disinfectant, which suggests that current decontamination measures are sufficient as long as people adhere to them.
---
Looking for a comprehensive guide to investing? Check out the FH Complete Guide to Investing for Singapore investors.
Stock Watch 2020: Support the site as a Patron and get market updates. Like our Facebook Page and join the Facebook Group to continue the discussion!