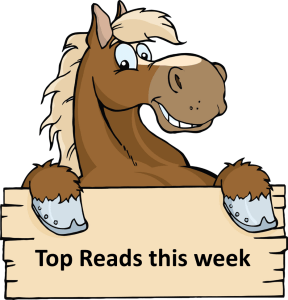 Rounding up top reads from around the web, including articles shared by fellow investors in the Financial Horse Facebook Group.
---
Hong Kong stocks turned in their strongest performance of the year on Tuesday, gaining nearly 4% on news that a controversial extradition bill that sparked months of protests would be completely withdrawn.
The Hang Seng Index (
HSI
) notched up its biggest daily percentage gain since November 2018 to end at 26,523 points. It got a major boost during afternoon trading from local media reports, subsequently confirmed, that Hong Kong leader Carrie Lam will formally withdraw the bill. Lam had suspended the bill in June after more than 1 million people took to the streets, but that didn't quell the protests.
Nearly every component of the Hang Seng was up. The biggest gainers were all property developers, which have been battered by the protests and the ongoing US-China trade war. Wharf Real Estate, New World Development and Sun Hung Kai Properties were all up more than 9%.
---
Private sector economists and analysts have lowered their forecast for Singapore's economic growth in 2019, according to a survey report released by MAS.
The economy is now expected to expand by 0.6 per cent this year, down from an earlier estimate of 2.1 per cent in June, with the escalation of trade tensions remaining the top risk cited by most survey respondents.
---
After analyzing my research, I determined there were generally four paths to wealth, which often overlap: the Saver-Investor, the Big Company Senior Executive, the Virtuoso, and the Dreamer-Entrepreneur. Almost anyone can be a Saver-Investor, while becoming a Virtuoso or a Big Company Senior Executive is harder and more risky.
49% were Saver-Investors, or average people with modest incomes who consistently saved 20% or more of their income and prudently invested their savings over a period of 32 years
18% were Big Company Senior Executives
7% were Virtuosos, or top experts, in their field
51% were Dreamer-Entrepreneurs (27% of these Dreamer-Entrepreneurs failed at least once in business)
---
High-net worth individuals (HNWIs) — people with at least $1m in investable assets — are increasingly shunning equities. In the first quarter of this year, HNWIs held nearly 28 per cent of their portfolios on average in cash, according to the Capgemini World Wealth report. A year previously, that figure was 27.2 per cent. Wealth managers do not like this trend, for understandable business reasons.
---
Tech Mahindra, the IT subsidiary of Indian conglomerate Mahindra Group, partnered with American distributed ledger technology (DLT) firm Adjoint to launch a blockchain financial management and insurance solution.
Per the report, users of the new system will be able to validate the business case with their own data in their own secure environment and help eliminate out-of-order and double data entries. In order to ease reporting and compliance, auditors can purportedly be given access to an immutable record of all transactions.
The system is based on UpLink, an open source DLT platform aimed at enabling compliant modern financial processes management. The platform has a dedicated messaging protocol and consensus mechanism meant to let participants in the blockchain ecosystem establish what data is put on the distributed ledger.
---
Revenues at the world's top investment banks plunged to a 13-year low in the first half of 2019 as geopolitical tensions, slowing growth and low interest rates compounded a structural decline that set in after the financial crisis.
---
A recent Bloomberg report reveals that low-cost automated index funds are poised to overtake active asset management in the United States by 2021, disrupting a decades-old system. As a result, many professionals who make their living advising clients on their investments are likely to be made redundant, no longer able to justify the fees they charge.
In 2008, Warren Buffett, the oracle of Omaha, publicly bet that an unmanaged fund such as the S&P 500 would, over ten years, offer a higher return than a hedge fund portfolio, evaluating the performance net of commissions, costs and expenses.
As fintech bites into traditional banking, this latest disruption is only going to make things tougher for the traditional banks and they will likely see a steady exodus of investment customers. In a world where everything that can be automated will be automated, the winners will be those who pioneer automation, not those who finally accept it as the new reality.
---
The share of graduates with a business-related degree has increased since 2008, according to the Manpower Ministry's Labour Force reports, owing particularly to more private education institutions offering business courses. But the answer is not a business degree. It's a STEM-related (science, technology, engineering and mathematics) degree. And yet, the number of graduates from STEM disciplines has fallen over the same period, even as the number of STEM jobs has surged.
---
Called Taobao Store by Virmall, the shop is a partnership between Taobao and Virmall, a local firm that helps to curate and bring in products from merchants on Taobao. Opened on Wednesday (Sept 4), the shop offers more than 300 products from furniture to kitchen appliances and clothes. About 80 per cent of the items are from the home and living category, the fastest-growing category in Singapore on Taobao.
The opening of the Taobao store comes as competition in the e-commerce marketplace heats up, with home-grown shopping platform Shopee opening its new regional headquarters in Kent Ridge on Tuesday.
---
Manufacturers are halting investment in their businesses ahead of Brexit, with even stockpiling activity now subdued only weeks before the UK is set to leave the EU, raising worries over whether the sector is less prepared than six months ago.
Overall industry investment intentions turned negative for the first time since the immediate aftermath of the Brexit referendum in 2016 in the third quarter, according to Make UK, which represents UK manufacturing. More companies are also now reporting that domestic orders are falling, rather than rising. Export orders have fallen despite predictions of a potential boost from the weakening of sterling.
---
"Interest rates on P2P loans have remained durable throughout economic cycles, and can provide a significant boost to portfolio income," states a P2P industry academic research report out of the University of California, Berkeley.
But there are some snags to consider when adding P2P loans to your portfolio. Come into a cash crunch and need to liquidate your P2P loans immediately? Good luck. P2P loans are some of the most illiquid assets available. This illiquidity compared to traditional investments like stocks have kept many investors on the P2P sidelines.
---
1. Researching the best stocks
Trying to buy individual stocks is a top mistake. The better strategy is learning about terms like sectors, diversification or asset classes.
2. Thinking it over
People new to investing know the stock market is a good place to invest. But they don't understand what it takes to build wealth (patience, consistency and a few decades). As the Chinese proverb says, "The best time to plant a tree was 20 years ago. The second-best time is now."
3. Making comparisons
Perhaps someone has an international equities portfolio that is underperforming their U.S. equities portfolio. They conclude that U.S. equities are always better. "You have to be able to compare like to like, which is near impossible," Henske said. "There's always some difference that might be material."
4. Waiting for the right time
New investors know the stock market has its ups and downs, but they get tense when the stock market is rocky. They may be tempted to buy when prices rise and sell when they fall. They may be tempted to check their portfolios too often.
It's time in the market, not timing the market that matters.
5. Overlooking this opportunity
It's easy to forget about the most important investment: yourself.
"Over the course of a lifetime, you will likely have to reinvent yourself several times," he said. He suggests learning skills so you can achieve more and manage your money better.
---
Looking for a comprehensive guide to investing? Check out the FH Complete Guide to Investing for Singapore investors.
Support the site as a Patron and get market and stock watch updates. Like our Facebook Page and join the Facebook Group to continue the discussion!