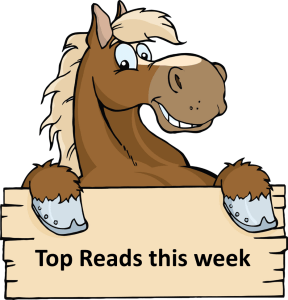 Rounding up top reads from around the web, including articles shared by fellow investors in the Financial Horse Facebook Group.
---
US-China relations will define the tenor of international relations for years to come. We hope the US and China find a constructive way forward, competing certainly, but at the same time cooperating on major issues of mutual interest. One US official recently defined the clash with China as "a fight with a really different civilisation and a different ideology". Others observe that the US is a young country that wants everyone to be like them, while China is an old country that believes no one else can be like them.
To expect every country to adopt the same cultural values and political system is neither reasonable nor realistic. In fact, humankind's diversity is its strength. At different times in the last two centuries, South-east Asia has seen rivalry between great powers. In our own generation, we must work together to maximise the chances that countries will have the wisdom and courage to make the right choices, opt for openness and integration, peace and cooperation, and so preserve and expand the progress which we have made together.
---
Given recent cooling measures by the Government, one would notice that the Singapore Government takes a highly interventionist role when it comes to our local residential property market. The Government has constantly stated that a residential property in Singapore is something for people to buy for own stay rather than for investment.
---
In this second part of the series of 'How To Analyse A Stock', Seedly shows you how to read a balance sheet.
---
In general, REITs have had a strong performance, in terms of just price appreciation, in the first half of the year.
---
The profitability of a bank can be measured by looking at whether NIM is expanding. The cost efficiency of a bank can be measured by looking at CIR %. The quality of loans and assets can be measured by looking at NPAs & NPL ratio %. The cost of funding can be analysed by looking at CASA & Fixed Deposits.
It is important to evaluate at which juncture of the economic credit expansion we are in right now. This is because the vibrancy of banks depends very much on the supply of money circulating in our economy.
---
Beijing's decision to counter the US Department of Commerce's "entities list" with a blacklist of its own has shaken many foreigners who do business in the world's second-largest economy.  So far the Chinese Commerce ministry has said very little about its "unreliables list", other than that it could include "foreign legal persons, other organisations or individuals" who are suspected of "damaging the legitimate rights and interest of Chinese companies and jeopardised China's national security and interests".
---
A $647bn blind spot in financial reporting by China's city and rural commercial banks is fuelling investor concerns that more of the country's lenders face government intervention or collapse in the wake of the state takeover of Baoshang Bank. Baoshang was one of 19 banks with a combined Rmb 4.47tn ($647bn) in assets that have yet to publish 2018 financial results, according to a list compiled by Barclays.  The delays are a potential sign of a build-up in non-performing loans and leave investors blind to how many of those assets may have turned into bad debt.
---
HSBC has quietly launched its first digital wallet targeting start-ups and other small businesses in Hong Kong in an effort to fend off intensifying competition from Tencent and Alibaba in its most lucrative market. Its PayMe e-wallet, which allows users to transfer small amounts of money, has been available to individuals since early 2017. But Europe's largest bank by assets is now looking to sign up more small merchants and has received "thousands of applications" since the April launch. The initiative to extend the service, which now has 3,000 registered users, to merchants is key because it represents a better chance of drumming up new business.
---
She understood what she was doing with her money before she did it. Despite not completing high school and speaking English as a second language, my grandmother was not afraid to speak to professionals about her money. She cut out financial articles from the newspaper, watched gurus like Gail Vaz Oxlade and Suze Orman on TV, and made appointments with advisors when she wanted to learn about a financial product. I remember going back and forth to the bank with her a few times one week, when she didn't feel right about a particular account. She ended up leaving that bank, after being dissatisfied with the answers she was getting. Never worried about ruffling feathers or staying within what was familiar, she knew she had to look out for her own interests first.
---
Peloton has now joined the wave of private companies rushing to the public market this year, including ride-hailing apps Lyft and Uber, scrapbooking site Pinterest and meat-substitute operation Beyond Meat. However, the performances of the companies that have gone public have been mixed. Peloton, founded in 2012, was most recently valued at $4bn. Investors have backed new at-home workout concepts such as Peloton and Mirror — which sells $1,500 40 inch HD mirror-like screens — that stream workouts. Peloton, which has a cult-like following and is considered a competitor to indoor cycling studio chains SoulCycle and Flywheel, has moved beyond cycling equipment to treadmills. The company also sells a $19.49 a month digital video subscription service, which offers boot camp sessions and yoga classes.
---
Venezuela's state-owned oil company has been struggling to pay its debt to suppliers.
The problem has gotten worse with the loss of qualified labor, lack of investment and U.S. sanctions.
---
For every passenger flown, Asian carriers including Singapore Airlines (SIA) expect to earn an average of just US$3.51 (S$4.82), as the region continues to take the brunt of rising fuel prices and a substantial weakening of world trade.
Collectively, airlines in Asia are expected to deliver a net profit of US$6 billion this year, down from US$7.7 billion last year.
---
Honestbee Singapore recently announced its food delivery and laundry services will be suspended. The company also announced that it will cut 10% of global headcount. Some of its overseas operations in seven countries outside Singapore will be shut down or suspended. Their CEO, Joel Sng has also stepped down amidst rumours that he had been fired.
While the troubles are brewing in other countries, Honestbee Malaysia has announced that it will keep going as its business remain "brisk". The company released a brief statement that its Malaysian operations and headcount has not been affected and will continue as per usual. The big question: will Honestbee Malaysia be able to sustain its business on the long-term?
---
Enjoyed this article? Do consider supporting the site as a Patron and receive exclusive content. Big shoutout to all Patrons for their generous support, and for helping to keep this site going!
Like our Facebook Page and join the Facebook Group to continue the discussion! Do also join our private Telegram Group for a friendly chat on any investing related!