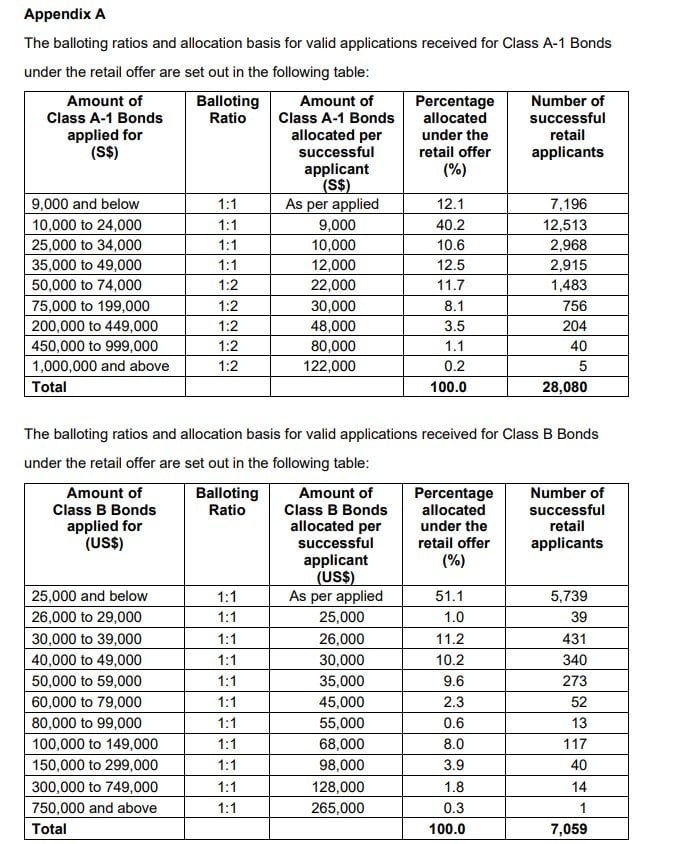 Astrea 7 Bonds balloting results are out!
And I must say, I was actually pretty surprised by the balloting results.
Astrea 7 Bonds Balloting Results
To sum it up, the:
Astrea 7 Class A-1 Bonds was 3.1 times subscribed
Astrea 7 Class B Bonds was 1.3 times subscribed
And the balloting results are:
Class A-1 – Anyone applying S$9,000 and below gets full allocation
Class B- Anyone applying US$25,000 and below gets full allocation
Full balloting results for Astrea 7 set out below.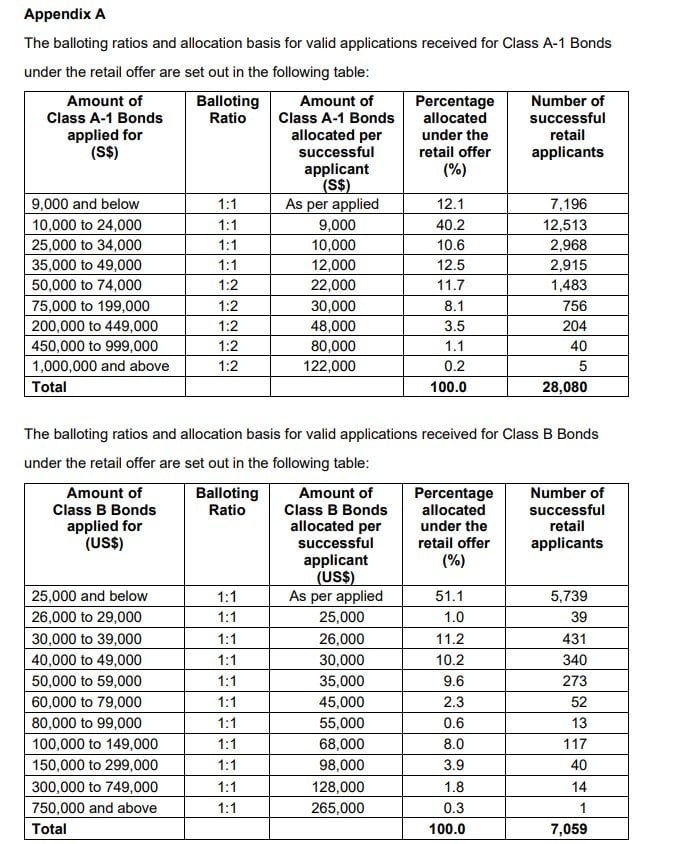 Why is demand for Astrea 7 so lukewarm?
It's quite clear from the balloting results that the reception for Astrea 7 is quite lukewarm.
You can't even blame it on the issue size, because Astrea 7's S$280 million public offer is only slightly higher than Astrea IV's $250 million public offer.
I would have thought that the higher yield on Astrea 7 would have contributed to greater investor interest, but clearly I was wrong on this.
Based on my anecdotal checks, it seems that everyone only wanted the "safer" SGD tranche as a safe place to park their cash, and didn't want the supposedly "riskier" Class B tranche which also comes with USD forex risk.
Some other possible reasons – Could it be that retail investors are starting to prepare for a possible recession and holding more cash?
Or do they find the yield is too low for the high inflation environment we are in, with rising interest rates?
Are REITs a better buy in this climate, offering more upside potential?
Whatever the case, with this showing for Astrea 7, and some other recent REITs rights issues (Lendlease REIT being a notable one), it seems that retail investor risk appetite in the current market is very poor.
This is not a good time to be raising funds.
Why is demand for Astrea 7 Class B so terrible?
This was especially true for Class B, where anyone applying US$25,000 and below gets full allocations.
And the public offer only being 1.3x subscribed is frankly quite a terrible showing.
As shared in my recent article, after reflecting over it I actually thought Class B offered a more attractive risk-reward profile, for investors who are able to stomach the risk.
You're essentially taking on a broadly similar macro risk, for a significantly higher yield (almost 50% higher).
In any case, I put my money where my mouth is – and I applied for a higher amount of Class B rather than Class A Astrea 7 Bonds.
I received decent allocations for both as well.
Whether this turns out to be a good investment after all, we'll find out!
Whatever the case, I would be really interested to see how Astrea 7 is priced on the open market once trading starts on Monday at 9am!
BTW – we share commentary on Singapore Investments every week, so do join our Telegram Channel (or Telegram Group), Facebook and Instagram to stay up to date!
Don't forget to sign up for our free weekly newsletter too!
[mc4wp_form id="173″]
Just created a Discord server where I collate analyst reports and investing resources that I come across in my research. Hit us up here if you're keen.