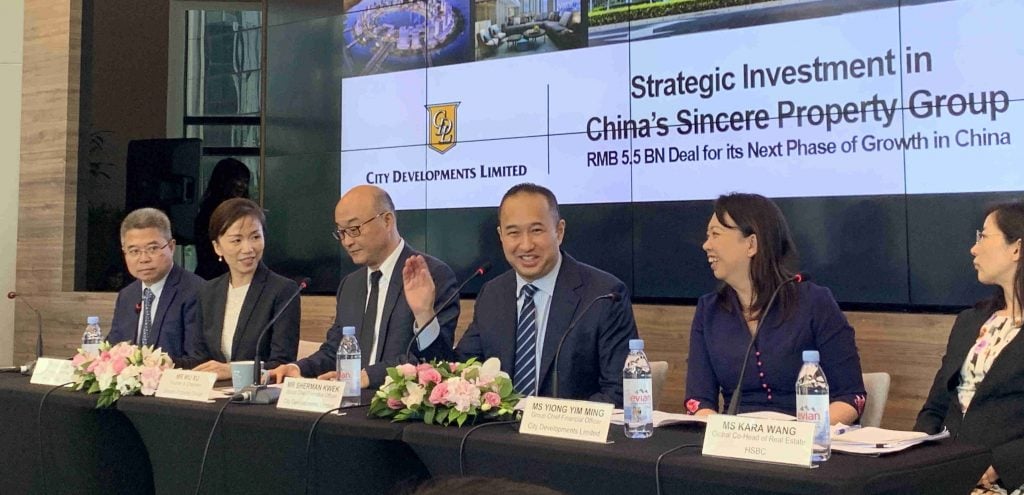 Quite a few of you have asked that we do a piece on City Developments Limited (CDL) and the entire Sincere saga.
It's a great story, and I had an absolute blast doing the research.
I hope you enjoy it as much as I did.
Timeline of Sincere Property Group (协信远创) Saga
Jan 2018 – Sherman Kwek (son of Kwek Leng Beng the founder – see photo above) becomes the CEO of CDL
May 2019 – CDL announces acquisition of a 24% stake in Sincere Property Group (协信远创)
Mid 2019 – China tightened liquidity conditions for real estate players in China, making it much harder to get financing
End 2019 – Deal is not completed due to a "variety of factors"
16 April 2020 – CDL renegotiates the deal with Sincere due to COVID-19 in China
21 Oct 2020 – Kwek Leng Peck (cousin of Kwek Leng Beng) resigns because of disagreement with (1) Sincere investment and (2) Millenium and Corpthone (M&C – the hotel group) strategy
Jan 2021 – Another 2 directors resign
4 Jan 2021 – CDL appoints Deloitte to evaluate the Sincere investment (to improve liquidity and profitability). The report hints at challenging liquidity conditions, and suggests that either (1) asset sales or (2) new financing is required.
21 Jan 2021 – CDL issues a Profit Warning and warns of Material impairment loss on Sincere
There are a couple of big events that we need to cover in greater detail below. But if you're pressed for time, feel free to skip ahead and read only the bolded portions.
Note: The research for this article (and the charts) are sourced from ShareInvestor Webpro. It's a great way to quickly perform research on Singapore stocks, more comprehensive than other options like Yahoo Finance.
You can learn more in my review on ShareInvestor Webpro here.
May 2019 – CDL announces acquisition of 24% stake in Sincere
CDL to acquire a 24% stake in Sincere by investing RMB5.5 billion.
The investment is split equally into two tranches:
(1) a four-year interest-bearing loan of RMB2.75 billion, part of which would be converted into equity;
(2) RMB2.75 billion to be invested once certain conditions are fulfilled.
16 April 2020 – CDL renegotiates the deal with Sincere due to COVID-19
51.01% stake for 4.39 billion yuan (S$880 million).
Includes a call option for CDL to buy an additional 9% interest at the same valuation.
This will allow CDL to acquire a 60.01% stake in Sincere Property Group for a total of 5.16 billion yuan ($1 billion SGD).
Sincere will use part of the 4.39 billion yuan to repay a loan extended earlier to it by CDL, so in a way it is converting debt into equity.
Sincere chairman Wu Xu's stake will fall from 60 per cent to 29 per cent, while Chinese developer Greenland Holdings Group's holding will halve from 40 per cent to 19.99 per cent.
The new transaction values Sincere at 8.6 billion yuan, almost 50 per cent below its net asset value of 16.48 billion yuan as at its unaudited consolidated financial statements for the year ended Dec 31, 2019.
The deal will lift CDL's portfolio allocation in China from 13 per cent to 17 per cent with its presence growing from three cities to 18.
The deal gives CDL access to Sincere's development land bank of 9.2 million sq m, with 64 development projects across mostly Tier 1 and 2 cities in China.
Sincere also has a portfolio of 27 investment properties in the retail, office and hospitality segments.
21 Oct 2020 – Kwek Leng Peck resigns
Kwek Leng Peck, 64, is the cousin of Kwek Leng Beng (who also owns the Hong Leong group).
In his letter of resignation, he says it is because of disagreement on:
CDL's investment in Sincere Property Group and continuing provision of financial support to Sincere
Management of Millennium & Copthorne Hotels.
Extracts below:
The liquidity position at Sincere is challenging, being severely impacted by the COVID-19 pandemic and the property cooling measures which caused the further tightening of liquidity for real estate companies in China, the most recent being China's Three Red Lines. The intended asset divestment plan for some of Sincere's retail, hospitality, office and business parks assets, to lighten its debt load on investment properties exposure and to shore up its residential development plans as a key strategy to transform this platform, is now expected to take place over a longer period of time due to the current climate.
…
M&C is a wholly-owned subsidiary of CDL which owns, manages and operates over 145 hotels globally. Listed on the London Stock Exchange in 1996, M&C was delisted on 11 October 2019 following a successful privatisation exercise launched by CDL.
2020 has been a difficult year for the hospitality and tourism sector. In 1H 2020, the Group's hotel operations segment recorded a substantial pre-tax loss of $208.2 million, which included $33.9 million of impairment losses made in view of the current pandemic.
4 Jan 2021 – CDL appoints Deloitte to evaluate Sincere investment
The further resignations spurs CDL to appoint Deloitte to look into Sincere.
This is the official statement:
As at the date of the review performed by Deloitte, Sincere Property has over 314 legal entities and 71 projects in 18 cities totalling around 8.6 million square metres (sqm). They comprise:
hotels and serviced apartments (174,000 sqm);
commercial and office buildings (2.7 million sqm);
business parks (2.0 million sqm); and
residential projects (3.7 million sqm).
In its review, Deloitte had preliminarily allocated the 71 projects into three categories:
projects that are profitable and generating positive cash;
projects that can be divested (subject to the right market conditions) to improve liquidity; and
projects which need further detailed operation review to identify feasible options to improve profitability and/or liquidity.
The review also identified major bank loans and non-trade liabilities maturing between end 2020 and 2021 which require debt restructuring. Sincere Property has started negotiations with certain major lenders and is awaiting approval.
TLDR – The liquidity position of Sincere is challenging, and they need to either (1) sell assets, or (2) raise new financing.
21 Jan 2021 – Profit Warning + Material impairment loss on Sincere
Emphasis ours:
The Group is in the process of finalising the Completion Audit of Sincere Property. Given the ongoing unprecedented challenges for China's real estate market, the Group expects to make provisions for a material impairment loss on the investment. The final quantum of impairment cannot be determined as yet, as the Group is in the process of restructuring some assets and the situation remains fluid. Details of the Group's financial performance will be disclosed when the Company announces its financial results for FY 2020.
As at 31 December 2020, the Group's total investment in Sincere Property stands at $1.8 billion. It has not provided any further liquidity support or corporate guarantees to Sincere Property since.
Apart from the challenges imposed by the pandemic, China's "three red-lines" rule restricting bank borrowing for real estate firms is expected to have significant impact on all Chinese developers. The deterioration in market conditions, ongoing uncertainty and regulatory restrictions have disrupted and negatively impacted Sincere Property's operations and performance in the near-term. Furthermore, poor market conditions have derailed the intended divestment plan for some of Sincere Property's retail and hospitality portfolio to reduce its debt, exacerbating the liquidity challenge it currently faces.
Sherman Kwek's make or break moment
Sherman Kwek took over the reign of CDL in Jan 2018.
But what Sherman Kwek does next, and how he navigates this Sincere saga, is going to make or break his legacy.
If he navigates it well, he's going to solidify his position as CEO of CDL.
If he doesn't, I can only imagine the losses that will result. And it's hard to see investors taking him seriously after that.
So like it or not, any investment in CDL at this time is intimately tied to the fate of the Sincere saga.
How legit is Sincere Property Group (协信远创)?
There are a couple of big red flags with the Sincere acquisition in my view.
Insiders cashing out
Post acquisition – Sincere chairman Wu Xu's stake will fall from 60 per cent to 29 per cent, while Chinese developer Greenland Holdings Group's holding will halve from 40 per cent to 19.99 per cent.
I don't know the full story on this, but I never like it when insiders cash out, especially when the insiders are Chinese.
50% discount to book
CDL is buying in at a 50% discount to NAV:
The new transaction values Sincere at 8.6 billion yuan, almost 50 per cent below its net asset value of 16.48 billion yuan as at its unaudited consolidated financial statements for the year ended Dec 31, 2019.
Call me skeptical, but when you buy in at 50% discount to book, there are only 2 possibilities:
You got a great deal
The valuation is outdated (ie. it isn't as great a deal as it seems)
Without a deep dive into each one of Sincere's assets, it's just super super tough to comment.
Can CDL outsmart the Sincere and Greenland group here, and negotiate a great deal for themselves?
Usually I would say no, but 2019 was a horrible time for the China developers. Lots of talk about 寒冬 and 活下去。And COVID in 2020 only made that worse.
So the Sincere Group would have had quite limited options available, and I wouldn't rule out the possibility that CDL got a great deal out of it.
Chinese Media
I had a dig around Chinese media, and the results don't look great.
The story seems to be that Sincere group was highly geared, and in desperate need of new financing.
And a lot of the other big China conglomerates were reluctant to touch it, allowing CDL to swoop in.
Big win for CDL, or win for the Chinese?
BTW – we share commentary on financial markets every week, so do sign up for our mailing list, its absolutely free (goes out every Sunday).
Don't forget to join our Telegram Channel and Instagram!
[mailmunch-form id="928667″]
Three Red Lines
We also need to discuss the "Three Red Lines".
This was unveiled in 2020 to control leverage in real estate.
China developers will need to meet these metrics if they want to borrow more:
70 per cent ceiling on liabilities to assets, excluding advance proceeds from projects sold on contract
100 per cent cap on net debt to equity
Cash on hand that is at least equal to, or more than, short-term borrowing
Developers are categorised based on how many limits they breach and their debt growth will be capped accordingly.
If all three are breached, the company won't be allowed to increase its debt in the following year.
If it passes all three, it can increase its debt a maximum of 15 per cent in the next year.
This is part of what created challenging liquidity in China, and it doesn't look like it will go away anytime soon.
What are CDL's options?
So the Sincere group is in need of financing.
Options are:
Liquidity injection (from CDL)
Aggressive refinancing
Aggressive asset sales
2 is tricky because of the 3 red lines. Bank refinancing will be tough in this climate.
3 is also tricky because this isn't the best time to be selling assets.
Sure, the best assets will always have a buyer, but those are also the ones that you want to keep. More likely you want to sell the lower quality properties in lousy locations, and if you do that now you're unlikely to get a good price.
Which mainly leaves 1.
My gut feel is that CDL will be forced to inject additional liquidity at some point.
How strong is CDL's Balance Sheet?
CDL announced their balance sheet conditions in a recent announcement:
As at 30 September 2020, the Group's net gearing ratio (factoring in revaluation surplus from investment properties) stood at 52%.
The Group has strong cash reserves of $3.3 billion.
It maintains a strong liquidity position comprising cash and available undrawn committed bank facilities totalling $4.7 billion.
Its debt expiry profile also remains healthy, with its total gross borrowings at a weighted average debt expiry of 2.4 years.
So a 52% gearing, and $4.7 billion in cash + untapped loan facilities.
The WALE is 2.4 years which is not great.
But given this is CDL and Kwek Leng Beng, I actually don't see significant refinancing risk here.
So if it comes down to the wire – I think CDL should be able to inject further liquidity into Sincere.
Of course, the question is whether that would be throwing in good money after bad.
The rest of City Developments Limited (CDL)
Looking at CDL generally – Market cap is approximately $6.5 billion, with AUM of over $20 billion.
This is the CDL we know, which builds condos and owns offices in Singapore.
The Kwek family holds almost 40% of CDL.
Valuations
At current price of $7.2, it trades at a 0.62x Price to book.
The best benchmark will be CapitaLand – which trades at 0.64x book value.
The fact that the valuations are so close on a P/B basis blows my mind.
CapitaLand's assets are split half half between China and Singapore as well, and the China + Singapore assets are of far higher quality than CDL. And with CapitaLand, you also get a far more diversified developer, you get Temasek backing, and you avoid the risk of the Sincere group.
Valuations wise CDL doesn't look super attractive.
I suppose you can argue that if they pull Sincere off, there's a lot of upside here. But don't forget that the current P/B numbers don't book the impairment loss they will be announcing. So lots of question marks over the true book value here.
CDL's Dividend
Dividend yield is about 2% historically, with a 30% payout ratio.
Comparatively, CapitaLand has a 3.7% dividend at a 46% payout ratio.
Will I buy CDL at $7.2?
CDL reminds me a lot of another property play we looked at recently – First REIT.
With First REIT, there was huge uncertainty over Lippo Karawaci. I tried doing a deep dive, but frankly there's very little public information available that will give you good insights. Without inside info or on the ground knowledge, it's very tough to comment on their business prospects.
CDL feels the same to me, where we really need the details into Sincere group. Asset breakdowns, valuation cap rates, yield on cost, refinancing risk etc. The kind of details Deloitte is going through right now.
But without that, it just becomes a bit of a black box, and investors have to decide whether they are comfortable with that kind of uncertainty.
At less than half of book value, sure, it's worth considering.
And at these valuations, I really don't see the need to take that risk.
At 0.62x book value, I can easily just buy CapitaLand at 0.64x book value, and avoid all the uncertainty. I get the same Singapore + China exposure, I get much better assets, I get a more diversified portfolio with bigger AUM, and I get the Temasek backing.
I think the answer is clear for me, I won't be investing in CDL at this time.
I won't give a Financial Horse Rating for CDL, because there's too much uncertainty on the Sincere investment. It could turn out to be the buy of the decade, or it could turn out to be a bust.
Full disclosure: I am vested in CapitaLand, but hold no position in CDL.
As always, this article is written on 6 Feb 2021 and will not be updated going forward. Latest thoughts (and my stock watch and personal portfolio) are available on Patron.

---
Do like and follow our Facebook and Instagram, or join the Telegram Channel. Never miss another post from Financial Horse!
Looking for a comprehensive guide to investing that covers stocks, REITs, bonds, CPF and asset allocation? Check out the FH Complete Guide to Investing.
Or if you're a more advanced investor, check out the REITs Investing Masterclass, which goes in-depth into REITs investing – everything from how much REITs to own, which economic conditions to buy REITs, how to pick REITs etc.
Both are THE best quality investment courses available to Singapore investors out there!