I've been getting a lot of queries on how to buy Bitcoin (or Ethereum / Crypto) as a Singapore investor.
So I figured let's bite the bullet – and do a complete guide to buying Bitcoin in Singapore.
We'll also touch on whether it's a good place to park your cash.
Don't forget to join our Telegram Channel and Instagram (or YouTube) !
[mc4wp_form id="173″]
Is Bitcoin a good investment?
Now Ray Dalio wrote a great piece on Bitcoin recently.
I recommend to read it in full, but the gist is:
Bitcoin is looking very attractive as a store of value
Limited supply makes it attractive especially when central banks are printing aggressively
Like gold:
Bitcoin has limited usage as a medium for directly exchanging goods and services.
Bitcoin does not pay a yield, but this doesn't matter now since interest rates are at zero.
Not clear if Bitcoin is a portfolio diversifier
Bitcoin has only been around for a decade – there's just not enough evidence that Bitcoin is a reliable portfolio diversifier.
Institutional acceptance will depend on regulatory acceptance
There are two main regulatory paths going forward. Either:
Bad for Bitcoin – Regulators clamp down on Bitcoin and cryptocurrency for fear it could undermine traditional fiat currencies, or
Good for Bitcoin – Regulators create a more sophisticated regulatory environment that promotes trust and is good for the asset longer term.
For now, bitcoin seems to be more of a speculative asset, with insufficient liquidity for large institutional purchases.
And the conclusion?
From Ray Dalio: If a fundamental purpose of a storehold of wealth is to preserve or increase one's purchasing power over time, we think Bitcoin feels more like an option—it remains a highly volatile and speculative asset. Compared to established stores of value, Bitcoin is not yet widely used as a savings vehicle or reserve asset, with no meaningful participation (yet) by governments or the largest global institutional allocators
Overall, it's clear that Bitcoin has features that could make it an attractive storehold of wealth; it also has proven resilient so far. However, we have to acknowledge that this financial vehicle is only a decade old. In absolute terms and vis-a-vis established storeholds of wealth such as gold, how will this digital asset fare going forward? Future challenges may still come from quantum computing, regulatory backlash, or issues we haven't even determined yet. Even if none of these materialize, Bitcoin, for now, feels more to us like an option on a potential storehold of wealth.
FH Views on Bitcoin?
I really agree with Ray Dalio on this one.
Bitcoin is a call option on the future.
A deep, out of the money call option on Bitcoin being a store of value in the future.
If it goes well, the upside here could be massive.
If it doesn't go well, then you just lose the money you spent buying the call option. No big deal.
With this kind of risk-reward in play, it does make sense to allocate a small portion of the portfolio to such moonshot bets.
But don't put 50% of your portfolio into bitcoin expecting it to perform like equities or treasuries. It is still a very volatile asset, and requires careful portfolio planning around it.
I myself hold a small amount of Bitcoin and Ethereum, and one big regret is not buying more in March 2020 when it was at $6000.
Why it is so hard to buy Bitcoin in Singapore?
The problem with buying Bitcoin in Singapore, is because of the Payment Services Act.
The Act imposes fairly tight regulations on the local fintech environment, so it's not that easy for the big exchanges to come in and compete.
Singapore isn't that big a market in the grand scheme of things, so most of them just stick with the big US/ European markets.
Best way to buy Bitcoin for Singapore investors – Coinhako or Gemini (or Binance)
For Singapore investors, I suggest checking out either Coinhako or Gemini, with a very honourable mention to Binance SG.
If you have a US/European bank account, Coinbase is worth checking out too.
But as a Singapore investor funding in SGD, Coinbase is too much hassle because you can't withdraw SGD from them. You will need to transfer the coin to either Binance/Coinhako to withdraw the SGD, in which case you might as well just use them to begin with.
I've set out the summary of Coinhako, Gemini and Binance SG below:
Trading Fees
Deposit Fees
Withdrawal Fees
Cyrpto Currencies
Custody Fee
Payment Option
Coinhako
1.0%
SGD Deposits via FAST: No fee.

SGD Deposits via Xfers Direct Charge: 0.55% fee charged by Xfers.

USD Deposits in form of USDT/USDT: No fee

SGD via FAST: S$2 per transaction.

USD Withdrawals in form of USDT/USDT: 15 USD per transaction
14 (BTC, BCH, ETH, LTC, XRP)
None
Bank transfer (FAST)

Credit/debit card

Xfers Direct Charge
Gemini
0.35% (Only on Active Trader – Desktop)

Fees on Mobile platform / Website can go up to 10%

SGD Deposits via Xfers Direct Charge: 0.55% fee charged by Xfers
Withdraw from Xfers is free
18 (BTC, ETC, LTC etc)
0.4%
Xfers Direct
Binance Singapore
0.60%
Deposit from Xfers is free
Withdraw from Xfers is free
8 (BTC, ETH, BNB, LTC , etc.)
None
Xfers
It can be quite technical if you're new to the Crypto world.
So let me sum that up for you.
Use Coinhako if you want something simple and fuss free, and you're ok with limited optionality.
Use Gemini or Binance SG if you don't mind a bit more hassle, and you want a more powerful underlying exchange with cheaper fees.
Coinhako
Coinhako is a Singapore homegrown company.
The big benefit with using Coinhako, is that they support direct deposit and withdrawal to a Singapore bank account.
There is no need to link your Xfers account.
So you can transfer SGD in via FAST transfer, and transfer it out the same way ($2 fee for withdrawal), which is just super convenient.
The problem with Coinhako though, is that because it's not as big as Binance, the underlying architecture isn't as stable.
So sometimes when the transaction volume is very high (like right now with the crypto rage), there may be limits on the amount you can buy, delays on withdrawals etc.
Coinhako's platform was down for almost one trading day recently, so things like that do happen.
Gemini
Gemini didn't use to be on this list. But after a number of upgrades to their platform, I think they deserve this spot.
An important caveat about Gemini though:
You MUST use Active Trader to buy. Do NOT use the Mobile app or website.
With the Mobile App or Website, fees can go as high as 10%, which is just daylight robbery.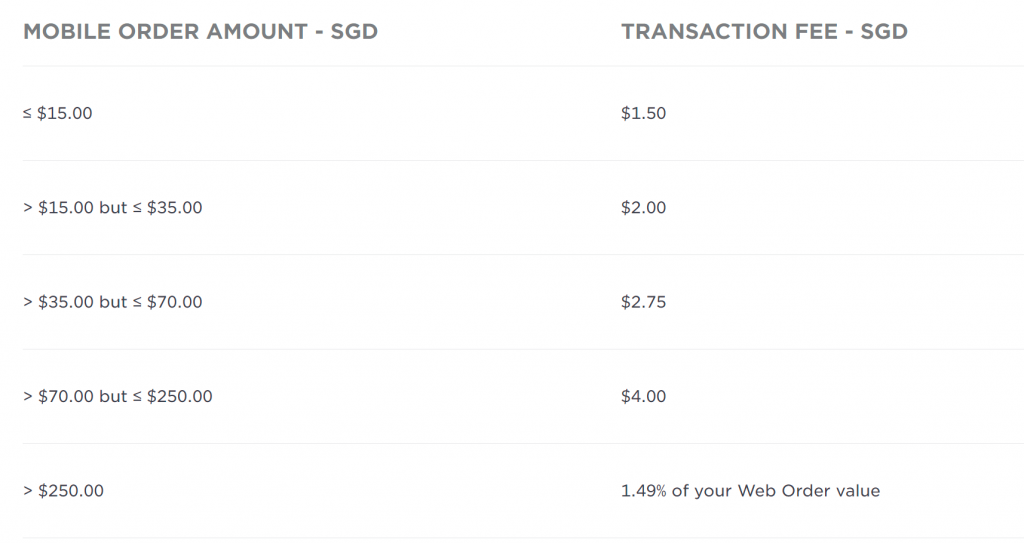 Once you use Active Trader though, fees drop down to a very manageable 0.35%.
The problem with Active Trader though, is that this is a trading platform designed for sophisticated investors. For beginner investors, it can be a bit overwhelming.
The method to fund Gemini is via Xfers direct, which means there is no annual limit on transfer – a big improvement over Binance.
The problem – is that Xfers direct has a 0.55% charge, which is not cheap.
But stability wise, the underlying platform is very solid, and the security is pretty decent. The Active Trader platform also offers a ton of optionality for more sophisticated traders. Spreads are ok too on the Active Trader platform.
If you're buying large amounts and you don't mind using Active Trader Platform (not the app or website), then Gemini is a very good option worth looking at.
Binance
Binance is founded by a China guy, but their servers are no longer located in China because of China's crypto ban.
Today, Binance is the largest exchange in the world in terms of trading volume, and it is very reputable, very popular, and very good.
There are 2 versions of Binance – Binance.com for international investors, and Binance.sg for Singapore investors.
Binance.sg
The main problem with Binance SG for Singapore Investors, is that they don't accept SGD deposits directly.
You need to create an Xfers account, and then use Xfers to top up / withdraw SGD from Binance SG.
This is a bit of a hassle, and you'll also need to maintain the Xfers account and KYC verification.
But once you get through this step – Binance SG is amazing because the underlying exchange is Binance.
This means great liquidity, great spot prices (and spread), and very stable underlying architecture.
The other drawback is that Binance SG only supports 8 coins, which is much lesser than Coinhako – which has 14.
There is also a $30,000 limit annually due to MAS regulations.
Binance.com
If you want to get around these restrictions, you can use Binance.com, and fund via SGD.
Spot rates (and spread)
Based on my checks, spot rates and spread are very close for Coinhako, Gemini and Binance SG.
All 3 are very competitive.
Fees
Fess wise, Coinhako is 1.0%, Gemini is 0.35% if you use Active Trader, and Binance is 0.6%.
With Gemini you have to fund with Xfers direct which has a 0.55% fee, so if you add that up the fee could be closer to 0.9% if you don't trade Crypto often.
So they're all pretty close, but Binance and Gemini are probably the better options if you plan to trade crypto frequently.
Problems with Bitcoin Exchanges
Because this is the crypto world, don't go into expecting a DBS or UOB style service.
It's much better than where it was a few years ago, but there are still real stability issues with this space.
I've set out the big ones below:
Verification takes days to weeks
Be prepared for a ton of verification and KYC questions when you buy Bitcoin (or crypto).
If you're opening a new account, be prepared to wait anywhere from a few days to a few weeks to get your account approved.
If you're doing it now when everybody wants to get into Bitcoin / Ethereum / Dogecoin / crypto, you may expect a longer waiting time.
Withdrawal / deposit can take some time
This one's pretty hit or miss.
Sometimes with Coinhako / Xfers, the money you top up or withdraw clears in 1 or 2 days.
Sometimes it takes a week or more.
It's not super stable, so do be patient.
Credit/debit card purchase
Coinhako and Gemini now accepts credit/debit card purchases.
But I would highly recommend NOT to fund with your credit/debit card, because there are pretty significant fees associated with them.
It varies from bank to bank, but most of the time you can expect up to a 4% fee if you fund with your credit or debit card.
Do double check with your bank before you use your debit/credit card, but generally I would recommend just doing an old fashion bank transfer (FAST) to avoid additional fees.
Coinhako v Gemini v Binance Sg – which to pick?
Each has its own pros and cons, and I have accounts with all, including Binance.com.
My personal thinking is:
Use Coinhako if you want something simple and fuss free, and you're ok with limited optionality.
Use Gemini or Binance if you don't mind a bit more hassle, and you want a more powerful underlying exchange and cheaper fees.
If you're a casual trader looking to put spare change into crypto just to check it out, Coinhako is a pretty good choice. The convenience of having direct SGD deposits and withdrawals is great. At smaller amounts, there's no need to worry too much about funding limits, fees or security.
If you're a sophisticated investor and you're putting serious money into Crypto, I would probably say use Gemini (Active Trader Platform only – not the app or website). The 0.35% fees, ability to fund via Xfers direct (no limit, but 0.55% fee), and more powerful underlying exchange + security standards are probably worth it.
Binance is a very solid choice too. The 0.6% fees are great, and the underlying exchange at Binance is incredibly powerful. The problem with Binance is that there's an annual limit of $30,000 though, which means that for bigger investors, Gemini is probably a better choice.
Referral Link / Promo Code
If you're new to Coinhako, Gemini or Binance.com, there are referral codes below you can use. But if you have a friend on either exchange, then feel free to use their referral codes.
Coinhako
https://www.coinhako.com/affiliations/sign_up/136968_36994574
Gemini
Get US$10 of bitcoin after you buy or sell US$100 of crypto:
https://gemini.sjv.io/c/2717987/847939/11829
Binance.com
20% rebate on trading fees:
https://www.binance.cc/en/register?ref=W9DTM4BP
Other options
Some popular options in the past are:
Coinbase
I see a lot of articles out there recommending Coinbase.
Coinbase
BUT – as at 2018, Coinbase no longer supports withdrawal in SGD anymore.
So if you buy Bitcoin using Coinbase, you need to transfer the Bitcoin to another exchange if you want to withdraw the SGD. This makes it very impractical, and I don't suggest using Coinbase anymore.
Bitcoin ATMs
You may have seen these scattered around Singapore.
Long story short, the fees and spreads are not good, so I don't suggest using them when the alternatives (crypto exchange) are so convenient.
Hardware wallet?
When you buy Bitcoin (or Crypto), storage is a real issue.
There are 2 ways to store: (1) Hot wallet, (2) Cold storage.
A Hot wallet is when you store it on the exchange itself. This makes the Bitcoin vulnerable to an external hack.
I don't recall Coinhako or Binance having had a big hack in recent years, so that may offer some peace of mind.
But if you're really kiasu, you'll want to store your Bitcoin in Cold storage – an external device you own and control.
The Ledger series is really popular, and for about $100 you can get the peace of mind with having your Bitcoin on a device where it's not vulnerable to hacking. It will make sense if you're buying Bitcoin in large quantities.
DBS Crypto Exchange
There's a lot of talk about DBS offering a crypto exchange.
But big caveat – that's for accredited investors only (>$300,000 yearly income or $2 million net worth).
And knowing DBS, fees are unlikely to be amazing, so you can probably save on fees by using either of the above-mentioned exchanges.
Closing Thoughts
To me, the best way to think of Bitcoin, is as a call option.
There's potentially big upside here, but also a risk that it turns out to be a dud and you lose the money spent to buy the option.
But with the right portfolio sizing, it can be a really important part of the portfolio.
Whatever the case, I highly suggest adopting an open mind towards such new asset classes.
The world is changing very quickly, and you'll want to think for yourself what that means for investing.
Don't let the narratives you see in popular media shape how you think.
Approach Bitcoin and Crypto from first principles.
Think about what money means to society, think about what central banks are doing to the value of money, and come to a conclusion on Bitcoin for yourself.
If you like it, buy some. If you're skeptical, skip it.
Whatever the case, I do hope this guide has been helpful to you! Love to hear your thoughts below too. 😊
Back by POPULAR DEMAND – We're running a Chinese New Year promotion for all investing courses.
Why not use your Angpow money and learn to invest? 2021 will be a volatile year – with lots of opportunities for investors.
Learn to invest here! Promo ends on 21 February!