In a filing on Wednesday, Daiwa House Logistics Trust (DHLT) announced the proposed acquisition of two freehold logistics properties and a freehold land in Japan, for an aggregate purchase consideration of JPY 4,676.0 mil (S$47.7 mil). 
This is DHLT's maiden acquisition, and is supported by its Sponsor, Daiwa House Industry Co Ltd. 
Unitholders approval at EGM will be required for the deal to move forward. 
Daiwa House Logistics Trust (DHLT)
DHLT is an Asia-focused logistics REIT, with a portfolio of logistics and industrial real estate assets, in particular within Japan. 
The Sponsor, Daiwa House Industry Co., Ltd., is one of the largest construction and real estate development companies in Japan.
What is happening?
According to Mr Takeshi Fujita, CEO of the REIT Manager, "We are pleased to announce the maiden acquisition of DHLT following the successful listing of the REIT in November 2021. The Proposed Acquisition is expected to improve the returns to Unitholders, as DPU is expected to increase by 1.3% on a pro forma basis.
Amidst challenges in the macro environment, we observed that logistics properties in Japan have remained resilient, while demand for logistics space is expected to remain healthy. The strategically located quality portfolio is 100% freehold and is fully occupied by high quality tenants including one of the largest integrated logistics companies in Japan. We believe that the Proposed Acquisition will enhance the quality of the existing portfolio.
The proposed deal consists of the acquisiton of 2 freehold logistics facilities and an underlying land:
DPL Iwakuni 1 & 2 located in Chugoku
D Project Matsuyama S located in Shikoku 
Underlying freehold land, D Project Iruma S, located in Greater Tokyo 

this is an existing property in the portfolio of DHLT
The aggregate purchase consideration is JPY 4,676.0 million (S$47.7 million), 11.8% below the aggregate appraised value. 
JPY 1.25 billion (S$12.8 million) of new units are to be subscribed by the Sponsor, with the balance to be financed by bank borrowings. 
Issue price shall be at the higher of (i) S$0.77 (adjusted NAV per unit as at 30 Jun 2022) or (ii) 10-day VWAP*.
The Sponsor's ownership will increase from 10.31% to an estimated 12.5% following the transactions.
*volume-weighted average price per Unit on the SGX-ST for a period of 10 Market Days prior and up to (and including) the Price Determination Date (i.e., the Market Day immediately preceding the date of issuance of the New Units)
Pro Forma DPU 
From the SGX announcement: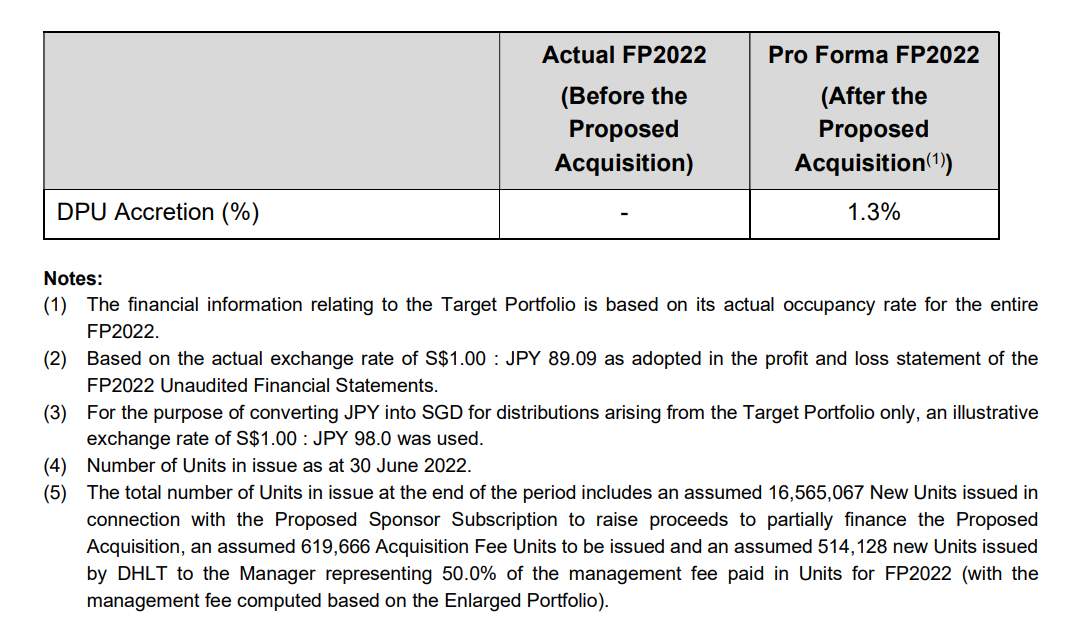 Pro Forma NAV
Rationale of acquisition?
According to DHLT, they hope to move forward with the proposed acquisition as they believe it is DPU accretive, and the fundamentals in the Japan logistics market remain sound. 
According to the investor presentation, DHLT is of the view that modern logistics facilities, such as DPL Iwakuni 1 & 2, are likely to remain in healthy demand, driven by the e-commerce and third-party logistics (3PL) sector. 
DPL Iwakuni 1 & 2 have strategic locations, near key transportation nodes, air/sea ports, and are modern logistics facilities. 
D Project Matsuyama S comprises 2 buildings, and was developed to cater for the specific needs of its tenant. 
As such, minimal capital expenditure requirements are expected in the near term for these two properties. 
The target properties are all freehold properties. 
Additionally, the two properties are fully occupied as at 30 June 2022, and are leased to quality tenants.
As for the acquisition of the underlying land, this aims to better preserve the value of D Project Iruma S by avoiding a gradual decline in the valuation due to shortening of land lease term.
The proposed acquisitions thus leads to futher diversification of the DHLT portfolio, mitigating concentration risk within a single region.
DHLT will also have a wider pool of tenants to reduce reliance on any single tenant. 
Key Takeaways
In summary,
Proposed acquisition is expected to increase DPU
Acquisition comprises 2 freehold logistics facilities and the underlying freehold land of D Project Iruma S
Target portfolio is to be acquired for 11.8% below valuation
Consideration partly funded by units issued to Sponsor 
For more investing content, follow Financial Horse on Social Media!