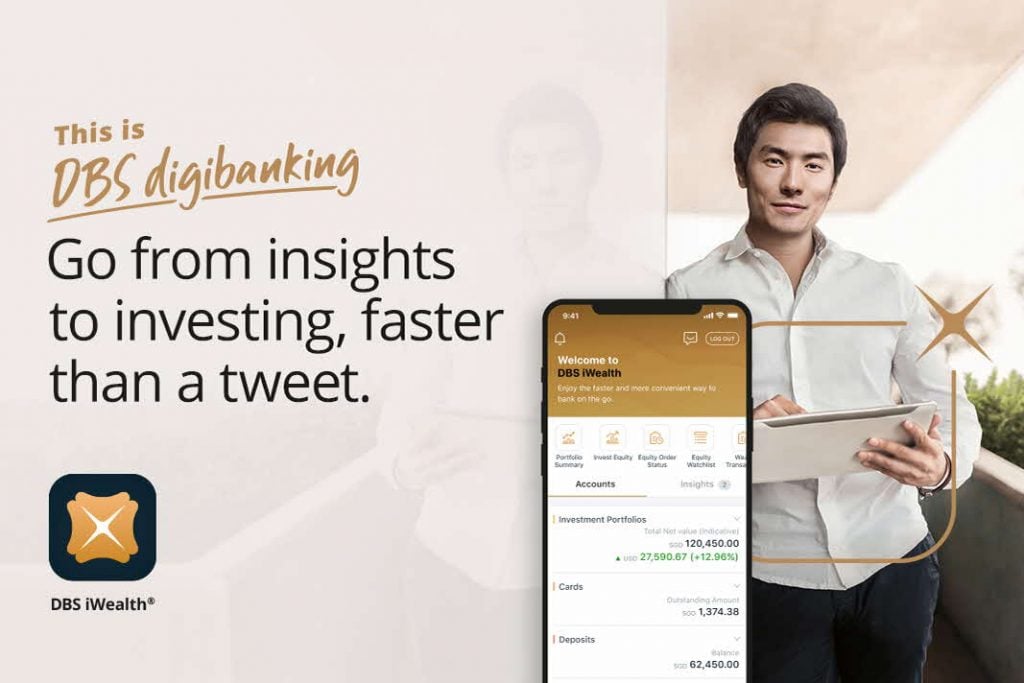 Many of you have reached out to ask that we do a review on the wealth management options available to us.
First, it is important to understand what Wealth Management is and how it is different from private banking. Wealth Management offers a full suite of tools to manage your wealth and optimize your portfolio. Private banking on the other hand, is more tailored and personalized, geared specifically for high net worth individuals, family offices etc.
In today's article, we'll be looking at DBS Treasures, which is a wealth management platform.
Why DBS Treasures?
DBS is such a ubiquitous bank in Singapore that you probably already have a banking relationship with them.
Given their size and network in Singapore, and their status and reputation as Southeast Asia's largest bank, many high net worth individuals and family offices in Singapore choose DBS as a place to manage their wealth.
With DBS Treasures, you're getting access to the same bank, and the same DBS iWealth platform (and features) as these guys. It's a good value proposition in my books.
DBS has also been named Asia's Safest Bank for 12 years consecutively. Its credit ratings are among the highest in Asia-Pacific – making this a safe place to manage your wealth. Whether you built your wealth through a business, or you're a high-powered corporate executive, DBS Treasures is great as a one-stop shop for all your investing and banking needs.
3 Best Features of DBS Treasures
In my view, these are the 3 best features of a DBS Treasures Account:
DBS iWealth platform
All your wealth managed in one place, at a trusted bank
Research and insights
1. DBS iWealth Platform
As a DBS Treasures client, you get access to the DBS iWealth App. This is the exact same app made available to the clients of DBS Treasures Private Client and DBS Private Bank.
I really like the DBS iWealth App. In fact, it's my favourite app from the 3 local banks.
You can do bank transfers, trade (Equities, Funds, FX), manage FX transfers, access your portfolio, get a comprehensive look at your finances with NAV Planner and access wealth insights all within the App itself.
With DBS iWealth, you can be in control of your portfolio 24/7. The dashboard allows you to monitor everything at a glance, and keeps you updated on your account balances, credit card statements and trading and wealth management portfolio. There are also timely notifications for your trades and statements, and you can set price alerts for key stocks you are monitoring.
Very convenient, and facilitates all your banking needs on the go, anywhere, anytime. I haven't actually been to a physical bank branch for a long time now, and I love it.
Equities, FX and Funds all on one App
The DBS iWealth App is extremely well designed, and you can place all your trades (Equities, FX and Funds) via the app itself.
Automated FX Prompts
A really great feature of the DBS iWealth App is the automated FX prompts, where the system will prompt you based on what you have in your portfolio and/or your investing habits.
For example, if you have a high percentage of assets in USD, and SGD appreciates against USD, then you will get a prompt. Or if you often trade SGD/USD, you will get notified when the SGD/USD pairing changes.
I've set out the screenshots below for your reference, this can actually come in pretty useful.
Many of us are very busy in our day to day, and don't have time to monitor FX rates continually. DBS iWealth does it for you, without you even needing to do anything – it simply works off your portfolio and your past trades.
For example, if you're changing $200,000 to GBP to fund your kid's education in the UK, that's probably a trade you'll be making over several months (or years). DBS iWealth will prompt you if there's a favourable rate, and you can make your decision then.
Competitive FX Spreads
Through DBS Treasures, you also get access to very competitive Forex spreads.
No matter how you bank, there will be some point in your life where you need to make a big forex transfer. Whether it's to pay for your kid's overseas education, buy foreign shares, or fund a foreign account.
DBS Treasures gives you preferential rates on most of the major currencies like AUD, GBP or USD.
Fees
Fees wise, it is very competitive.
The Singapore fees of 0.12% with no minimum charge are great, ahead of the 0.2% – 0.25% charged by most other brokerages like UOB Kay Hian or POEMS.
The 0.15% for US shares is also very competitive. As a rough gauge, Standard Chartered Premier Banking charges 0.20%.
Hong Kong at 0.15% and UK at 0.25% are also very competitive.
With DBS Treasures, you get the peace of mind knowing that the shares are held in your name, with the largest local bank in Singapore.
AND – you get all your wealth managed and consolidated in one account, in one app with one bank. The brokerage fees are also some of the cheapest you can get from a bank, making it a sensible and affordable option.
2. All your wealth managed in one place, at a trusted bank
Another great point of DBS Treasures is the convenience of having your wealth managed in one place, with one trusted bank.
This means that you can just pull up one banking app (DBS iWealth), click on the 'Plan' tab, and have an instant view of your entire portfolio – across Equities, FX, Funds, cash, fixed deposits etc through NAV Planner. This includes holdings held outside DBS. It only takes a few simple steps to input your data from outside DBS. But the convenience it brings cannot be understated. DBS NAV Planner has a market price feed feature that automatically updates your investments, even those outside of the bank, so you can get an updated view of how your investments are doing in just a few taps. No multiple log-ins.
I currently maintain a number of accounts over a few banks, and I also have several stock brokerage accounts. As time wears on, it really is a bit of a hassle to keep track of where everything is, and the login accounts for all of them (you won't believe the number of times I have had to reset passwords).
It's gotten to the point where I need to maintain an excel spreadsheet to keep track of my investments and cash, and where everything is.
So yes, the service and convenience of having a one-stop shop to manage your wealth is a huge plus. Don't underestimate this one – it can save a lot of time and hassle.
If you're a busy professional or business owner, and you don't want to spend time tracking where all your money is, DBS Treasures' iWealth app is a great choice to manage your wealth all in one place.
And this is DBS after all, so you don't need to worry about the safety of the bank.
3. Research and Insights
Another key benefit of DBS Treasures' Wealth Management is the customized research and insights. Through the DBS iWealth platform, you will receive curated market research and insights suitable for your portfolio. As a DBS Treasures client, you can:
View DBS latest global equity ideas
Monitor DBS Singapore Equity Model Portfolio
Explore top performing funds based on your risk profile
Get customized research related to your portfolio holdings
Alongside this are DBS Wealth Dailies. These are regular market outlook updates direct to your inbox, including news and perspectives on macro strategy, Singapore stocks, regional stocks, and views from DBS Chief Investment Office and Group research.
I enjoy these regular updates on the go, and these timely updates help give a different perspective and keep me updated on big investment ideas. It's a great way of keeping up with what's going on in the financial world.
And… after you get the insights in DBS iWealth, you can take immediate action to seize investment opportunities from Equities, FX to Funds within the same App itself!
Eligibility
The minimum requirement that you need to qualify for DBS Treasures is S$350,000 in investable assets.
If you start investing via the DBS iWealth platform – all your Equity or Fund holdings will count towards your AUM.
Is DBS Treasures worth your time?
The way I see it, DBS Treasures is a great one-stop platform for wealth management. The amount of time saved from having your wealth managed at one bank, on one app (DBS iWealth platform), and being able to tap on the research and insights on the go, is a huge advantage.
The main benefits to me are:
DBS iWealth Platform – The DBS iWealth platform you use as a DBS Treasures client is the exact same one used by the private bank clients. I use it myself, and it's a great platform and very well done. You can do FX transfers, Online trading, Portfolio Management, all via the app itself. On top of that, you get market insights and research. It's banking and wealth management on the go, 24/7, and for me, convenience is priceless.
One Stop Platform – Whether its building an investment portfolio, converting forex, getting a miles card, buying managed funds, getting a comprehensive view of your finances (with DBS NAV Planner), DBS Treasures will be able to satisfy. This saves you a lot of time and hassle and also helps you keep track of your finances accurately.
Trusted bank – DBS is the largest bank in Singapore, and very well regarded in the industry. Asia's Safest Bank for 12 years consecutively, with credit ratings among the highest in Asia-Pacific. The peace of mind that comes with this cannot be understated.
So if you meet the $350,000 investible AUM, why not join DBS Treasures today to qualify for all the  features to help continue growing your wealth!  
Disclaimer: The following post is sponsored by DBS, all opinions and views expressed in this article are courtesy of Financial Horse.