So… A reader recently asked what price I would consider buying Digital Core REIT.
Off the top of my head, I said, low $0.70s – which works out to a 6% forward yield.
Well, this week, Digital Core REIT hit a low of $0.715.
A 42% plunge in just 6 months.
That's 0.82x book value, and a 6% FY2023 yield.
Almost unheard of for a data center REIT.
So… will I buy this 6% yielding data center REIT?
Full Disclosure
Okay first off – Full disclosure that I subscribed to Digital Core REIT at IPO price of $0.88.
I then closed my position entirely at $1.1+ range because I thought it was way overvalued at 3% yields.
I do take profit in my positions where I find them to be overvalued, which I may not necessarily update on the public version of FH.
You can see what I'm selling (or buying) on Patreon.
Why has Digital Core REIT's unit price collapsed?
2 reasons:
Rising interest rates
Bankruptcy of its 5th largest tenant
Rising Interest Rates
When Digital Core REIT IPO-ed back in November 2021, the 10 year Treasury was at 1.5%.
At IPO yield of 4.75%, that works out to a 3.25% yield spread.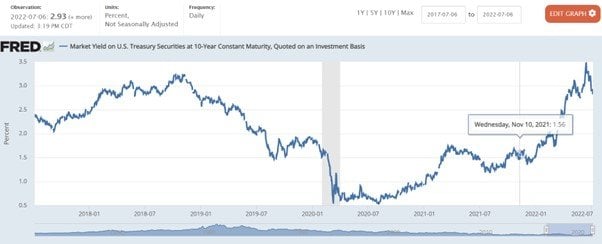 Today, the 10 year Treasury is at 3%.
At current forward yield of 6.0%, that works out to a 3% yield spread.
In other words, even after the collapse in unit price – Digital Core REIT is still more expensive than it was back in Nov's IPO (as measured using yield spread).
Now this is important to understand.
It's a sign of how deadly rising interest rates are.
When the risk free rate goes up – it reverberates through financial markets.
For the record, here's the performance of Digital Core REIT (purple line) against its sponsor Digital Realty, a $36 billion US listed REIT.
So rising interest rates have hit the Sponsor equally hard.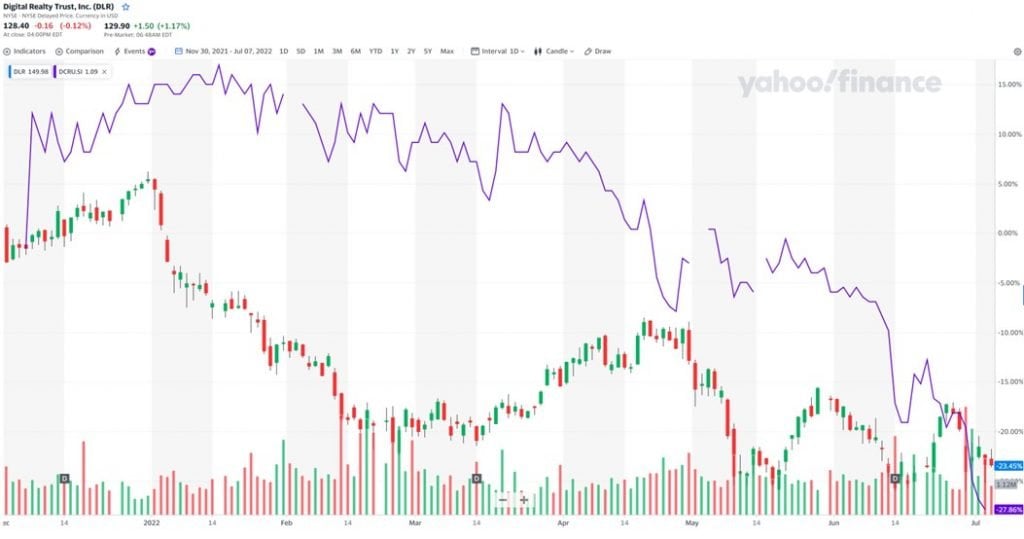 Bankruptcy of the REIT's 5th largest customer
Of course what doesn't help matters is the bankruptcy of Digital Core REIT's 5th largest customer, which makes up 7% of revenue.
Sponsor provides "rental guarantee"
Very interestingly, the Sponsor (Digital Realty Trust which owns a 30%+ stake), provided a guarantee of the rental income stream to Digital Core REIT in the event of a near-term cash flow shortfall due to the customer bankruptcy.
In plain English – if Digital Core REIT runs into cash flow issues because of this bankruptcy, the Sponsor will provide a backup rental income stream.
This is very interesting, I don't think I've seen it done in the Singapore context before.
"In keeping with Digital Realty's continued commitment to the success of Digital Core REIT, it has reached an agreement in principle to guarantee the rental income stream to Digital Core REIT in the event of a near-term cash flow shortfall due to the customer bankruptcy.  Given the current customer stance as well as the strength of the Toronto market and the cash flow guarantee, the customer bankruptcy is not expected to have a material impact on Digital Core REIT's distribution per unit, or DPU.
"Digital Core REIT is a strategic capital partner, and we are pleased to demonstrate our commitment to their success," said Digital Realty Chief Executive Officer A. William Stein.  "This support is a direct reflection of the strength of Digital Realty's global platform as well as the depth and breadth of our large and growing installed customer base."
For what it's worth, I think the chance of this "guarantee" being tapped on is low.
I don't think Digital Core REIT is likely to run into cash flow issues just because one of its tenant is bankrupt, given the way these REITs are structured (unless Digital Realty knows something we don't)
But there's no denying this "guarantee" is a nice to have, especially from an optics point of view.
Digital Core REIT – 6% yield for FY 2023
At current prices ($0.725), you're looking at a:
5.76% forward yield for FY2022
6.06% forward yield for FY2023
For comparison, here are some other yields in the market today:
Astrea 7 Class B – 6% yield (USD)
Keppel Pacific Oak US REIT – 8.6% yield (USD)
Netlink Trust – 5.5% yield (SGD)
Singapore Savings Bonds – 3.0% yield risk free (SGD)
Ascendas REIT – 5.3% yield (SGD)
Keppel DC REIT – 5.0% yield (SGD)
Probably fairly valued I would say.
Not the biggest fan of Data Centers
Let me just put it out there that I've never been a huge fan of Data Centers.
The way I see it, they are just buildings where you place computers.
The real value lies in the guy building the computers, and the guy who owns the data in the computers.
The guy owning the building?
Yeah… never got the appeal.
I mean at the right price of course I am a buyer. But if there is a buyer out there willing to buy a DC REIT from me at 3% yields, you bet I'm selling.
But I digress.
Digital Core REIT – Pure US Portfolio

Digital Core REIT's portfolio is a pure US portfolio, 100% freehold.
Cap rates are 4.25% average for the portfolio.
Given the rapidly rising interest rates, there may be some rerating of the cap rates moving forward (not in a good way), so I would say take the book value numbers with a pinch of salt.
Current price is 0.82x book value for what it's worth.
Latest earnings for Digital Core REIT are decent…
Latest earnings beat IPO forecast by 2%, which is good.
Energy costs are 100% reimbursed by the tenants, so Digital Core REIT is not affected by rising energy prices.
So the forecast yield numbers of 6% for FY2023 should hold up give or take, probably down slightly after you adjust for rising interest rates.
Long WALE is a double-edged sword
What is a bit more tricky, is the long WALE (Weighted Average Lease Expiry).
As you can see, most of the leases are expiring in 2025 and beyond.
This is good in that you don't need to worry about rent going down in the short term (because prices are already locked in).
This is bad because it also means that you cannot raise rent to respond to higher inflation.
So you do get the stability in yield, but you lose the rental upside.
Which makes Digital Core REIT kinda like a fixed income / bond style product. A US version of Netlink trust, if you like.
Default Risk of Digital Core REIT
That said –  it doesn't matter what prices you've locked in, if the tenant goes bankrupt.
The bankruptcy of their 5th largest customer shows that this is not impossible.
If you look at their tenant base, you'll find that 31% is non-investment grade rated.
Will more tenants default going forward?
Well if you take a look at the Dot Com bubble – first the share prices of tech companies crash. Then margins, and earnings.
It looks like we're going through the same now, and we're only at the part where share prices crash.
So earnings for a lot of tech companies might come down in the quarters ahead.
Would this affect solvency of Digital Core REIT's tenants?
Possibly.
BTW – we share commentary on Singapore Investments every week, so do join our Telegram Channel (or Telegram Group), Facebook and Instagram to stay up to date!
I also share great nuggets of wisdom on Twitter.
Don't forget to sign up for our free weekly newsletter too!
[mc4wp_form id="173″]
Jim Chanos shorts Data Center REITs
It's probably worth discussing Jim Chanos's views on Data Center REITs (emphasis mine):
The three biggest cloud providers, Amazon Web Services, Google Cloud and Microsoft Azure, are by far the largest tenants of data centres.
Chanos's thesis is that these three "hyperscalers" prefer to build data centres to their own design rather than moving into existing ones; and when they do outsource, they typically offer low returns to their development partners. Chanos also said he believed that the real estate investment trusts were overvalued and in for a period of declining revenue and earnings growth.
"The real problem for data centre REITs is technical obsolescence," said Chanos. "Their three biggest customers are becoming their biggest competitors. And when your biggest competitors are three of the most vicious competitors in the world then you have a problem."
Remember what I said about Data Center REIT just being real estate and to not get too carried away with valuations?
Yeah well, Jim Chanos sure puts it more eloquently than me.
Guess that's why he's a billionaire and I'm just a talking horse.
Digital Core REIT's Gearing is ridiculously low at 26%
Digital Core REIT's borrowings are 50:50 split between fixed and floating, which provides a hedge against rising rates.
Gearing is ridiculously low at 26% though.
Acquisitions are likely…
But a gearing this low only means one thing – expect acquisitions going forward.
And here it gets a bit tricky.
In my IPO review of Digital Core REIT, my biggest concern from a fundamentals perspective was the potential for conflict of interest between the Sponsor and the REIT.
Sure the Sponsor holds a 30% stake in Digital Core REIT, but when the Sponsor's own share price is getting pummelled, would they necessarily put Digital Core REIT's interests ahead of their own?
What assets will the Sponsor be selling to Digital Core REIT going forward, and at what prices?
That's the million dollar question here.
This being a new REIT, we don't have much of a track record to observe from the Sponsor.
And if (when) an acquisition comes along, expect a big equity fund raise, which could be pretty dilutive for existing unitholders.
USD FX Risk?
Every time I write an article like this, I always get the question about USD FX risk.
So let's tackle it head on.
Here's the 5 year chart of USD against the SGD.
I don't deny that the USD is probably at a high vs the SGD now.
Over the next 3 – 5 years, I would expect the USD to depreciate against the SGD.
I think that in the mid-term, the US will need to accept a more inflationary path, with loose monetary policy (relative to inflation).
Which would not be good for the US Dollar.
If you look at the 20 year chart for the USD-SGD, the impact is pretty stark.
Don't underestimate FX here.
We are quickly moving into the new golden age of FX volatility. USD, Euro, Yen – expect big movements going forward as central banks diverge on monetary policy.
I like Digital Core REIT from a fundamentals perspective
For the record, from a fundamentals perspective I like Digital Core REIT.
When I reviewed this at IPO, I gave this REIT a 5 Horse rating.
My biggest concern from a fundamental perspective is conflict of interests by the Sponsor.
All of that still holds true today.
But the Global Macro has done a 180
But one cannot deny that the macro climate has turned 180 since November 2021.
The Feds have switched from QE to crushing inflation at all costs.
In their latest minutes, they "recognized the possibility that an even more restrictive stance could be appropriate if elevated inflation pressures were to persist,".
That's a very different macro climate from the one we were investing in 9 months ago.
Market is pricing in a 3.5% terminal interest rate in 2023.
Given how sticky inflation in, can we overshoot and see the 10 year treasury at 3.5% – 4% before all this is over?
Frankly I don't know the answer to this one.
Will I buy Digital Core REIT at 6% yield?
I don't deny that value is starting to emerge in this market.
I think for long only investors, opportunities are starting to emerge.
You can pick up:
Astrea 7 Class B – 6% yield (USD)
Keppel Pacific Oak US REIT – 8.6% yield (USD)
Netlink Trust – 5.5% yield (SGD)
Singapore Savings Bonds – 3.0% yield risk free (SGD)
Ascendas REIT – 5.3% yield (SGD)
Keppel DC REIT – 5.0% yield (SGD)
That's one of the juiciest yield environments we've had in a while, and you can see my full Stock and REIT watchlist on Patreon.
But do I think this is the macro bottom?
Well, I think we're nearer than we were in Jan 2022 when I was actively selling positions, but I would caution to say that we are at the bottom just yet.
So as must as I like Digital Core REIT, I'm tempted to stay on the sidelines and let the macro play out a bit more, and watch for even better prices to emerge across the board.
That said, for long term investors who are not keen to market time, I think current prices for Digital Core REIT are interesting.
What price will I buy Digital Core REIT, regardless of macro?
Let's say we assume worst case a 4% terminal interest rate.
And we apply a 3% yield spread to that.
You're looking at a 7% yield on Digital Core REIT, which is a price in the low $0.60s.
At that price, maybe I just buy a position, and ignore all the global macro.
Will it go there?
Don't know – let's see.
Closing Thoughts: If you like Digital Core REIT…you'll like this REIT too…
Digital Core REIT IPO-ed around the same time as another REIT… Daiwa House Logistics Trust.
Much like Digital Core REIT, the unit price has not been doing well due to all the interest rate volatility.
I wrote a full analysis on Daiwa House for Patreons, so do take a look if you are keen.
Without giving too much away, Daiwa House has many of the same problems (and strengths) of Digital Core REIT.
With one big additional factor – Yen exposure.
The Yen is a story that requires a full article on its own.
It's a story about the BOJ maintaining interest rates at 0.25% when the rest of the world is hiking.
But suffice to say, at the right price, both Digital Core REIT and Daiwa House Logistics Trust are worth a look.
Refinancing tool
With rapidly rising interest rates – it might pay off to look into refinancing if your loan is coming due.
I know a lot of you have been writing in for my views on fixed vs floating loans, and I plan to write a full article for this.
But in this market – I think you're pretty much forced into taking floating. The banks themselves know interest rates are going up quick, so the fixed rate loans are priced in such a way that they aren't sufficiently attractive (in my view).
In the meantime, there's a fantastic tool by Property Guru.
Do give it a try if you're close to refinancing.
It's completely free – you just input your mortgage details, and the tool lets you know whether you'll save money by refinancing.
If the answer is yes, they'll give you recommendations on what loan to take.
If the answer is no, you can set up a reminder for the tool to remind you when its time to refinance.
I set up the reminders for my own properties just this week and it's pretty neat.
Do give it a try here.
As always, this article is written on 8 July 2022 and will not be updated going forward.
If you are keen, my full REIT and stock watchlist (with price targets) is available on Patreon. You can access my full personal portfolio to check out how I am positioned for the coming downturn too.
Looking for a low cost broker to buy US, China or Singapore stocks?
Get 100 USD in Apple Shares with Webull, a zero commission broker.
Get a free stock and commission free trading with MooMoo.
Get a free stock and commission free trading with Tiger Brokers.
Special account opening bonus for Saxo Brokers too (drop email to [email protected] for full steps).
Or Interactive Brokers for competitive FX and commissions.
Looking to buy Bitcoin, Ethereum, or Crypto?
Check out our guide to the best Crypto Exchange here.
Do like and follow our Facebook and Instagram, or join the Telegram Channel. Never miss another post from Financial Horse!
Looking for a comprehensive guide to investing that covers stocks, REITs, bonds, CPF and asset allocation? Check out the FH Complete Guide to Investing.
Or if you're a more advanced investor, check out the REITs Investing Masterclass, which goes in-depth into REITs investing – everything from how much REITs to own, which economic conditions to buy REITs, how to pick REITs etc.
Want to learn everything there is to know about stocks? Check out our Stocks Masterclass – learn how to pick growth and dividend stocks, how to position size, when to buy stocks, how to use options to supercharge returns, and more!
All are THE best quality investment courses available to Singapore investors out there!
FYI – We just launched the FH Property Series. Everything you need to know to buy a property in Singapore, completely free of charge.