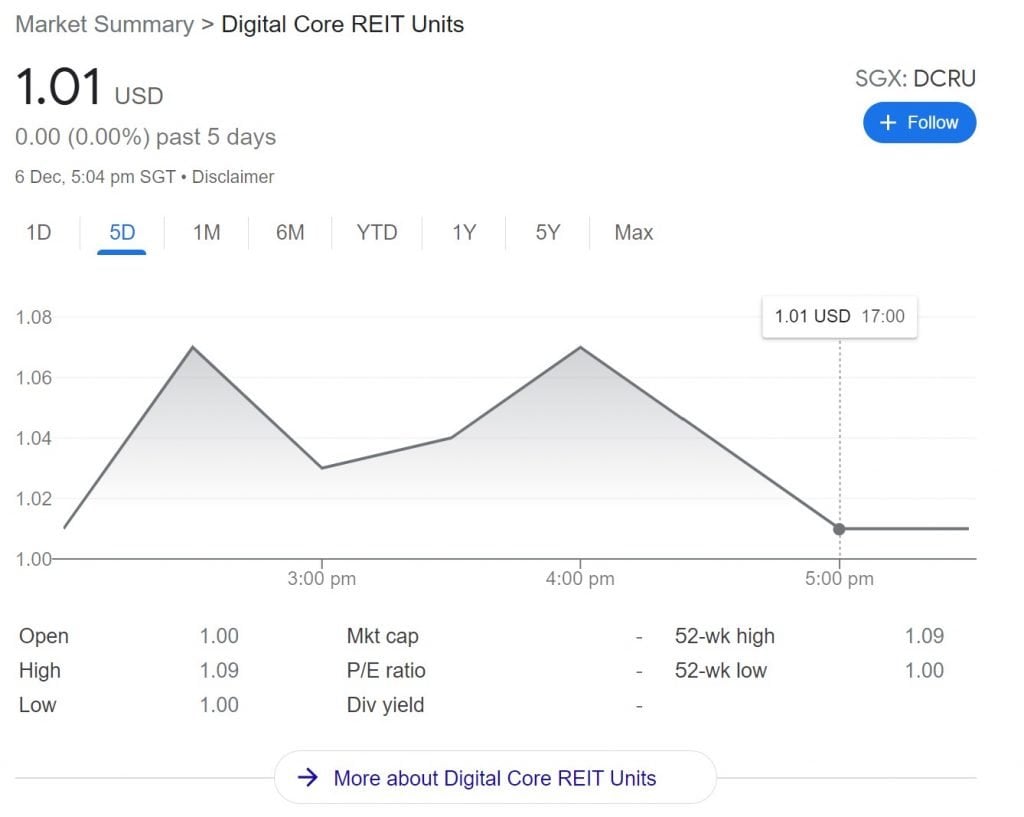 For those who missed it, Digital Core REIT IPO-ed today.
Day one trading price performance was very strong:
Trading opened at US$1.01 (14.7% above IPO price)
Intraday high was US$1.09 (23.8% above IPO price)
Closing price was US$1.01 (14.7% above IPO price)
For reference, the IPO price was US$0.88, or SGD$1.21.
At closing price of $1.01, that works out to:
1.18x book value
4.1% FY2022 yield
Compared to Keppel DC REIT at 1.96x book value, and 4.03% trailing yield.
The 4% yield for both Keppel DC REIT and Digital Core REIT is very interesting, perhaps that is the market view on fair price for data center REITs.
A lot of you have asked me if I intend to buy more or to hold (or sell) Digital Core REIT.
I'll probably see how the trading action plays out over the next few weeks, but at this price I don't see a compelling need to add to my position in Digital Core REIT anymore.
I liked it a lot at IPO price, but at today's price it looks much more fairly valued to me.
I'll probably hold for now and see how things play out.
The long term success of the REIT will depend a great deal on the path of acquisitions going forward, and how conflicts of interest are handled. Those will take time to show itself.
As always – Love to hear what you think! Are you selling, buying more or holding?
BTW – we share commentary on Singapore Investments every week, so do join our Telegram Channel (or Telegram Group), Facebook and Instagram to stay up to date!
Just created a Discord server where I collate analyst reports and investing resources that I come across in my research. Hit us up here if you're keen.
Don't forget to sign up for our free weekly newsletter too!
[mc4wp_form id="173″]