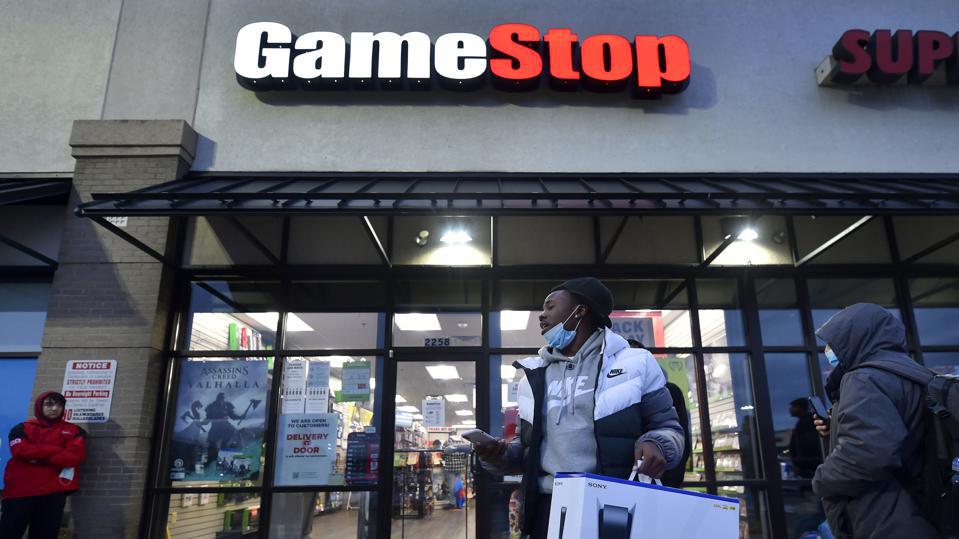 Note: This article is a premium article that first appeared on Patron. Making it available given the unprecedented nature of this situation. If you enjoy it, do consider supporting Financial Horse and getting access to premium content!
Gamestop – A quick summary
Background
Not sure how many of you have been following the story, so I'll do a quick recap (Vox has a more detailed one if you want more info).
So GameStop is a US bricks and mortar store that sells video games.
For obvious reasons, their business has been absolutely crushed, because of (1) COVID – nobody goes to stores, and (2) Digital download of games – most new games can be purchased online.
This was fairly obvious to many people, and it got to the point where GameStop was one of the most shorted stocks around.
As at Dec 2020, short volume was a whopping 139% of shares outstanding – you read that right, short volume is higher than the amount of shares, which means a whole bunch of people are doing naked shorts (they don't have the underlying stock).
Over the past few years, the shorts made a ton of money, because GameStop's business has not been doing well.
In recent months, things have started to turn around, because of (1) GameStop's new management has unveiled plans to turnaround the business (rebrand as a shared space for gamers, and also tap into ecommerce), and (2) the new console cycle has been good for physical game trading.
The Short Thesis
Last week, Citron Research (a famed short seller) unveiled his short thesis against GameStop.
He did it via a Twitter live stream, and his Twitter account promptly crashed multiple times.
He eventually got the message out on YouTube, but that only resulted in him and his family getting death threats from the online mob.
He eventually gave up and stopped commenting on GameStop because of all the hate.
The Short Squeeze
But the story doesn't end there.
Late last week, a whole bunch of retail investors from the online forum Reddit WallStreetBets (r/WSB for those familiar with it) started coordinating to buy shares in GameStop.
And of course with such small cap, low liquidity stock with a high short volume, once it started going up, it REALLY started going up.
It got to the point where Melvin Capital (which had a big short position on GameStop) was down by $3 billion (out of a $12 billion portfolio).
It then took a $2.75 billion loan from, among others, Citadel (the famed high frequency trader). This allowed it to maintain its short position without closing it off and locking in the loss.
That was Monday, and of course the move only infuriated the online mob even more, leading to even more buying.
Giving us the 5 day chart below (includes after hours trading):
Pretty unbelievable stuff.
The closest parallel is the Volkswagen short squeeze in October 2008.
Very similar dynamics – essentially the short volume was greater than the free float, so once prices started going up, the hedge funds were forced to cover their shorts – at ANY price.
You can read more about the saga here, the hedge funds eventually lost about $30 billion then.
Who else is happy about this?
Interestingly, the Game Stop mania has also bleeded into other stocks. Europe's most-shorted stocks saw big price swings on Wednesday.
BlackBerry soared 185% on Tuesday, and Nokia also saw a surge. The 20 small-cap Russell 2000 index companies with the biggest bearish bets against them have risen 60% on average so far this year.
BlackRock is said to have made gains of about US$2.4 billion on its approx 13% stake in GameStop.
GME Resources Limited – listed as "GME" on the Australian Securities Exchange – surged in early trading as well, because funnily enough (like Zoom), investors appeared to mistake it for GameStop. Management of the Western Australia nickel miner had no idea what was happening, until a younger family member explained.
r/wallstreetbets
If you're curious, check out r/wallstreetbets to understand the thinking from the retail guys who are doing the buying. Really interesting psychology.
It's a mix of guys who want to stick it to wall street, guys who want to rage against the system, and some guys who just want to make a quick buck.
Extracted some screenshots below for your viewing pleasure:
BTW – we share commentary on the COVID crisis every weekend, so please sign up for our mailing list, its absolutely free.
It's a weekly newsletter that goes out every Sunday, and rounds up the week's posts so you never miss anything.
Don't forget also to join our Telegram Channel and Instagram!
[mailmunch-form id="928667″]
What happens next?
What happens next is simple.
With close to 140% float short as at Dec 2020, my suspicion is that if the shorts are forced to cover, we haven't seen anything yet.
This might only just be getting started.
There's just not enough shares out there to cover the shorts, especially with retail flooding in to buy at any price.
The institutions will try to bring the price down, but it remains to be seen who will win this battle.
Options for investors are:
Bring out the popcorn (and watch from the sidelines) – If you just want to enjoy the show, bring out the popcorn and watch from the sidelines.
Buy and flip (buy shares) – You could take a punt by buying in now (via shares) and trying to flip it for a quick buck. But it really could go either way here. The big boys will try to bring the price down (margin requirements on the stock have already been raised), the small guys will try to buy it up. Hard to say who wins.
Buy and hold till the top (buy OTM call options) – If you really wanted to make an outrageous bet, it would be to buy deep out of the money (OTM) call options, and pray for the short squeeze of the decade. But call options are outrageously expensive now given all that is going on, so this tactic requires some good execution.
But whatever you do, DO NOT short this stock. The downside here is unbelievable for any short, because in a real short squeeze, there's no knowing how high the stock can go.
Not worth it unless you know exactly what you're doing.
Now I have no deeper insight into how this is going to play out. Gut feel though, is that when this many retail investors are piling into a small cap, heavily shorted stock, expect to see big big fireworks. Probably even bigger than what we've seen so far.
I don't think this is over just yet.
Has underlying market structure shifted?
It's become increasingly obvious over the past 12 months – but the underlying market structure has shifted.
It is now very retail dominated, and their weapon of choice is call options.
The modus operandi seems to be to select a bunch of hypey stocks (eg. Snowflake, Palantir, Tesla, Nio etc), buy deep out of the money call options, and watch the money pour in when it goes up.
In the bull market that we're in right now, this strategy has paid big dividends.
Again, don't know how this ends, but when things get this euphoric and frothy, it almost never ends well.
But whatever the case, the presence of the call buying retail investors can no longer be ignored in this market.
As this saga shows, they have real presence in today's markets, and collectively, they truly have the potential to make waves.
In the meantime, buckle up, and enjoy the ride! It's going to be an amazing one.
Note: This article is a premium article that first appeared on Patron. Making it available given the unprecedented nature of this situation. If you enjoy it, do consider supporting Financial Horse and getting access to premium content!