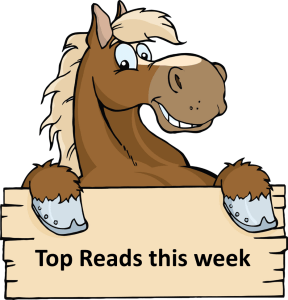 Rounding up top reads from around the web, as shared by fellow investors and myself in the Financial Horse Facebook Group.
*Giveaway* alert, scroll to the end for details! 
---
Of the following asset classes, the S&P 500, a 60/40 stock/bond portfolio, Bonds, a 40/60 stock/bond portfolio, REITs, Gold, Oil, EAFE (Europe, Asia, Far East), national real estate, which performed best?
---
Many individuals fell into the trap of investing in these "winners" just because successful investors like Warren Buffett have invested in them. Read more for a portfolio manager's thoughts on value investing.
---
By now, just about everyone knows that an inverted yield curve is a sign of an impending recession. It may be a necessary sign, but it is not sufficient. A great post that takes a look at the hard economic data after all that yield curve talk.
---
Key takeaway that a property manager shared – "The biggest risk is not in the asset, but the manager". Agreed.
---
Never stop owning your mistakes, an insightful read.
---
What's next after Hyflux default.
Read more about my take on Hyflux here.
---
DBS is really bullish on Frasers Property. Not so sure if I agree.
---
The real estate sector has been among the best-performing in the Singapore market this year, but analysts see limited upside from hereon, following the sector's rally this year.
---
Quick recap.
---
Acquisition of the year in the Singapore market.
---
LippoMalls' investors take note.
---
GoBear Personal Finance Masterclass on 27 April 2019, Saturday at 11am @ NTUC Centre. Seedly, Budget Babe and DrWealth will be headlining the event.  
Highlights:
– Get better at saving and spending on a day-to-day basis
– Take your family on a journey towards financial independence
– Prep your investment portfolio ahead of retirement 
*GIVEAWAY*
GoBear has kindly offered Financial Horse readers 3 pairs of complimentary tickets. If you are interested to attend, leave a comment on this post in my Facebook Group and I will give the tickets to the first 3 persons who indicate their interest to attend. 
Sign up link & more information here, there is an early bird pricing so grab your tickets early if you are interested to attend! 
---
Till next time, Financial Horse, signing out! 
Enjoyed this article? Do consider supporting the site as a Patron and receive exclusive content. Big shoutout to all Patrons for their generous support, and for helping to keep this site going! 
Like our Facebook Page and join the Facebook Group to continue the discussion!