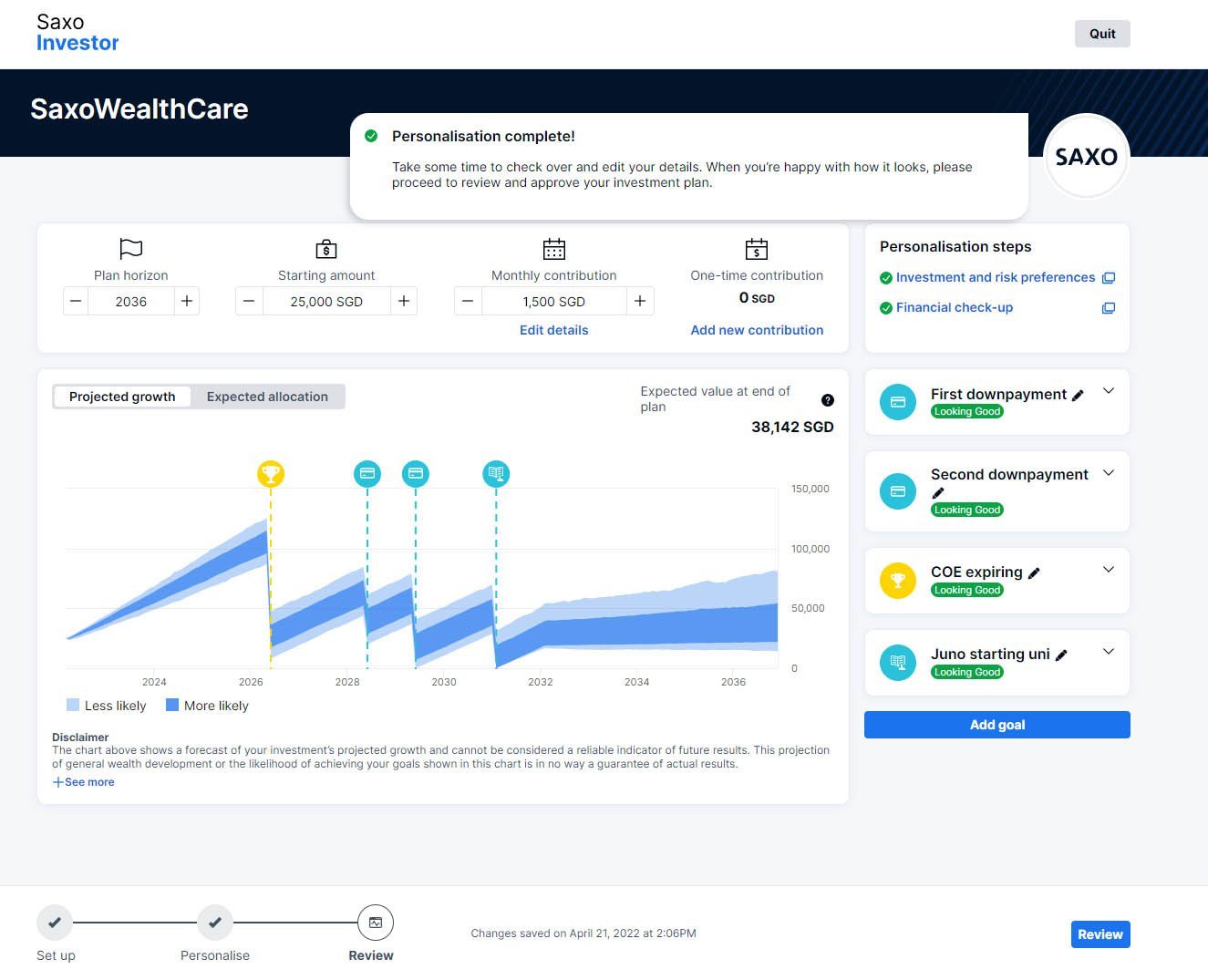 Saxo Markets has launched a new digital wealth management solution – SaxoWealthCare.
Read on for the full details!
Note: This post is in collaboration with Saxo Markets. All views and opinions expressed in this post are from Financial Horse.
What is SaxoWealthCare?
SaxoWealthCare portfolios are customized based on investment perspective, risk appetite and the impact you want to make through your investments.  
According to Saxo, SaxoWealthCare aims to provide a solution to investors who are currently under-served in Singapore as they may be priced out of private banking and professional wealth management services. 
"SaxoWealthCare is here to fill that gap – with its galaxy of starting points and active approach in investing, it builds an active, quality portfolio at a fair price based on your own goals and your life ambitions.
Everything is active – from allocation and management to monitoring and protection, investors get a living, breathing portfolio aligned with their goals. Active portfolio management is not common amongst players out here. Robos at the moment for instance don't offer active, daily monitoring and management of clients' portfolios focused on their goals. While private banks may have a prohibitive min. investment of S$350k for instance. 
Key benefits of SaxoWealthCare
Personalised portfolio
Automatic rebalancing with the option of adding protection to safeguard your investment in periods of market volatility
Accessible entry point ($25,000)
Investor is in control, no lock-in period
Goal-based Risk Management
SaxoWealthCare prioritizes risk management, so before you begin, you are first invited to complete a questionnaire to ensure that your investment and risk preferences are in place, before SaxoWealthCare customizes your portfolio.
You can set specific goals for your investing, or just invest broadly for growth over time.
You can set long-term goals such as retirement in 20 years, in addition to shorter-term goals such as saving for a car, or a down payment for your house.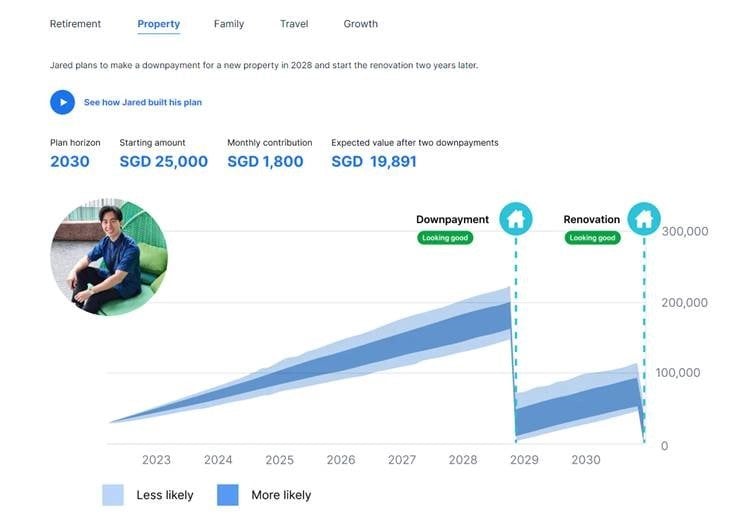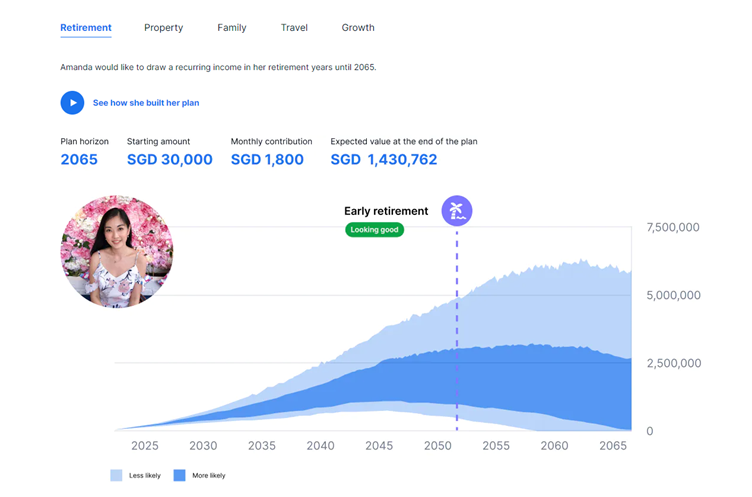 Personalized Portfolios with 3 Trading Styles
SaxoWealthCare tailors a portfolio for each investor.
In collaboration with reputable asset managers, Saxo invests your money into a collection of stocks and bonds ETFs to suit your investment plan and risk profile.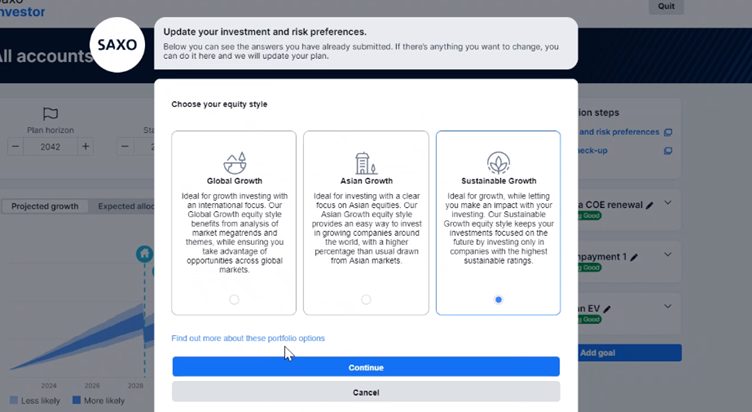 The portfolios are built with a combination of stock and bond ETFs, and come in three trading styles:
Ideal for growth investing with an international focus. The Global Growth equity style benefits from analysis of market megatrends and themes, while ensuring you take advantage of opportunities across global markets. 
Global Growth is an actively managed style suitable for clients with a higher risk appetite. Approximately 50% are allocated to global markets, 25% into Asia and 25% in megatrends.
Ideal for investing with a clear focus on Asian equities. The Asian Growth equity style provides an easy way to invest in growing companies around the world, with a higher percentage than usual drawn from Asian markets (ex-Japan, including China).
Asian Growth is an actively managed style. There are up to fifteen ETFs in this style. Asian Growth can allocate 100% of your money into ETFs from Asia, but reserves a discretionary allocation for thematic ETFs as well, to take advantage of market opportunities.
Ideal for growth, while letting you make an impact with your investing. The Sustainable Growth equity style keeps your investments focused on the future by investing only in companies with the highest sustainability ratings (above average AA ESG rating).
Sustainable Growth is allocated approximately 70% into country ETFs and 30% into factor ETFs. This allocation may change based on market opportunity.
The rebalancing frequency of each equity style portfolio is monthly. Find out more about each equity style here.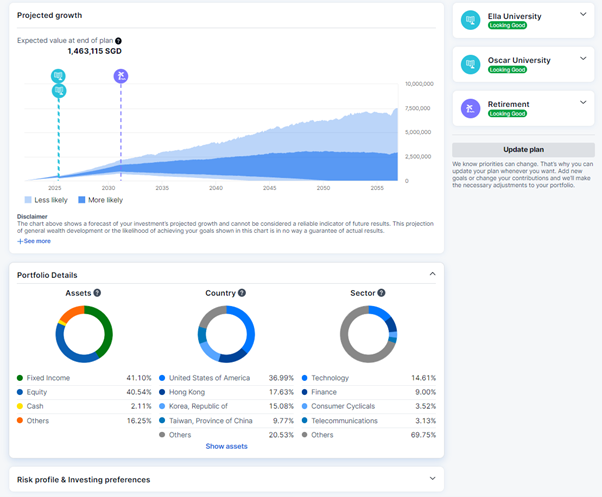 Other key benefits of SaxoWealthCare
Fully digital with human touch
Professional asset management at a fair price
Portfolio Protector
No minimum holding period
Portfolio Protector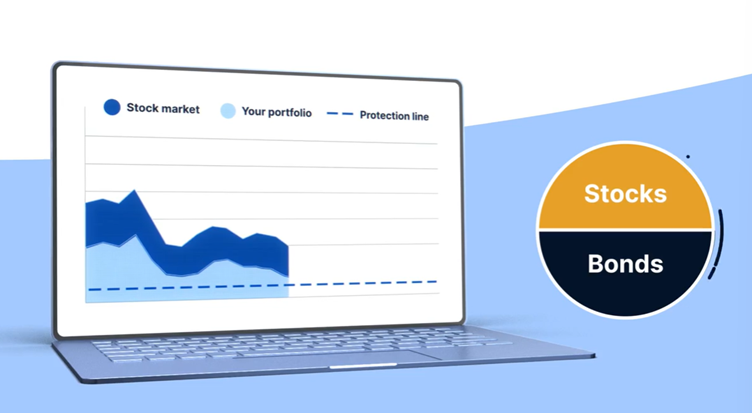 The Portfolio Protector is a unique risk-management feature exclusive to SaxoWealthCare.
In times of market volatility and downturn, Portfolio Protector will re-balance out of riskier assets such as stocks, and into lower-risk products such as bonds.
Users can opt-in to this free feature within SaxoWealthCare.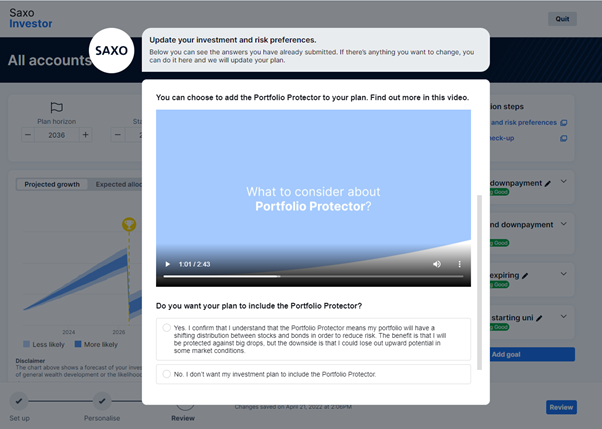 Management Fees
Management fees range from 0.45% to 0.75% depending on the sum invested.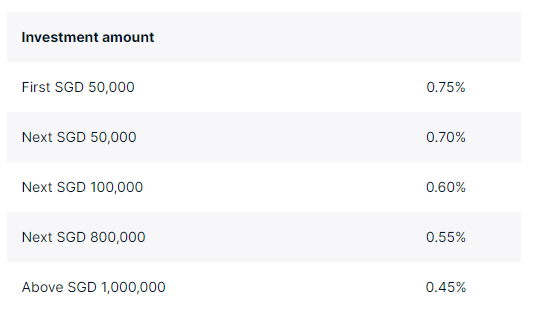 SaxoWealthCare Sign Up
Find out more about SaxoWealthCare here!
Financial Horse x Saxo Opening Account Promo
For FH readers, there is special cash account opening bonus for new Saxo account holders (drop email to [email protected] for full steps): Financial Horse x Saxo Affiliate Link
Note: This post is in collaboration with Saxo Markets. All views and opinions expressed in this post are from Financial Horse.
For more investing content, follow Financial Horse on Social Media!