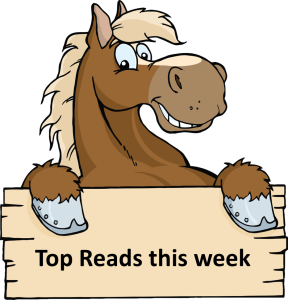 Rounding up top investing articles from around the web, including articles shared by fellow investors in the Financial Horse Facebook Group.
---
The billionaire investor sees a "pushback against the establishment" from retail investors, many of whom watched their parents lose money during the financial crisis while large institutions on Wall Street were bailed out.
Palihapitiya said that the 2.7 million users on WallStreetBets are as important to the market as any hedge fund. And, some Redditors are doing "incredible fundamental diligence," even better than professional hedge fund analysts. 
He also lamented the lack of transparency within hedge funds who maximize gains using prime brokers, and called out "idea dinners" in the Hamptons where a select number of managers get together behind closed doors and pitch investment ideas.
He predicted that in the long run, retail sophistication will catch up to institutional sophistication, but first, hedge funds should be forced to disclose the details of their trades like investors on WallStreetBets do. "My point in all of this, if you want to make the system better and healthier, force more transparency on the institutional side," Palihapitiya said. 
"Why is it allowed for somebody running a hedge fund to basically claim that they are market neutral, but be levered up? They take a $10 billion fund and their prime brokers allow them to run a hundred billion dollars of notional exposure-who thinks that that's fair?" said the investor.
"It's not fair to the retail investor because when that blows up and a hundred billion dollar hole exists in a fund, which by the way, this is exactly what happened in 2008, the government bails them out-and who is the government? All of us," he added.
---
AOC, Ted Cruz, Ro Khanna and other lawmakers criticized Robinhood after it restricted trading in GameStop and other companies targeted by the irreverent WallStreetBets Reddit forum.
Rep. Rashida Tlaib, D-Mich., a member of the Financial Services Committee, called Robinhood's move "beyond absurd" and demanding a hearing on "Robinhood's market manipulation."
The White House has said its economic team is monitoring the situation.
The Democratic leaders of the House Financial Services Committee and the Senate Banking Committee said they would hold hearings.
---
Eligible Sheng Siong staff will receive total bonuses of up to 16 months, inclusive of the annual wage supplement (AWS) for last year, with the supermarket operator having raised the variable bonus to 20 per cent of the company's profits before tax. In an internal staff memo sent out last week, the company said the bumper bonus was to recognise that it had "performed extremely well as compared to previous years".
---
---
To tackle the low tourist arrival figures and occupancy rate, The Singapore Tourism Board ("STB") has announced that every Singaporean aged 18 and above in 2020 will receive S$100 worth of SingapoRediscovers vouchers, which can be used on staycations, attraction tickets and tours. This move is expected to promote domestic tourism and lend a boost to Singapore's tourism industry.  
In this article, we will be looking at 3 Listed Hospitality Trust who can potentially benefit from this program, mainly, CDL Hospitality Trust (SGX: J85), Far East Hospitality Trust (SGX: Q5T), Fraser Hospitality Trust (SGX: ACV). 
---
DBS, Oversea-Chinese Banking Corporation (OCBC) and United Overseas Bank (UOB) are scheduled to release their 4QFY2020 results on Feb 10 (before Chinese New Year), Feb 24 and 25 respectively. Maybank Kim Eng analyst Thilan Wickramasinghe upgrades his outlook on banks here to "positive", after strong market liquidity and stimulus expectations overrode a "negative" call in November 2020. 
Stronger GDP growth expectations regionally should support a rebound in loan growth momentum, he adds. "We forecast loans to expand 7% y-o-y in 2021F (4% in 2020F). Low policy rates could support further fee income growth – particularly in wealth & fund management – while volatility may add to trading income upside."
That said, Wickramasinghe expects non-performing loans (NPL) to expand to 2.1% in 2021F, from 1.7% in 2020F, the highest levels since the global financial crisis. In addition, some 3-4% of system loans are expected to be under moratoriums, raising asset quality risks. 
---
Air travel between Singapore and India is currently restricted only to special repatriation flights chartered by the Indian government, said Mr Ng. "There is interest from both countries to explore resuming international scheduled commercial passenger flights between Singapore and India gradually
---
Foreigners snapping up private apartments in Singapore declined to a 17-year low last year as travel restrictions and lockdowns in various countries deterred them from coming to the city-state.
---
According to data released by industrial land and infrastructure agency JTC Corp on Thursday, prices of industrial space were up 1 per cent from Q3 2020, while rents inched up 0.1 per cent. This came as the occupancy rate climbed 0.3 percentage point to 89.9 per cent, fuelled by an increase in demand for storage while new completions were delayed as the pandemic impacted construction activities. Compared to the previous year, however, prices of industrial space were 2.7 per cent lower, while rents were down 1.5 per cent. Meanwhile, the occupancy rate increased 0.7 percentage point from the previous year, bucking the trend. Going by segment, nearly every one reported a quarter-on-quarter increase in the occupancy rate in Q4 2020, except for single-user factory, which was flat at 91 per cent.
---
Commuters can now take driverless buses in two areas of Singapore for a small fee, in the first such trial since the Republic began experimenting with autonomous vehicles on the roads in 2015. The new services, headed by ST Engineering, are operated by SMRT and SBS Transit, the two largest bus operators here. They will run in Singapore Science Park 2 near Haw Par Villa and on Jurong Island, with a round trip costing 40 cents and $2 respectively.
---
Mansoor Mohi-uddin, the bank's chief economist, wrote that the finite supply of bitcoin – there can only be 21 million – was an attractive feature to investors, who are increasingly turning to it to strengthen their portfolios. However, regulatory and reputational challenges remain.
"First, investors need trustworthy institutions to be able to hold digital currencies securely. Second, liquidity needs to improve significantly to reduce volatility to manageable levels," Mr Mohi-uddin said.
"Bitcoin is highly volatile as its rally over the past year from $4,000 to more than $40,000 and then back towards $30,000 shows. Bitcoin is also correlated with stocks and other risk assets rather than trading as a counter-cyclical safe-haven. In a financial crisis, cryptocurrencies are more likely to be dumped by investors during a market meltdown, as occurred at the start of the pandemic in March 2020."
---
According to real estate services and investment management company Colliers International, 18 shophouses – each over S$10 million and worth a total of S$288 million – transacted in Q4 of 2020 alone.
---
It turns out I was right to be cynical: The company's primary customers are not its users, but other financial institutions. Just last month, the Securities and Exchange Commission fined Robinhood $65 million for trying to keep that income stream hidden. 
This week, countless Robinhood users teamed up with organizers in r/WallStreetBets, a Reddit forum, day traders on Twitter and onlookers in other online investor communities, to expose vulturelike hedge fund investors who had aggressively short sold stocks for GameStop, the flagging retailer. The Redditors made the hedge funds pay for this risky "shorting" maneuver — essentially, betting against the market value of the targeted asset — by collectively driving GameStop's share price up by as much as 1,700 percent.
Throughout Thursday, stock exchanges, government regulators and retail apps like Robinhood were looking to squelch this volatile trading energy. Several platforms have indefinitely halted trading on companies popular with the insurgent internet conglomerate. Robinhood alone put a pause on GameStop, AMC, Nokia, BlackBerry, American Airlines and Bed Bath & Beyond — a move that angered millions of users. "What do you call a market that removes retail investors' ability to buy to save institutional investors' shorts?" a Twitter account run by the moderators of r/WallStreetBets posted.
---
The World Economic Forum's special annual meeting will only go ahead in May if it can be held in a safe way, Singapore's minister for trade and industry Chan Chun Sing said on Friday.
Vaccines, testing and contact tracing will come into play for that to happen.
He also explained why the summit won't be completely shut down if a participant tests positive for the virus during the meeting.
---
Singapore conglomerate Keppel Corp said on Thursday (Jan 28) its struggling offshore and marine (O&M) segment will exit the rig-building business as part of a previously flagged strategic review. Keppel and its smaller rival Sembcorp Marine were among the world's biggest oil rig-builders, but low oil prices and an oversupply of rigs have hit the business hard. The O&M business will focus on areas such as renewables and gas solutions, and will have a "significantly reduced headcount" as part of the restructuring, Keppel said. "When we succeed in executing these plans, we will see a transformed and more competitive Keppel O&M, well-placed to support the global energy transition," said CEO Loh Chin Hua. Keppel said it was also exploring inorganic options for the O&M business.
The company, whose businesses include property development and telecommunications, reported a net loss of S$506 million (US$380 million) for 2020, compared to a net profit of S$707 million a year earlier.
---
You can always find someone willing to say that we're in a stock market bubble.Lately, though, calls of a bubble have gotten louder. For many, the catalyst was the rampant bull market in late 2020, which defied the dire economic conditions during the worst of the COVID-19 pandemic and instead sent stocks inexorably higher. That apparent disconnect made many question whether markets truly reflect the health of the broader economy. Now, major investment companies are getting in on the act. Goldman Sachs (NYSE:GS) earlier this week stopped short of saying that the entire market is in a bubble, despite pointing out that common metrics like earnings and book value multiples are near the high end of historical ranges.
The first step is to make sure that the stocks in your portfolio are there because you have confidence in their long-term business prospects. It's easy to get caught up in the hype and take a flyer on a speculative stock. But if you have legitimate concerns of a bubble, the last thing you want is to own investments that you don't really believe in. Those will be the first you panic-sell at a loss if a bubble comes.
Last, start making a list of high-quality stocks that you'd like to buy if they were somewhat cheaper, and try to save a little extra cash in preparation to invest in them if the market heads sharply lower. When a true stock market bubble bursts, it usually sends share prices of strong companies down, along with weaker companies that didn't deserve their high valuations. Frightened traders panic-sell them all. But you can be more discriminating and pick up great bargains on the cheap.
---
Beijing will add more overseas gambling destinations to its travel blacklist for Chinese nationals as it clamps down on an activity that it says sees an estimated 1 trillion yuan (US$155 billion) of capital outflows annually. The restrictions aim to "better regulate the tourism market and safeguard the lives and property of Chinese citizens", the Ministry of Culture and Tourism announced on its website on Tuesday. The blacklist – introduced in August by the tourism, public security and foreign ministries – puts travel restrictions on places where Chinese go to gamble. The tourism ministry said more destinations would be added to the list soon, without elaborating.
---
If you really want to get a call-back, you need to focus on what your employer wants (rather than what you want). 
A Resume shouldn't just be a laundry list of all your experiences. It should tell a story and convince prospective employers that you are the best candidate! A weak resume tells the employer that you are hardworking and willing to learn on the job. A strong resume shows the employer why you are READY and perfect for the job. 
---
Looking for a comprehensive guide to investing? Check out the FH Complete Guide to Investing and FH REITs Masterclass for Singapore investors.
2021 Stock Watch: Support the site as a Patron and get market updates. Like our Facebook Page and join the Facebook Group to continue the discussion!