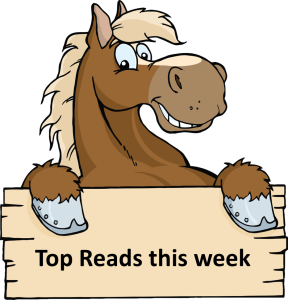 Rounding up top investing articles from around the web, including articles shared by fellow investors in the Financial Horse Facebook Group.
---
To be in a net cash position means that the company will have ready fund to tap onto any acquisitions or opportunities to grow their business.  In this article, we will be looking at 5 companies that are in Net Cash Position for the past 3 years:   
Cordlife Group Limited (SGX: P8A)  
Avi-Tech Electronics Limited (SGX: BKY)  
Sarine Technologies Limited (SGX: U77)  
Valuetronics Holdings Limited (SGX: BN2)  
Challenger Technologies Limited (SGX: 573) 
---
Shenzhen-based Futu Holdings has surged 156 per cent already this year and Singapore-listed iFast Corp more than doubled. In South Korea, Kiwoom Securities is up more than 18 per cent. The moves have crushed the performance of a Bloomberg index of the region's institutional brokerage firms, which is up just 1 per cent over the same period.
The strong performance of this pocket of the market comes amid a rapid increase in the number of young retail investors. More than 50 per cent of Futu's new users are from the post-1990s generation and more than half are first time investors, Citigroup analysts including Daphne Poon noted last week, citing a survey from the brokerage.
---
On Tuesday Bezos announced that he's stepping down as CEO of Amazon, the company he founded 27 years ago. In a letter to employees that coincided with the company's earnings on Tuesday, Bezos said that Andy Jassy, the CEO of Amazon Web Services (AWS), will take over his role as CEO in the third quarter, while Bezos will become executive chair of Amazon's board. "In the Exec Chair role, I intend to focus my energies and attention on new products and early initiatives. Andy is well-known inside the company and has been at Amazon almost as long as I have," Bezos wrote in the letter.
---
Apple is close to finalizing a deal with Hyundai-Kia to manufacture an Apple-branded autonomous electric vehicle at the Kia assembly plant in West Point, Georgia, sources tell CNBC.
According to one source familiar with Hyundai-Kia strategy, "Chung has made it clear, mobility is the future of the company."  That's important because the Apple Car will be fully autonomous. 
Sources familiar with Apple's interest in working with Hyundai say the tech giant wants to build the "Apple Car" in North America with an established automaker willing to allow Apple to control the software and hardware that will go into the vehicle.    
---
Venture capital investors doubled down on investments in Robinhood even as the company scrambled to raise billions of dollars to meet new capital requirements, and faced pressure from customers and lawmakers.
User growth during the chaos and its prospects as a public company convinced at least three VC investors that backing Robinhood was the right move.
"In spite of the trouble last week, the metrics suggest retail trading is exploding and Robinhood is still the only game in town," one investor tells CNBC.
---
SINGAPORE'S office market, with its roughly 8 million square metres (sq m) of completed space, is under stress. Islandwide office vacancy rate dipped for the second consecutive quarter to 11.8 per cent in the fourth quarter of 2020. Office space net demand for last year fell by 79,000 sq. Best-in-class office buildings in the Central Business District will continue to attract tenants, but older and outdated office buildings will struggle and over time make way for residential developments.
---
Singapore's largest taxi operator ComfortDelGro on Wednesday started a ride-hailing pilot to supplement its fleet of cabs as the company bets on increased use of land transport to boost its business. Called a "beta trial" the venture will start with a small number of private hire cars for the operator to test reception to the service, letting transport users select options through its taxi booking mobile application.
---
The family office of Google co-founder Sergey Brin is setting up a branch in Singapore, joining the rush of uber-wealthy clans towards the South-east Asian financial hub. Bayshore Global Management, the California-based firm that services Mr Brin, established an office in Singapore late last year, according to documents filed with the corporate regulator. Deputy chief investment officer Marie Young was appointed as a director of the unit.
---
Demand for warehouses more than doubled, while office rents fell less than expected
Resilient demand for homes rekindling residential collective sales market
Pent-up demand to boost 2021 property investment sales
Potential for office and retail rent stabilisation by end-2021
---
Multinational corporation Zebra Technologies is investing in its reach in Singapore in a bid to attract high-skilled, quality talent here. The US company, which is known for its products and services in sectors such as manufacturing, transport and logistics, on Wednesday (Feb 3) formally opened its expanded Asia-Pacific headquarters in Frasers Tower in Cecil Street.
---
E-commerce scams continued to rank first among the scam types in Singapore, with a "significant number" of cases reported during the "circuit breaker" period. Social media impersonation scams and phishing scams also saw significant increases, while loan scam cases also rose. However, the number of physical crimes fell, such as housebreaking and theft-related crimes, as well as outrage of modesty cases. 
---
HSBC Holdings is considering relocating a handful of senior executives from London to Hong Kong or Singapore as Europe's largest lender bets its future on Asia.
---
Singapore will press ahead with its industry transition to the Singapore Overnight Rate Average (Sora) as the new interest rate benchmark by the end of this year, even as the discontinuation of a key global benchmark – the scandal-tainted London Inter-bank Offered Rate (Libor) – could be pushed to mid-2023.
---
There is "no indication" thus far that Singapore's critical information infrastructure and Government systems have been adversely affected by the hacking of American software maker SolarWinds, said Minister for Communications and Information S Iswaran on Tuesday.
---
US chipmaker leapfrogs rivals to 176-layer 3D-flash memory milestone. Micron has invested heavily in its Singapore hub, where the company now makes what it says are the world's first 176-layer NAND chips. 
---
Creditors to distressed Singapore shipper Pacific International Lines will vote on Monday (Feb 1) on a restructuring deal that involves a capital injection from a unit of Temasek Holdings. It's an important day for investors who oppose the plan like Singapore businessman Kuah Ann Thia, an unsecured noteholder – the most vulnerable in the bond world. He and other individual investors hold parts of PIL's $60 million security that came due in November but which the shipper hasn't repaid.
---
It is certainly reflecting elements of those things and there is what I would normally call risky behaviour taking place in certain ways. The ease of offering specs, the ease of doing IPOs and the fact that IPOs double on the first day. We have what I call FOMO (Fear of Missing Out) and that has taken over from the fear of losing money because people have to be invested in this world when things are going up. All these things are somewhat worrisome and of course the PE ratio on the S&P is high relative to history.

But on the other hand, the composition of the S&P has changed. 30% of the S&P is now high tech and software companies which are much better companies with much greater potential than some of the companies of the past. So, the fact that they carry high PEs and have pulled up the average PE on the S&P may be warranted. The mere fact that the PE is higher than it used to be does not mean that it is dangerous but we should be alert. 
In particular, the Fed cut the interest rates to zero and the truth is that lower the interest rates, the higher the valuation should be because when the valuation is higher, the prospective return is lower. That is a learning but then we say well if interest rates are low, low perspective returns are not that frightening. We have to be cautious but we should not be scared and there is a difference and we should not refuse to invest merely because there are elements of a riskiness present.
---
Investors in China's markets have been "a bit complacent" in the expectations of the policy outlook in the country, argues BCA Research's Jing Sima.
While other major economies and central banks are still keeping "very accommodative" policies and rolling out stimulus, Chinese policymakers have already stated "very explicitly" that they are going to normalize policy, Sima told CNBC's "Street Signs Asia" on Friday.
China is likely among the few economies that saw positive growth in 2020.
---
The House approved a budget resolution on Wednesday, as Democrats move forward with the process that will allow them to pass a $1.9 trillion coronavirus relief bill without Republicans.
The Senate is expected to approve a budget measure later this week to move forward with the reconciliation process.
Democratic leaders have said they want Republican support for the bill, but the prospect of winning many GOP votes appears doubtful.
---
"We are monitoring the situation closely and hope all parties involved will exercise restraint, maintain dialogue, and work towards a positive and peaceful outcome," said a spokesman for Singapore's Ministry of Foreign Affairs (MFA). "Myanmar is a close friend of Singapore and key member of Asean (Association of South-east Asian Nations). We hope that the situation will return to normal as soon as possible." A state of emergency has been declared in Myanmar after the country's military detained civilian leader Aung San Suu Kyi and other top leaders on Monday.
---
The World Economic Forum (WEF) has postponed its special annual meeting in Singapore from May to August, due to the global Covid-19 situation. The meeting will now take place from Aug 17 to 20, the WEF said in a statement on Wednesday (Feb 3) night.
---
Looking for a comprehensive guide to investing? Check out the FH Complete Guide to Investing and FH REITs Masterclass for Singapore investors.
2021 Stock Watch: Support the site as a Patron and get stock market updates. Like our Facebook Page and join our Telegram Channel for weekly updates!