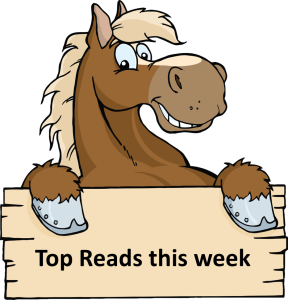 Rounding up top investing articles from around the web, including articles shared on Twitter.
---
A subdued Donald Trump lashed out on Tuesday at New York prosecutor Alvin Bragg for bringing criminal charges against him and declared himself the victim of election interference without offering evidence.
"I never thought anything like this could happen in America," the former United States president told supporters gathered at his Mar-a-Lago retreat in Palm Beach, Florida.
"The only crime that I've committed has been to fearlessly defend our nation against those who seek to destroy it."
Earlier, Trump pleaded not guilty in a Manhattan court to 34 felony counts of falsifying business records, as prosecutors accused him of orchestrating payments to two women before the 2016 presidential election to suppress publication of their sexual encounters with him.
---
Singapore welcomed more than 2.9 million visitors in the first quarter of 2023, about two-thirds of pre-Covid-19 numbers as the tourism sector continues on its path to recovery.
To showcase even more facets of Singapore, STB and Infocomm Media Development Authority (IMDA) are partnering to launch a $10 million Singapore Onscreen Fund to support the creation of entertainment content that spotlights and markets Singapore.
---
 Full subject-based banding (SBB) – a scheme that will replace Singapore's academic streaming system – and how it moves away from pigeonholing students took centre stage in a panel discussion with Education Minister Chan Chun Sing on Monday.
The scheme, which gives students greater flexibility to study subjects at different levels, is now in place in about 90 schools, or more than two-thirds of the secondary schools here. In 2024, 120 schools will have SBB.
---
The company behind a giant meatball made from flesh cultivated using the DNA of the extinct woolly mammoth is planning to launch cultivated quail meat in Singapore.
Mr Tim Noakesmith, the founder of Australian alternative protein start-up Vow, told The Straits Times that the company has experimented with a series of exotic and unusual laboratory-cultured meats – alpaca, kangaroo, peacock, crocodile, and even those that are a hybrid of different species.
---
China has urged the World Trade Organization to scrutinize U.S.-led technology export restrictions aimed at curbing its ability to make advanced chips, state television said on Wednesday.
Chinese representatives told a regular WTO meeting this week that Japan, the Netherlands and the United States should report their plans and subsequent measures to the body, which it urged to step up supervision on the matter, broadcaster CCTV said.
On Tuesday, the commerce ministry said Beijing was seriously concerned about Japan's export curbs on chip-making equipment and called for it to correct its "wrong practice."
The move of the three nations in alignment to curb chip exports to China "violates the fairness and transparency principles of WTO," CCTV said.
---
Jamie Dimon, longtime JPMorgan Chase CEO, said of the latest financial shock in his annual letter: "The current crisis is not yet over, and even when it is behind us, there will be repercussions from it for years to come."
"But importantly, recent events are nothing like what occurred during the 2008 global financial crisis," he added in the letter released Tuesday.
The recent banking issues in the U.S. began with the collapse of Silicon Valley Bank, which was closed by regulators on March 10 as depositors pulled tens of billions of dollars from the bank.
Looking for a comprehensive guide to investing? Check out the FH Complete Guide to Investing, Stocks Masterclass and REITs Masterclass for Singapore investors.
2023 Stock Watch: Support the site as a Patron and get stock market updates. Like our Facebook Page and join our Telegram Channel for weekly updates!
Join Financial Horse's Investing Community!