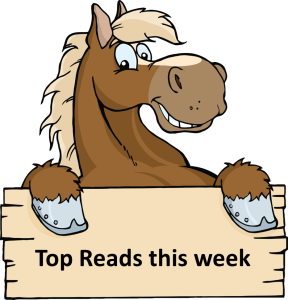 Rounding up top reads from around the web, including articles shared by fellow investors in the Financial Horse Facebook Group.
---
Investors and analysts warn that banks are likely to cut their exposure to the industry after heavily indebted oil trader Hin Leong Trading filed for bankruptcy protection. The company has admitted to $800m in undisclosed losses and is the subject of a police investigation.  It is the second Singapore commodities trader to run into financial difficulties in recent weeks as the coronavirus pandemic pummels crude oil demand and prices. "The key question is whether the big trading companies that rely on massive balance sheets can survive at these commodity prices," said the founder of one macro hedge fund in Hong Kong. "We will probably see a big consolidation where only the top three or four trading firms survive."
---
One statistic in particular is troubling: on average, the source of infection for 17 out of 25 new patients daily (who are Singaporeans or residents but not migrant workers living in dorms), cannot be found. This means about 68 per cent of community cases are considered "unlinked", fuelling suspicions there is a "larger hidden reservoir" of cases within the rest of society. Prime Minister Lee Hsien Loong warned of this possibility on Tuesday when he announced the extension of "circuit breaker" measures till June 1.
---
It is Wall Street's job to keep everyone enthusiastic. Nothing is more natural to big investment firms than "talking their book." Higher trading volumes, more interest in the markets, greed over fear, etc. Can't blame them for it. Compensation drives behavior. It's part of capitalism, and it has been there as long as the organized financial markets have been around. Bear markets rarely end with everyone trying to pick the bottom. FOMO (fear of missing out) is back because it never left. The most likely case is that the bear market ultimately ends the way they always do – with investors despondent, and swearing off stocks forever…only to hop back on 200% higher, years later. It's buy high, sell low, isn't it? Nope, it's the opposite. This is neither a time for optimism nor pessimism, bullishness nor bearishness. It's a time to be realistic.
---
Comparing the pandemic with other periods of economic hardship, such as the Great Depression, Dalio said the current downturn — painful as it is — would be "relatively brief" and would allow for a wider global "restructuring." That restructuring could last three to five years, he said. "I know that's a long time, but it's not forever," Dalio told LinkedIn's editor in chief, Dan Roth. "The human capacity to adapt and invent and come out of this is much greater." Dalio went on to say that people should be "very excited" about the phase that will come after that, pointing to leaps forward in digitization, data and human thinking.
"The economy is likely to contract for at least another quarter as hard times will continue for exports," Moon Jung-hui, an economist at KB Bank said. "Consumption will improve especially on increased fiscal expenditure, but exports of key items including petrochemical products will suffer." Since late January, the economy has been paralysed by self-isolation containment across the country, which kept businesses and shops closed and workers stuck at home.
---
China, the world's biggest energy consumer, is taking advantage of a plunge in global oil prices due to the coronavirus outbreak to build up its stockpiles of crude. Imports rose 4.5% in March over a year earlier even as the world's second-largest economy shut down to fight the virus and demand collapsed. For the first quarter of the year imports were up 5%. The price collapse is battering state-owned oil producers but is a boon to Chinese drivers, chemical producers and factories. It gives Beijing a chance to add to a strategic petroleum reserve that is meant to insulate the country against possible supply disruptions.
---
The collapse of Virgin Australia Holdings after the briefest of fights indicates the world's weakest airlines have little time to secure funds before they succumb to the coronavirus. The debt-laden carrier, which is 20 per cent owned by Singapore Airlines (SIA), became the outbreak's biggest airline scalp when it handed control to administrators on Tuesday. A near-halt in passenger revenue overwhelmed the carrier in less than two months.
---
O'Leary said that Ryanair had already told the Irish government that if it imposes the restriction, then "either the government pays for the middle seat or we won't fly". The Dublin-based carrier's business model relies on flying as frequently as possible, stripping out costs and running an extremely high "load factor", the aviation industry term for how full planes are. "We can't make money on 66% load factors," he said. "Even if you do that, the middle seat doesn't deliver any social distancing, so it's kind of an idiotic idea that doesn't achieve anything anyway," he added, in an interview with the Financial Times.
---
The outbreak of the coronavirus in Wuhan in January highlighted the pitfalls of China as the dominant global manufacturer of record. A delay in orders from Chinese factories was inevitable, given the scale of dependency on Wuhan alone. According to Dun & Bradstreet, a business intelligence company, 51,000 companies have one or more direct suppliers in Wuhan, while 5 million companies have one or more tier-two suppliers in the region. The data suggests that it's not just Southeast Asia that is dependent on Chinese suppliers — the problem appears to be much more widespread. 
Anticipating a rise in tariffs from the U.S.-China trade war, video game producer Nintendo had shifted the manufacturing of its blockbuster gaming console to Vietnam in 2019. Still, there is a shortage of Switch consoles in stores today due to a lack of essential components flowing to the company's Vietnamese factories, as COVID-19 paused production by Chinese suppliers of component parts.
It will be the higher-value technology and consumer electronics sectors — where the country's manufacturing prowess and consumer potential is the most pronounced — that will find it hardest to turn away from China's distinctive allure.  
---
An Air New Zealand flight arrived at Changi Airport yesterday carrying about 20 tonnes of meat, including beef and lamb. This was the first shipment of essential items sent from New Zealand under a trade declaration launched last week between the country and Singapore. Both nations have pledged to ensure the continued production and flow of essential items through their seaports and airports during the fight against the Covid-19 pandemic.
---
---
Mr Tan had pleaded for his client to be given the maximum fine of $10,000. The lawyer said the SHN did not specify that Tham was supposed go home immediately after receiving it. Mr Tan also stressed that Tham, who was not infected with the coronavirus, had not been "gallivanting". For breaching an SHN, offenders can be jailed for up to six months and fined up to $10,000.
---
Looking for a comprehensive guide to investing? Check out the FH Complete Guide to Investing and REITs Masterclass for Singapore investors.
Stock Watch 2020: Support the site as a Patron and get market updates. Like our Facebook Page and join the Facebook Group to continue the discussion!