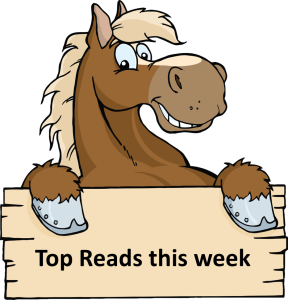 Rounding up top reads from around the web, including articles shared by fellow investors in the Financial Horse Facebook Group.
---
"Uncertainties stemming from the Covid-19 outbreak and restrictions to slow the virus' spread have depressed overall expectations of Singapore's SMEs for the next six months," said the Singapore Business Federation (SBF) in a statement on Monday (Sept 28). The construction and engineering sector posted the steepest fall in business sentiment, probably because of additional costs and restrictions on restarting building projects, SBF said. However, SMEs in retail, food and beverage appeared to be less pessimistic, encouraged by the reopening of physical stores and eateries.
---
Singapore will unilaterally lift border restrictions to visitors from Australia – excluding Victoria state – and Vietnam from Oct 8.
---
The Monetary Authority of Singapore (MAS) has directed Wirecard entities here to cease their payment services in Singapore, it announced on Wednesday (Sept 30). It added that these entities have to return all customers' funds by Oct 14.
---
Wall Street stocks gained on Wednesday on good US economic data and revived stimulus hopes as investors shrugged off a contentious presidential debate between President Donald Trump and former Vice-President Joe Biden. After European equities retreated, US equities mounted a rally following upbeat comments by US Treasury Secretary Steven Mnuchin that reopened the door to a potential stimulus deal with congressional Democrats.
---
Authorities expect the rise in premiums to be implemented in 2021, along with other recommendations put forward by the MediShield Life Council in its review of the national health insurance scheme. 
---
1. HIGHER ANNUAL CLAIM LIMITS
2. HIGHER COVERAGE FOR SUB-ACUTE CARE
3. HIGHER DAILY WARD CLAIM LIMITS
4. LOWER DAY SURGERY DEDUCTIBLE
5. REMOVAL OF EXCLUSIONS
---
STA Travel, which had a strong presence in the universities here, is winding up, affecting as many as 682 customers who are listed as creditors for sums possibly going up to $84,088. It stopped operating on Sept 9, after its parent company based in Switzerland filed for insolvency in August.
---
Developers will no longer be able to extend the period of a buyer's option to purchase without URA's approval
For a small fee, buyers had been given extra time by developers to round up cash for a purchase
Analysts said that this move will have a cooling effect on the property market
---
Overseas investors have sold US$3.6 billion of Chinese stocks in the third quarter as the US election draws closer, Covid-19 dims growth outlook
Mainland traders increase holdings of Hong Kong stocks for three quarters in a row this year
---
Palantir Technologies Inc, the US data analytics firm known for its work with the Central Intelligence Agency and other government agencies, was valued at US$20.6 billion in a choppy New York Stock Exchange debut on Wednesday. The listing ended years of speculation about when the company, co-founded by billionaire Peter Thiel in 2003, would go public and how much it would be worth.
---
Dominating the list are technology and biotech companies, as well as firms that have benefited from changing tastes during the coronavirus pandemic. So far this year, Zoom Video Communications Inc. has rallied 591%, while online retailer Overstock.com Inc. has advanced 956%. Tesla Inc. has gained 413%.
---
What's happening: Stocks are lower following an acrimonious and chaotic debate between the two candidates, during which Trump repeatedly interrupted his opponent and failed to engage on questions of policy. Investors have been particularly worried by Trump's refusal in recent days to commit to conceding the election if he loses. That could lead to a long period of uncertainty after voters cast their ballots.
---
Social Capital Founder and Chief Executive Officer Chamath Palihapitiya said the stock market will continue to move higher regardless of a Trump or Biden presidency. 
"Irrespective of whether the Democrats or Republicans are in office, if you're trying to generate returns you need to be long and you will probably get rewarded," Social Capital Founder and Chief Executive Officer Chamath Palihapitiya said at the Delivering Alpha conference. 
Th early Facebook executive said the Federal Reserve will have more influence over the market in next four years that the president. 
---
Eight-day holiday period offers chance for China's tourism sector to bounce back, but domestic travel is expected to be down from same time last year
Economist Yu Yongding says consumer spending may not be a strong growth driver this year, as many Chinese have income concerns in post-coronavirus climate
---
Unable to shop overseas, wealthier Chinese consumers turned to luxury goods from cars to lavish holidays domestically
Lower-income workers have been hurt disproportionally by the Covid-19 outbreak
---
The overall price index for private residential properties rose by 0.8 per cent, faster than the 0.3 per cent rise in the first quarter, flash estimates from the Urban Redevelopment Authority (URA) on Thursday (Oct 1) showed. Prices of private homes in the city fringes or rest of central region rose 3.3 per cent, compared to the 1.7 per cent drop in the previous quarter, while prices in the outside central region gained 1.7 per cent, compared to the 0.1 per cent increase in the previous quarter. Only prices of non-landed private homes in the prime areas or core central region declined in the third quarter, falling 4.9 per cent compared to the 2.7 per cent increase in the previous quarter.
---
Centuries-old Japanese tradition of stamping documents with seals in place of signatures is finally waning, as more people have been working from home due to the coronavirus pandemic. Corporate giants like Toyota and Nomura are signing up for the electronic signature services of a little-known company called Bengo4.com Inc., which has sent its stock soaring 100% this year. The share-price surge made Bengo4's founder, Taichiro Motoe, a billionaire largely based on his stake in the Tokyo-listed company he founded 15 years ago. Forbes estimates Motoe's net worth at just over $1 billion.
---
The Times obtained Donald Trump's tax information extending over more than two decades, revealing struggling properties, vast write-offs, an audit battle and hundreds of millions in debt coming due.
Donald J. Trump paid $750 in federal income taxes the year he won the presidency. In his first year in the White House, he paid another $750. He had paid no income taxes at all in 10 of the previous 15 years — largely because he reported losing much more money than he made.
---
Looking for a comprehensive guide to investing? Check out the FH Complete Guide to Investing and FH REITs Masterclass for Singapore investors.
Stock Watch 2020: Support the site as a Patron and get market updates. Like our Facebook Page and join the Facebook Group to continue the discussion!