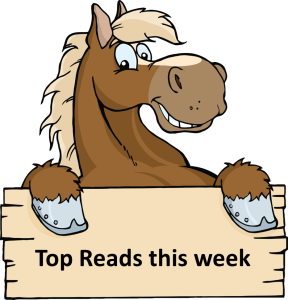 Rounding up top reads from around the web, including articles shared by fellow investors in the Financial Horse Facebook Group.
---
Under the Disease Outbreak Response System Condition or Dorscon, Orange means the outbreak is deemed to have moderate to high public health impact. With Singapore now in Code Orange, MOH said on Friday (Feb 7) that it is introducing additional measures "to minimise the risk of further transmission of the virus in the community". The emphasis will now be on "aggressively trying to stop or limit further spread", according to MOH's pandemic readiness and preparedness plan.
---
The spike is primarily due to a "significant increase" in scam cases, police said after releasing its annual crime statistics. A total of 9,502 scams were reported in 2019, a 53.5 per cent jump from 6,189 cases the previous year. Scams accounted for 27 per cent of crimes reported, up from 19 per cent in 2018, police said.
---
Certificate of Entitlement (COE) premiums fell sharply for cars in the first bidding exercise for February, with larger cars seeing a near-10 year low. 
Prices for larger and more powerful cars in Category B fell to S$30,890 in Wednesday's (Feb 5) bidding exercise, down from S$37,705 in the last exercise. Category A cars – or those 1,600cc and below with horsepower not exceeding 130bhp – fared badly as well, with premiums closing at S$30,010, down from S$35,010 in the last exercise.
---
Southeast Asian tech giant Grab announced it has acquired Bento Invest, a Singapore-based robo-advisory startup, to offer retail wealth management and investment solutions to users, driver-partners, and merchant-partners across the region.
---
Central banks in Asia face increasing calls to cut interest rates as they jump into action against a spiraling coronavirus crisis that's hammering tourism, travel and confidence across the region.
The People's Bank of China trimmed some interest rates on Monday (Feb 3) and injected massive liquidity into the financial system to shore up slumping markets. Indonesia's central bank said it was taking "bold" steps to bolster the nation's currency and bonds.
In Singapore, which has confirmed 18 cases of coronavirus, authorities are bracing for an economic hit that may be worse than the Sars outbreak in 2003. The government has halted travel from China, where about 20 per cent of the city-state's international visitors come from.
Singapore's Feb 18 Budget will likely provide support measures for industries like tourism and transport, and economists – including from JP Morgan Chase & Co and Citigroup – see a higher risk that the Monetary Authority of Singapore will ease policy in April.
---
In property-crazed Singapore, owning real estate isn't always the high-yielding investment you might think.
The rate of return for private apartments in the city-state has slipped since 2011, when measures to cool the market were introduced by the government. In fact, some units now have a lower yield than Singapore's national pension plan, the the Central Provident Fund (CPF), which has a minimum fixed rate of return of 2.5 per cent, research from property analytics start-up UrbanZoom shows.
"We found that while 82 per cent of condo owners are sitting on capital gains, only 44 per cent will be expected to generate an annualized return greater than 2.5 per cent per annum, with most of them having purchased their units before 2008," Cho said.
The findings show the deep and persistent impact government curbs have had on property prices, analysts said.
---
Weakness in software, internet and Tesla (TSLA) shares dragged the composite, which added only 0.4%. Tesla plunged 17% as it comes off a heated advance over the past eight weeks.
Canaccord Genuity downgraded the stock to hold from buy and maintained a 750 price target. "Given the 3,000 per week China Model 3 production expectations in a country that remains on lockdown, we feel a reset of expectations in Q1 is likely and thus needs to be reflected in the valuation," analyst Jed Dorsheimer wrote in a note to clients Wednesday.
---
After rebounding more than 25% last year, crude prices have sold off in 2020. As of earlier this week, the U.S. oil benchmark, WTI, was down about 17.5%, putting it close to bear market territory. The main issue weighing on its price is the impact the coronavirus will have on oil demand in China.
The sell-off in the oil market has indiscriminately weighed on most oil stocks, including shares of midstream companies even though they have minimal exposure to commodity prices because long-term fee-based contracts back the bulk of their earnings. With the values of those companies declining, the sector now offers investors even higher yields. Three stocks that stand out as great buys this month are master limited partnerships Energy Transfer (NYSE:ET), Plains All American Pipeline (NYSE:PAA), and MPLX (NYSE:MPLX).
---
Stocks in Japan led gains among major regional markets, with the Nikkei 225 up 2.9% in afternoon trade.
On the U.S.-China trade front, Beijing said Thursday it would halve tariffs on hundreds of U.S. imports from 1:01 p.m. on Feb. 14, according to a statement on the Ministry of Finance's website. The ministry, based in Beijing, did not specify what time zone.
The moves came as investors digested overnight developments on the coronavirus outbreak, following unconfirmed reports of breakthroughs in the development of a drug for the disease.
---
2019 was another year for the record books in the stock market. As measured by the S&P 500 index, the market was up an incredible 29% for the year. 
Still, a one-year increase that large – this late in a bull market – could be a sign it's time to get a bit cautious. That doesn't mean reducing your stock holdings. Instead, you may want to become more selective by focusing on sectors outside the S&P 500 alone. Even if the general market does slow down, certain sectors continue to hold strong potential for continued growth.
Healthcare tends to be a durable sector, even when the general market is misbehaving. Though the healthcare field in general trailed the S&P 500 in 2019, the SPDR S&P Biotech ETF (XBI) turned in a one-year return of close to 30%. It may represent an opportunity to continue generating double-digit returns even in a less cooperative market.
If you have an appetite for risk, the energy sector may be worth a good look. Not only has the sector underperformed the general market for the past several years, but the geopolitical situation in the oil-rich Middle East seems to be heating up, particularly between the US and Iran. Any significant disruption in oil flowing from that region can cause energy to spike across-the-board.
One way to play energy is through the Vanguard Energy ETF (VDE). Though the fund returned less than 10% in 2019, it could be an excellent way to play energy volatility.
---
Fraudulent websites have been soliciting bitcoin investments by using fabricated comments attributed to Temasek Holdings CEO Ho Ching, the Monetary Authority of Singapore (MAS) warned on Wednesday (Feb 5).
One of the websites, attempting to pose as local news outlet The Straits Times, claimed that Mdm Ho's "latest investment has experts in awe and big banks terrified", and that Singaporean citizens are "already raking in millions of dollars from home" using a "wealth loophole".
---
Bernie Madoff, the notorious Ponzi schemer, says that he is dying from kidney disease, and is seeking an early release from prison.
Madoff currently is serving a 150-year prison sentence in a North Carolina federal facility. He would live with a friend if released.
He asked President Donald Trump last year to reduce his sentence for swindling thousands of investors out of billions of dollars.
---
The Jarmans, who are originally from Southern California, decided to start their careers in Arkansas partially because of the state's low cost of living. "We thought we'd go for four or five years and just try really hard to stretch our dollars as far as we can, and invest out there, and then we would move back," she says. "And we found out we absolutely love Arkansas." Now they have five to seven sources of income at a time including Sam's full-time job, Addison's videography business, and several real estate investments.
Jarman explains that it is important for couples to be on the same page when it comes to spending and saving. "Have a long, formal meeting with your spouse and say, 'We have X amount of dollars coming in, and this is how we're going to allocate everything,'" she suggests. "Have an intense goal-setting session where you create a strategic plan. Maybe you want to pay off all debt within five years. Maybe it's owning your first home by the end of 2021. Set that goal and then break that down into a bunch of micro-goals."
She adds that the biggest mistake she sees is people not living within their means. "My husband and I believe in living below your means," she says. "Just because you're making this much, it doesn't mean that you should be spending that much. I think so many people are just working paycheck to paycheck and just spend too much. You need to look very closely at what's a need versus a want."
---
Looking for a comprehensive guide to investing? Check out the FH Complete Guide to Investing for Singapore investors.
Stock Watch 2020: Support the site as a Patron and get market updates. Like our Facebook Page and join the Facebook Group to continue the discussion!