There's a new broker in town.
One that offers completely free US Stock, Options and ETF trades.
Forever.
So this isn't like the Tiger Brokers or Moomoo which offer free trades for the first few months or so, and a small fee after.
This is free, forever.
For those of you who have been dying for a Robinhood equivalent for Singapore investors, this is it.
Webull.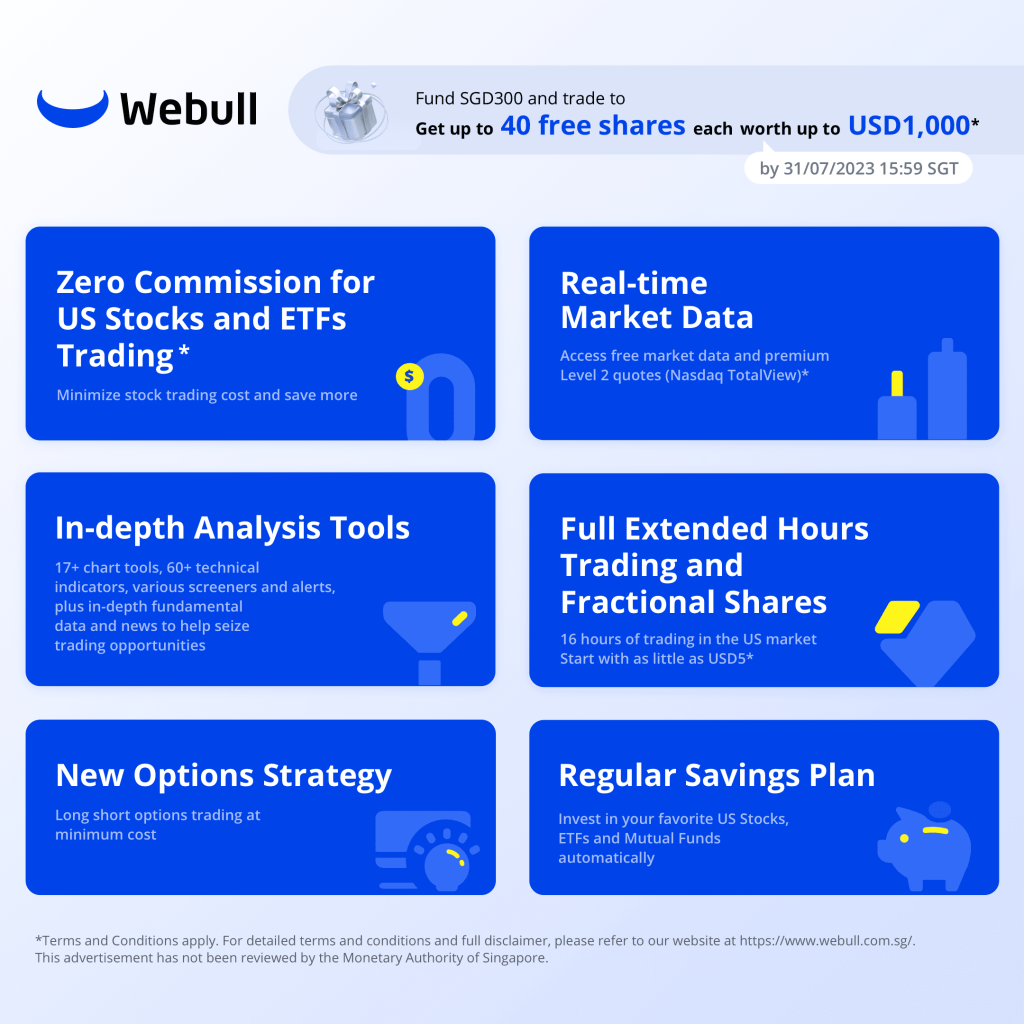 Webull Singapore Stock Broker App Review
Financial Horse dutifully downloaded the Webull app and funded $2,000 to play around with it.
And here's my review of the Webull Singapore Stock Broker App.
Webull Account Opening Promo – Promo Code / Sign Up Bonus
If you're keen to sign up, there is an account opening promo.
Sign up link here, but I do suggest reading the rest of the review first: Webull Signup Link
Open a Webull account, make an initial funding of and maintain at least SGD2,000, and execute at least 1 buy trade of stocks or ETF with a min. trade value of USD 100 on the US market within 30 days.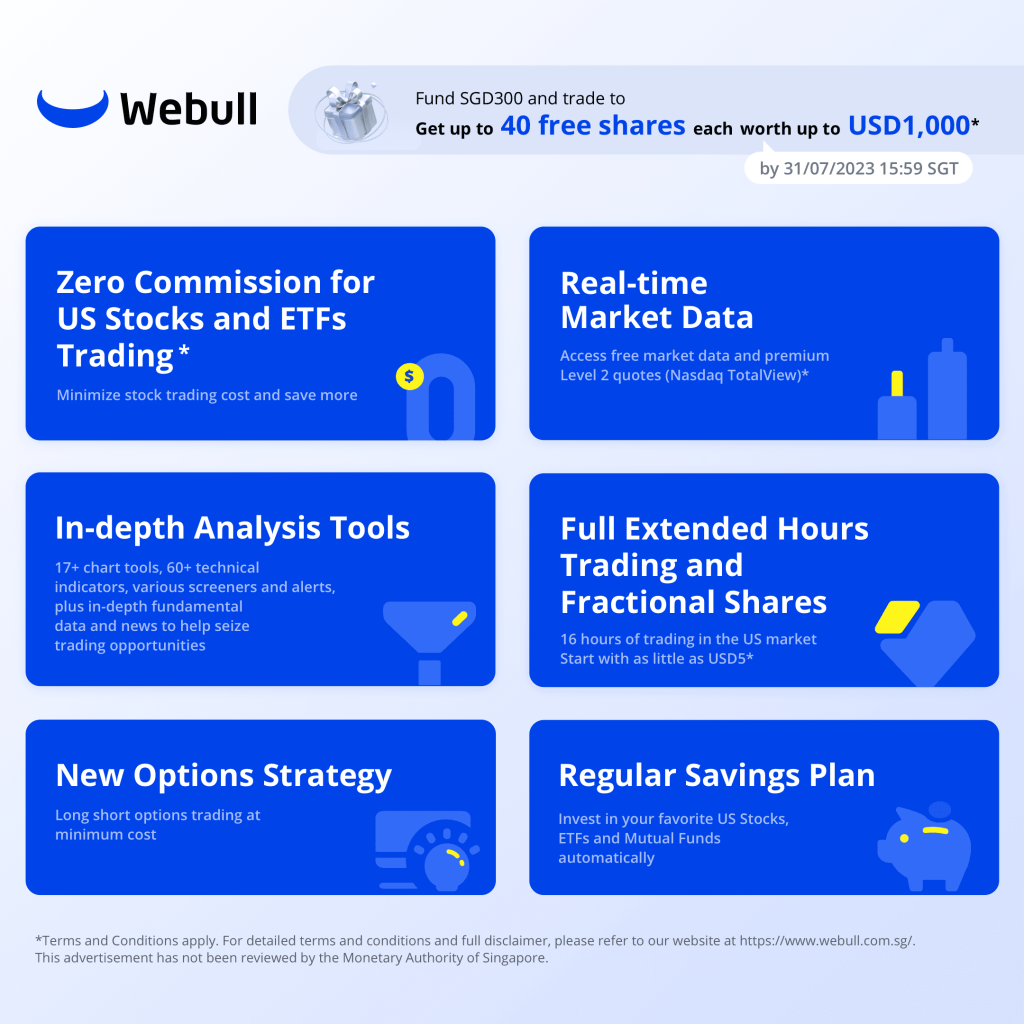 Trade US Options, US Stocks, US ETFs with no fees – Webull
There's no gimmick here.
You can buy or sell any US stock, option or ETF with absolutely zero commission or platform fees.
You still need to pay the exchange fees though, but these are minimal and are payable regardless of which broker you use.
Webull commissions compared vs Interactive Brokers, Tiger Brokers and Moomoo
I've compared the trade commissions for Webull against Interactive Brokers, Tiger Brokers and Moomoo below.
Key takeaways:
Webull is undisputedly the cheapest broker for US shares / options
Webull only has access to US and HK markets
Webull is undisputedly the cheapest for US shares / options
There's just no competition here.
Even the cheapest alternative, Interactive Brokers, doesn't do free.
If you want the cheapest broker to buy US shares / options in Singapore, it has to be Webull.
Webull only has access to US and HK markets
That said, if you're a serious investor in Singapore, you will probably at some point in your investing career require access to London and Singapore markets.
Webull doesn't have that access.
With Webull, you only get US and Hong Kong markets.
It's not necessarily a bad thing though, because the markets you do get access to – you're basically getting free trades.
If you complement Webull with another broker (like Interactive Brokers for International Stocks and DBS Vickers for Singapore), you could have yourself a very solid stock broker setup that could last you for years to come.
What are the Forex Fees for Webull?
I had a check with Webull's Forex.
The rate they gave me was 1 USD -> 1.3776 SGD
The Interbank rate at the time was 1.3738
This works out to about a 0.3% FX spread.
That's in line with the other brokers like Tiger Brokers and Moomoo and FSMOne.
It's not best in class like Interactive Brokers though, which gives you interbank rates but with a minimum of $2 fee each time.
But with Interactive Brokers you do have to pay commission for your trades, so it's not exactly an apples to apples comparison.
Background on Webull
Some background on Webull:
Webull Financial LLC (Chinese: 微牛证券) is a Chinese-owned stockbroker headquartered in New York… It is owned by Fumi Technology, a Chinese holding company that has received backing from Xiaomi, Shunwei Capital, and other private equity investors in China.
A rough timeline of Webull:
May 24, 2017, Webull Financial LLC was established as a Delaware limited liability company by Wang Anquan, a former employee of Alibaba Group.
May 30, 2018, the company released its mobile app for iOS and Android.
May 2020, it received SEC approval to launch a robo-advisor.
August 2020, it had over 11 million registered users.
October 2020, it had 750,000 daily active users.
November 2020, Webull began supporting cryptocurrency transactions.
June 2021, Webull began talks of an initial public offering, with considered valuations of $400 million.
Basically, Webull is broadly similar to the other low cost China brokers like Tiger Brokers and Moomoo.
The only difference is that Webull is not listed.
Webull Singapore
Webull entered the Singapore market recently, with Singapore as their APAC regional HQ.
Incorporated in 2021, Webull Securities (Singapore) Pte. Ltd. is regulated by the Monetary Authority of Singapore (MAS) and holds a Capital Markets Services (CMS) Licence under the Securities and Futures Act 2001.
Note: Webull Singapore does not support crypto trading.
How are the shares held by Webull? Custodian vs Pooled?
Assets or monies deposited with Webull is held in a custody account, held on trust for you.
Is Webull safe? Any chance of default?
So – how safe is Webull ultimately?
To be fair, in this day and age, It's not possible to say for certain that any one broker is risk free.
No matter how big they get, Interactive Brokers, TD Ameritrade, there's still always a chance of default.
My personal view – Webull is probably about as safe as the other low cost China brokers like Tiger Brokers and Moomoo.
Would I trust it with my life savings?
Well, I wouldn't trust any one broker with my life savings ever.
I trust CDP (where all my Singapore shares are held), but for international stocks I usually spread them out over a few brokers like Interactive Brokers, Standard Chartered Online Trading, Saxo, Tiger Brokers, Moomoo, Webull etc.
So at least if one goes down, I don't lose everything.
But that's just how I do it, this one's ultimately your call.
Webull Account Opening and How to Fund?
For those who have Singpass, Account Opening is done via Singpass and very quick and convenient.
I completed my application in a few minutes and was good to go.
Funding options are set up above, essentially:
Electronic Debit
FAST Transfer
TT Transfer
Electronic Debit is the recommended option.
You basically link it with your bank account, and you can draw on the funds from your bank account any time, instantly.
I set it up on a Sunday and the transfer was completed almost instantly after setup.
No more waiting for your funds to be deposited.
And absolutely no fees as well. Great stuff.
My Personal Experience with Webull
In the course of doing reviews on Stock Brokers, I've tried almost every other brokerage account out there for Singapore investors.
Interactive Brokers, Standard Chartered Online Trading, Saxo, Tiger Brokers, Moomoo, FSMOne, DBS Vickers etc.
You name it, I've probably tried it.
And I must say, I really had no expectations about Webull going in.
But after playing around with the Webull app for a while, I absolutely love it.
Full disclaimer that I've been using Webull's US app to monitor stock prices for a while, so I'm probably biased towards the platform.
But I just find that everything is so smooth, the UI is so intuitive, and everything just, well works.
Unlike some other brokerage accounts like Interactive Brokers where I need to spend time trying to figure out where things are, with Webull that was never a problem.
I didn't need to worry about the app, and could just focus on making investment decisions.
Which to me, is how a stock trading app should be.
Conclusion: Review of Webull Singapore App
Long story short – I really like Webull.
Everything is smooth, intuitive and easy to use.
And free US stock, option and ETF trades is pretty amazing.
Payment for Order Flow is something to note, but frankly as a retail investor just stick with limit orders and it shouldn't be a big problem.
How safe is Webull?
Like I said, probably as safe as Tiger Brokers or Moomoo. I don't think I would be putting my life savings in, but I don't mind funding it with some play money just to make trades when I have itchy fingers. I find the Webull app much easier to use than the Interactive Brokers app which I use for my heavy duty investments.
The other big drawback is that you only have access to the US and Hong Kong markets.
As a Singapore investor, you'll probably need access to Singapore and London exchanges, which means you'll likely need to complement Webull with another stock broker.
If it were me – I would probably use DBS Vickers Cash Upfront for Singapore ($10 per trade, but it goes into your CDP), and Interactive Brokers for everything else.
Webull Account Opening Promo – Promo Code / Sign Up Bonus
If you're keen to sign up, there is an account opening promo now.
Sign up link here: Webull Signup Link
Other low cost brokers to buy US, China or Singapore stocks?
Or if you're looking for another broker, you can check out the other options below:
Get a free Apple share you're new to MooMoo and fund $2700.
Get a free share and cash bonus when you fund & trade with your new account with Tiger Brokers.
Special account opening bonus for Saxo Brokers too (drop email to [email protected] for full steps).
Or Interactive Brokers for competitive FX and commissions.
For more investing content, follow Financial Horse on Social Media!