In case you missed it – the government just announced fresh cooling measures for the Singapore property market last night.
I know a lot of you have been following the property market with a lot of interest, so I wanted to share some views on this.
In my article in October I wrote that the narrative around housing had started to shift. Government wants houses for living, not for speculation or investment.
And that this will lower property returns going forward.
Shortly after that article, we saw the new Public Housing Model for HDB flats in prime locations.
And yesterday, we saw a wave of cooling measures targeted broadly at Singapore house prices.
All in line with the broader political zeitgeist.
Huge Christmas Promo for Investing MasterClasses!
Sign up now and get massive discounts and limited Freebies!
Find out more here.
Basics: What are the Cooling Measures?
Broadly, the cooling measures are:
Higher ABSD
TDSR drops to 55% (from 60%)
LTV for HDB drops to 85% (from 90%)
Higher ABSD
ABSD has gone up.
If you're a Singapore Citizen buying a second property, you now pay 17% ABSD (original 12%).
And if you're a foreigner, you now pay 30% ABSD (original 20%).
Full list of changes below:
TDSR drops to 55% (from 60%)
TDSR (Total Debt Servicing Ratio) will also drop to 55% (original 60%).
This means that you can only use 55% of your income a month to repay any loan you have – including mortgage, car and credit card loans.
In short – this will reduce the maximum amount you are allowed to borrow from the bank, at any given salary level.
LTV for HDB drops to 85% (from 90%)
LTV (Loan to Value) will also drop to 85% (from 90%).
This means that you can now only borrow up to 85% of the value of your HDB.
So if the HDB costs $1 million, you can only borrow $850,0000, whereas previously you could borrow up to $900,000.
Do note that this only applies if you take a loan from HDB.
If you're taking a mortgage from a bank, the rate remains unchanged at 75%.
Summary of all the changes below:
3 Quick Thoughts on the Cooling Measures for Singapore Property
3 initial views from me:
Demand side solution to a Supply side problem?
How effective will this be at curtailing demand?
Insufficient to bring down prices?
Demand side solution to a Supply side problem?
My initial reaction reading the measures this morning – was that this looks like a demand side solution, to what is fundamentally a supply side problem.
In my view, the main driver for the price increase in the Singapore property market is due to supply constraints.
Because of COVID, new homes have been delayed.
Young couples today who want a new BTO or Condo will need to wait anywhere from 4 – 6 years. If they want it quick, then need to turn to the resale market. At the same time, 2 years of work from home has made everyone realise how previous living space is, and many have moved out or upgraded to bigger housing.
There's just not enough new houses being built, to meet the demand.
And the wave of cooling measures announced last night only serve to dampen demand, but do very little to improve supply.
In fact, you can argue that anyone who owns 2 or more houses will no longer be selling their property because ABSD makes it prohibitive for them to ever buy it back. Which may constrict supply even further, draining liquidity from the market.
The government is definitely aware of this.
From the Straits Times:
To cater to genuine demand from home buyers and address their anxieties, the supply in both the private and public housing markets will be increased.
BTO supply will be expanded to up to 23,000 flats per year in 2022 and 2023. Meanwhile, the supply of private housing will also be raised through the Government Land Sales (GLS) Programme – for the first half of 2022, there will be around 2,800 units on the confirmed list, with another 3,700 units on the reserve list. 
Of course, the problem with supply side solutions is that they take time to build.
Any new land released today will still take 3 – 4 years before the new supply hits the market.
So while supply side solutions are the long term solution to the problem, they won't work so well in the short term.
Because of this, my initial reaction was that I was quite sceptical as to whether this would make a notable impact on prices.
How effective will this be at curtailing demand?
The next question then – how effective will these measures be at cooling the red hot property demand?
Pulling up some numbers, we see that the number of property purchases from Foreigners, PRs and Companies has been going up steadily over the past 3 years.
In 2021, Foreigners and Companies make up 3.9% of the total private purchases.
Foreigners, Companies, and PRs make up 18.2% of total private purchases.
But the reality is a bit more nuanced.
We don't know what kind of houses Foreigners and Companies are buying.
It's possible that they're only buying high end housing in the $10 million+ range.
It's possible that they are buying to move money out of their home country, in which case the extra 10% ABSD isn't likely to have a significant impact.
Another big problem is that the ABSD for first time buyers remains unchanged for both Singapore Citizens and PRs.
If you're a married Singapore couple, you can just decouple by selling to your spouse, and you buy a new property without triggering ABSD.
Or if you're a genuine buyer like a young 28 year old couple, very little has changed apart from a slight decrease to your loan amount.
The government has the detailed breakdown on how many are second time buyers vs first time buyers etc, so I'm sure there's some broader plan here.
But my best guess?
I think demand will moderate slightly after this, as the Singapore investors and foreign investors dial back on their interest.
But the true inelastic demand? The first time home buyers, foreigners who need to move their money out, locals who are flush with cash and buy to hedge inflation, etc will still remain.
So demand probably goes down short term, but maybe not as much as people are expecting.
BTW – we share commentary on Singapore Investments every week, so do join our Telegram Channel (or Telegram Group), Facebook and Instagram to stay up to date!
Just created a Discord server where I collate analyst reports and investing resources that I come across in my research. Hit us up here if you're keen.
Don't forget to sign up for our free weekly newsletter too!
[mc4wp_form id="173″]
Insufficient to bring down prices?
On to the million-dollar question – will this be sufficient to bring down prices?
My gut feel is that the impact this time around won't be as severe as the previous round of cooling measures.
My gut feel is that because the fundamental problem is supply driven, and because the bulk of the demand is coming from first time home buyers who are not affected (in my view, could be wrong), prices are unlikely to decline significantly.
Base case I would say maybe things trade sideways for 6 – 12 months, before going up again. At which time maybe the government steps in with more cooling measures again.
Who knows.
PropNex is one of the largest Singapore real estate agencies, and its share price is a good barometer for property sentiment.
PropNex fell just 3.9% today, whereas it crashed 25% after the 2018 round of cooling measures.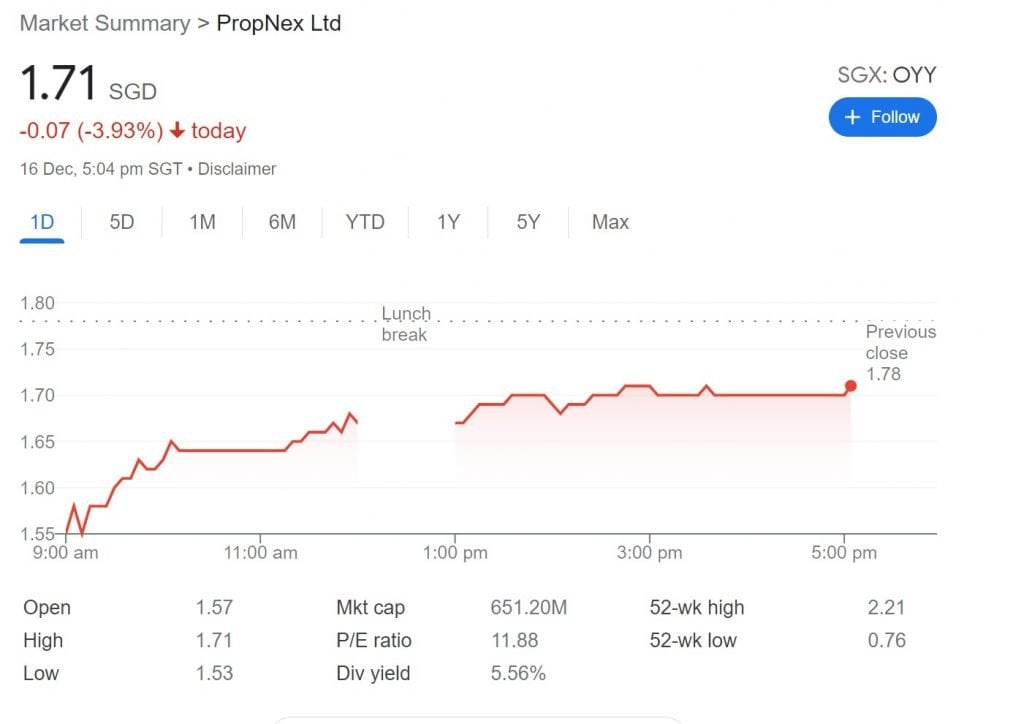 Here is CDL with probably the heaviest exposure to Singapore residential market among the property developers.
Down just 2.6% today.
So the market doesn't seem that concerned with this round of cooling measures, and I am inclined to agree.
The pace of increase in house prices may moderate short term, but to be fair it was already moderating even before this round of cooling measures. Price were already getting to the point where it was unaffordable for most households.
At the same time, a lot of the fundamental drivers still remain in play. Young couples still need a place to stay, people still need more space because of work from home, all while supply is constrained due to the impact from COVID.
But I could be wrong though. Whether you agree or disagree with me, I would love to hear what you think!
Huge Christmas Promo for Investing MasterClasses!
Sign up now and get massive discounts and limited Freebies!
Find out more here.
Looking to buy Bitcoin, Ethereum, or Crypto?
Check out our guide to the best Crypto Exchange here.
Looking for a low cost broker to buy US, China or Singapore stocks?
Get a Free Apple stock (worth S$200) when you open a new account with Tiger Brokers and fund $2000.
Get 1 free Apple share (worth $200) you're new to MooMoo and fund $2700.
Special account opening bonus for Saxo Brokers too (drop email to [email protected] for full steps).
Or Interactive Brokers for competitive FX and commissions.
Do like and follow our Facebook and Instagram, or join the Telegram Channel. Never miss another post from Financial Horse!
Looking for a comprehensive guide to investing that covers stocks, REITs, bonds, CPF and asset allocation? Check out the FH Complete Guide to Investing.
Or if you're a more advanced investor, check out the REITs Investing Masterclass, which goes in-depth into REITs investing – everything from how much REITs to own, which economic conditions to buy REITs, how to pick REITs etc.
Want to learn everything there is to know about stocks? Check out our Stocks Masterclass – learn how to pick growth and dividend stocks, how to position size, when to buy stocks, how to use options to supercharge returns, and more!
All are THE best quality investment courses available to Singapore investors out there!