In my weekend article I shared that I expected a yield of 3.60% – 3.70% for the 12 month T-Bills auction.
Well results are out.
The final cut-off yield came in slightly below that range at 3.58%.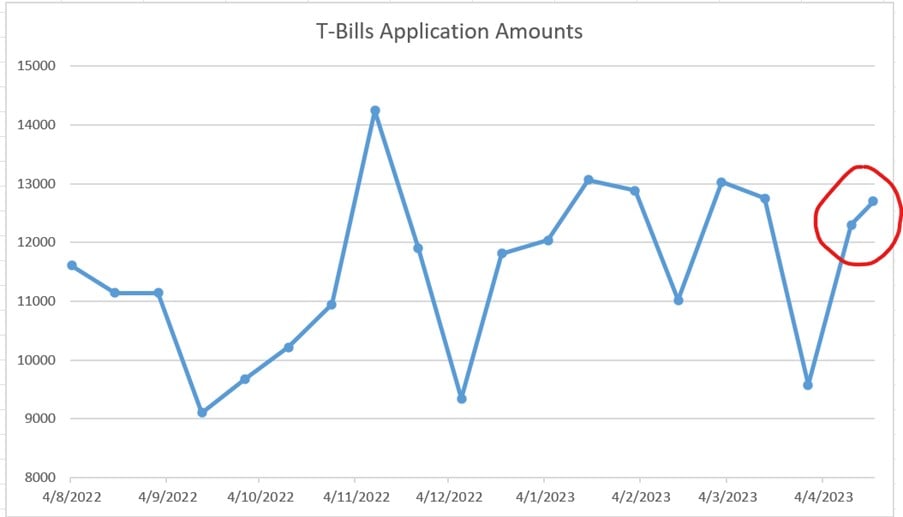 Application amounts for T-BIlls did not increase dramatically
Total application amount was $12.7 billion.
You can see how this compares to the application amounts of the other 6-month T-Bills.
Pretty much in line I would say – neither a big increase nor a big decrease.
So it's hard to say that this auction result was a freak result due to high demand, it just looks to be fair market pricing for the 12 month T-Bills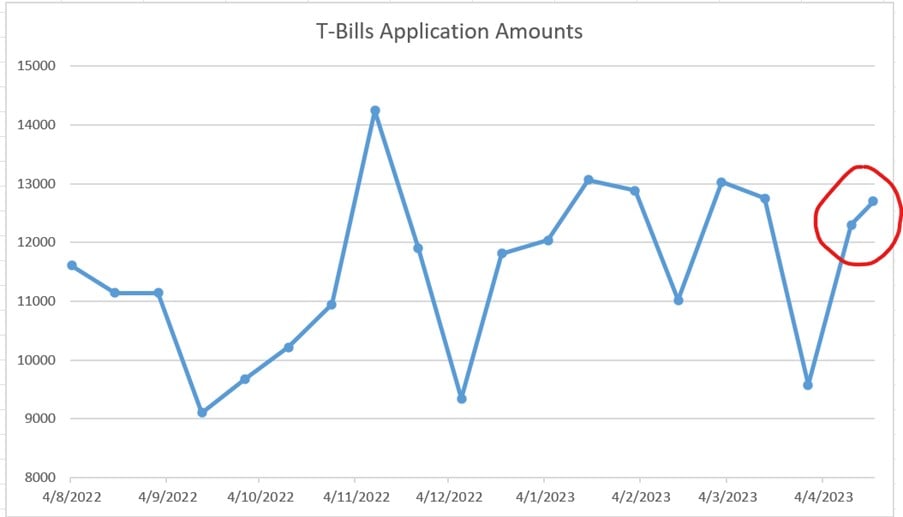 Just a note that the 12 months T-Bills trade at 3.71% on the open market yesterday right before the auction.
So this auction result is slightly lower than market yields.
As always, I encourage T-Bills investors to place a competitive bid to protect yourselves from such scenarios (cut-off yield coming in below the yield that you are prepared to buy).
12 month T-Bills at 3.58% – Still a good buy for CPF-OA buyers?
Investors using cash can get up to 3.90% on a 12 month Fixed Deposit these days (RHB Bank), so the T-Bills at 3.58% wouldn't be that attractive.
The main attraction for these T-Bills will be for CPF-OA buyers.
I've run the numbers below assuming that:
$100,000 in CPF-OA is invested
One buys 6 month T-Bills at 3.75% (latest auction price) and rolls over at 3.60%
Key takeaway is that it is still worth it to buy T-Bills with CPF-OA (6 month or 12 month).
The 12 month T-Bill buyer (3.58%) would make $871.7 more than had he just placed in the money in CPF-OA.
This is a 29.9% increase in interest earned.
But between 6 and 12 month T-Bills, the results are very close.
6 month T-Bills come out on top here, but the assumption is that (a) you can roll them over at 3.60% in 6 months time, and (b) you can roll them over in the same month (avoid losing another month of CPF-OA interest).
And all that work and uncertainty for an extra $97 in interest doesn't seem all that worth it.
So yeah… despite the yields coming in slightly lower than expected, I would still say this is a pretty acceptable result for CPF-OA buyers.
BTW – we share commentary on Singapore Investments every week, so do join our Telegram Channel (or Telegram Group), Facebook and Instagram to stay up to date!

I also share great tips on Twitter.
Don't forget to sign up for our free weekly newsletter too!
[mc4wp_form id="173″]
Trust Bank Account (Partnership between Standard Chartered and NTUC)
Sign up for a Trust Bank Account and get:
$35 NTUC voucher
1.5% base interest on your first $75,000 (up to 2.5%)
Whole bunch of freebies
 Fully SDIC insured as well.
It's worth it in my view, a lot of freebies for very little effort.
Full review here, or use Promo Code N0D61KGY when you sign up to get the vouchers!
WeBull Account – Get up to USD 500 worth of fractional shares (expires 28 April)
I did a review on WeBull and I really like this brokerage – Free US Stock, Options and ETF trading, in a very easy to use platform.
I use it for my own trades in fact.
They're running a promo now with up to USD 500 free fractional shares.
You just need to:
Sign up here and fund any amount
Maintain for 30 days
 Looking for a low cost broker to buy US, China or Singapore stocks?
Get a free stock and commission free trading Webull.
Get a free stock and commission free trading with MooMoo.
Get a free stock and commission free trading with Tiger Brokers.
Special account opening bonus for Saxo Brokers too (drop email to [email protected] for full steps).
Or Interactive Brokers for competitive FX and commissions.
Do like and follow our Facebook and Instagram, or join the Telegram Channel. Never miss another post from Financial Horse!
Looking for a comprehensive guide to investing that covers stocks, REITs, bonds, CPF and asset allocation? Check out the FH Complete Guide to Investing.
Or if you're a more advanced investor, check out the REITs Investing Masterclass, which goes in-depth into REITs investing – everything from how much REITs to own, which economic conditions to buy REITs, how to pick REITs etc.
Want to learn everything there is to know about stocks? Check out our Stocks Masterclass – learn how to pick growth and dividend stocks, how to position size, when to buy stocks, how to use options to supercharge returns, and more!
All are THE best quality investment courses available to Singapore investors out there!