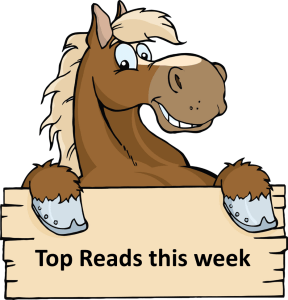 Rounding up top reads from around the web, including articles shared by fellow investors in the Financial Horse Facebook Group.
Scroll to the end of the post for more information on Invest Fair 2019!
---
The real challenge is living your best life during a bear market, which tends to happen every 3.5 – 10 years since the early 1900s. Bear markets are usually a time of worry and remorse.
1) Make sure you have enough cash to last through a downturn.
2) Make sure your portfolio is diversified enough to match your risk tolerance.
3) Write out your investment objectives.
4) Run a Financial SEER Analysis to quantify your risk tolerance.
5) Make sure your work relationships are strong.
6) Have at least one alternative source of steady income.
7) Collect on outstanding debt now.
8) Consider raising rents.
9) Reconsider your safe withdrawal rate.
10) Don't retire until things get bad.
---
Singapore's stock market has seen on average two companies a month on track to relinquish their listing status this year. This trend may not be reversing anytime soon. SGX tweaked the voluntary delisting rules earlier this month, shifting the power to minority shareholders. Market watchers have said bidders may have to pay higher premiums to get deals done.
Delistings are expected to continue in the second half of this year even at higher prices, according to a poll of four analysts, because the rule change doesn't affect the persistently low valuations which continue to plague the Singapore market. The Straits Times Index is trading at one-year forward price-to-book ratio of 1.13 compared with 1.71 for the MSCI Asean Index, according to data compiled by Bloomberg.
---
A rapid deterioration in Singapore's economic data has fueled speculation the central bank will ease monetary policy. The result may be higher interest rates and bond yields.
---
The message is very simple – do NOT defer your CPF Life payments, and make sure you apply to the CPF Board to receive the payments once you reach the age of 65.
This applies even if you are still working at the age of 65, or have alternative sources of income (e.g. investments, children), or have no immediate use for the CPF Life payments. At the very least, increasing your pool of liquid cash on hand will help in emergencies. Money locked up in the CPF Life Scheme for an additional 5 years is of no benefit to any one unless you pass away. The 7% increase in the CPF Life payments per year deferred is insufficient to compensate for the shorter remaining life to receive them.
---
The Securities and Exchange Commission just approved the Amplfy Seymour Cannabis ETF on Monday. It will start trading Tuesday under the ticker symbol CNBS. And this ETF — which will be actively managed by cannabis investor Tim Seymour — joins three other existing ETFs that already offer exposure to the cannabis business.
"There will be tons of growth," he said, though he added that investors need to look out for bad bets: "There are going to be home runs and there will be lots of strikeouts."
---
China suspended 139 funds from investing in initial public offerings after money managers breached subscription rules on the country's new trading venue for technology stocks.
The Nasdaq-style trading venue is an experimental market in China that eased limits on valuations and price-swings in the first few days of trading, increasing the potential for big gains.
---
Tesla surprised many analysts and investors earlier this month when it said it delivered a record 95,200 cars in the second quarter, a roughly 50 percent increase from the first three months of the year. The news lifted its sagging stock price as well as the spirits of its customers and many fans. On Wednesday, the company said that surge in sales also lifted its bottom line. Tesla said it lost $408 million in the second quarter, compared with a loss of $702 million in the first quarter when sales slumped as the company struggled with logistical challenges, including getting its Model 3 sedans to Europe and China.
On July 1, the federal tax credit available to Tesla's customers in the United States will fall by half to $1,875. On Jan. 1, the tax credit will go away entirely. Mr. Musk said the company had to lower the cost of its vehicles to appeal to more customers.
For this year at least, Tesla cannot count on any new models to attract customers and drive sales higher. It is working on the Model Y, a sport utility vehicle that shares a lot of parts with the Model 3 but will come with up to three rows of seating, rather than the Model 3's two rows. But that car will not go into production until late in 2020
---
Singapore's malls are showing some resilience to the global hollowing out of physical retail by online shopping. The demographics of the smartphone generation are still against them, though. They find it tedious to traipse out to remote shopping centres for something that can be bought cheaper online
Suburban middle-class shopping centres put up a strong show in CapitaLand Mall Trust's quarterly earnings on Tuesday. Looking forward, investors will expect returns from Funan Mall, a once-popular haunt for gadget buyers in the city centre that recently reopened after a three-year makeover. Whether the footfall will be enough to offset Generation Z's retreat from the physical world is the ultimate unknown. That makes it even more imperative for landlords that suburban malls stay busy.
---
After raising another US$100 million (S$137 million) at its latest funding round, software and anaytics firm Trax has become Singapore's newest unicorn, which is a title given to private startups with a valuation of over US$1 billion.
The firm, which is headquartered in Singapore but founded in Israel, makes image recognition tech and cameras that track photos of retail shelves and teach storekeepers the most profitable way to stock their products.
---
Kristy Shen and Bryce Leung are part of a movement called Fire that encourages people to save intensively to retire early.
Their journey to Fire started fairly conventionally – they were saving for a deposit to buy a house. But the more they saved, the more house prices went up and the less sure about getting on the property ladder they became. By 2012, after seven years of saving, they had C$500,000, but Leung started looking for other solutions. After coming across early Fire bloggers like Mr Money Mustache, he says: "I realised based on what they were doing and where we were that we could either be in debt for the next 25 years or retired in about three."
Using an adapted version of the "4% rule" – a principle borrowed from the traditional retirement world – they calculated their basic living expenses, C$40,000, and multiplied it by 25 to come to C$1m, the amount they would need to retire. In a total of nine years they managed to accrue around four-fifths of that in savings, plus a further C$200,000 through low-risk investments.
Now that they're retired, they believe their savings, invested in low-cost index ETFs (exchange-traded funds), will keep them going for the foreseeable future. In case of disasters, including a 1929-style crash, they have three backup plans.
---
The Investor Alert List provides a list of unregulated persons who, based on information received by MAS, may have been wrongly perceived as being licensed or regulated by MAS. This list is not exhaustive and is based on what was known to MAS at the time of publication.
---

Date : 17th (Saturday) & 18th (Sunday) August 2019
Time : 10am – 7pm (Saturday) / 11am – 7pm (Sunday)
Venue : Suntec Exhibition and Convention Centre Hall 401 – 402
Admission : FREE
Website : http://www.investfair.com.sg
Fireside Chat

An intimate chat with Jeff Fisher and Stuart McPhee, keynote speakers this year.

Panel Discussion: Your Guide to 2019 Market Action

Panel discussion with JB Mackenzie, Chris Brankin, A.J. Kahling, Leonard Eng & TD Ameritrade on trade tariffs, geopolitics, fed watch and corporate earnings.

Stock Engage

ShareInvestor's product specialist shares insights on the hottest stocks to look out for.

INVEST with Confidence

Meet local investment bloggers to learn and explore how to invest with confidence.

SGX Pavilion

Broaden your investment horizons and uncover opportunities with SGX.
Check out the full line-up of exciting seminars here.
Register before 15 August 2019 and receive a free investment e-book!
---
Enjoyed this article? Do consider supporting the site as a Patron and receive exclusive content. Big shoutout to all Patrons for their generous support, and for helping to keep this site going!
Like our Facebook Page and join the Facebook Group to continue the discussion! Do also join our private Telegram Group for a friendly chat on all things investing related!