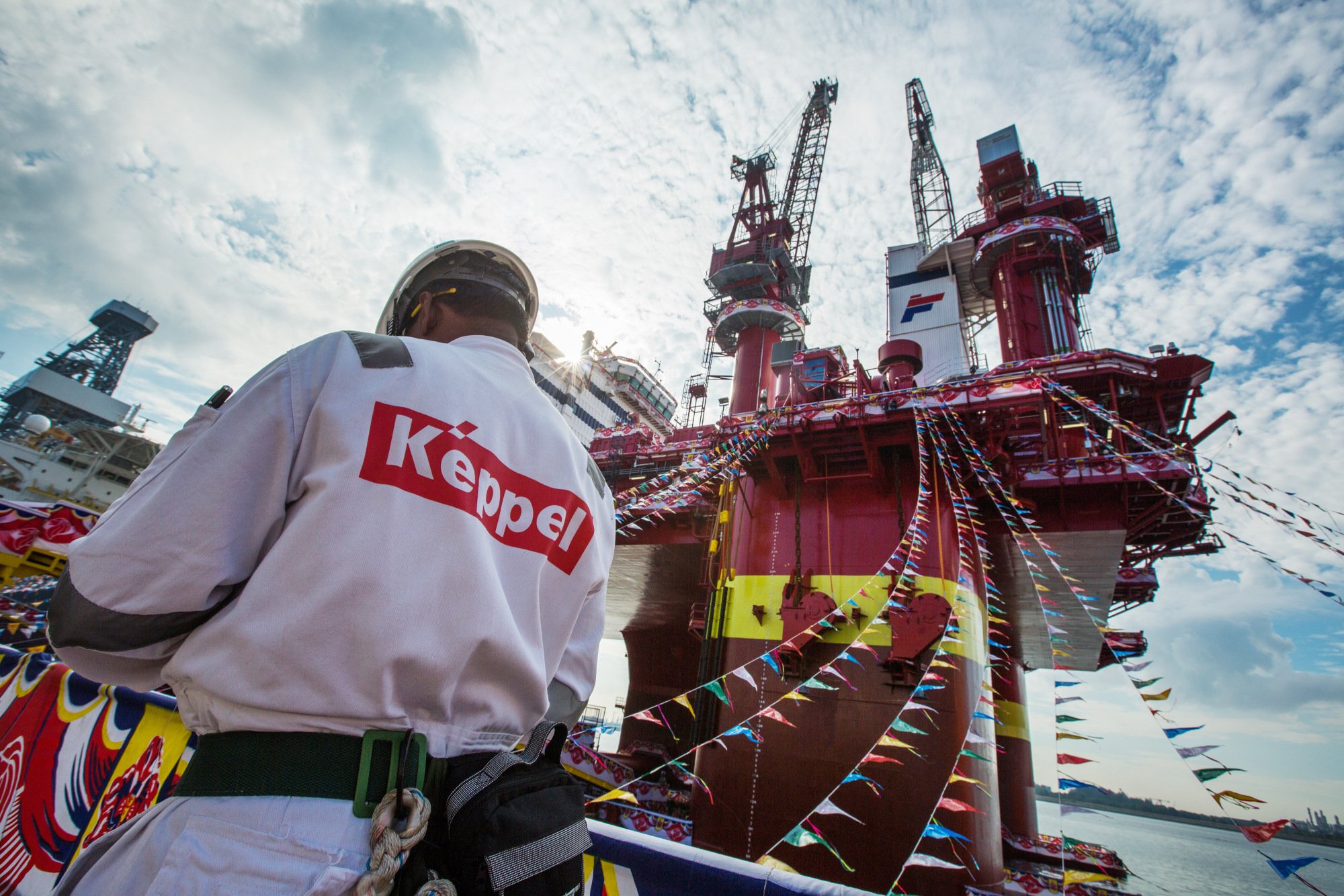 Keppel is one of those classic Singapore blue chip stocks I've always wanted to do a deep dive into.
It's a devilishly complex stock though, so I never got around to doing it.
Then COVID-19 happened, and Temasek pulled their takeover offer for Keppel. We covered this a few weeks back, but long story short – Temasek offered to buy a majority stake in Keppel for $7.35, but they dropped the offer after COVID-19, causing a big sell-off in the stock price.
You can see the 5-year price chart below. Keppel hit a low of $5 during the 2015 oil bust, it recovered to almost $8.5 in 2018, and since then it's been a one-way train downhill to $4.3 range today.
Note: The research for this article, and most of the charts here, are sourced from ShareInvestor Webpro. It's a great way to quickly perform research on Singapore stocks, far more comprehensive and flexible than other options like Yahoo Finance.
You can learn more in my review on ShareInvestor Webpro here.
Basics: What is Keppel Corp?
Keppel is a Singapore conglomerate, 20% owned by Temasek.
It has 4 big business units:
Offshore & Marine – Build boats and offshore rigs for the energy industry
Property – Builds and sells residential property, manages REITs, owns commercial real estate (ie. like any other property developer)
Infrastructure – Power generation, desalination plants etc
Investments – Holds investments such as M1 and Kris Energy
The bulk of revenue comes from Singapore, followed by China as a distant second.
You can see the revenue breakdowns below.
On a revenue basis, Offshore & Marine and Infrastructure are a big part of Keppel.
But on a profit basis, the story is completely different. Profits wise – Land and Infrastructure are the big drivers, while Offshore & Marine has been losing a ton of money.
The P/BV chart for Keppel is set out above.
On a valuations basis, the stock is definitely cheap. The million-dollar question though – is it worth investing in now?
FYI we'll share commentary on the 2020 crisis every weekend going forward, so for those of you who haven't signed up for our mailing list, please do – its absolutely free.
It's a weekly newsletter that goes out at noon every Sunday, and rounds up the week's posts so you never miss anything.
[mailmunch-form id="928667″]
What do earnings look like?
Earnings are not pretty.
Property and Infrastructure have done decently well, but Offshore & Marine is a complete disaster because of COVID19. It's contributed a massive loss to Keppel, that eventually resulted in Temasek walking away from the deal.
Let's dive into each business unit separately.
Offshore & Marine
The Offshore & Marine unit had a horrible first half because of:
COVID19 hitting global demand for oil – Companies cut down on oil capital expenditure, and there is les demand for boats and offshore rigs.
COVID19 hitting foreign workers in Singapore – Keppel is heavily reliant on foreign labour in Singapore for the Keppel Shipyards. COVID19 meant that most of the workers were confined to their dorms. This hit Keppel's labour supply badly.
So COVID-19 in the first half of 2020 hit Keppel's demand and supply side.
The workers are out now, so the supply issue has been solved.
The demand side isn't going to change short term though, so there will still be massive headwinds for this sector. Just look at Sembcorp Marine.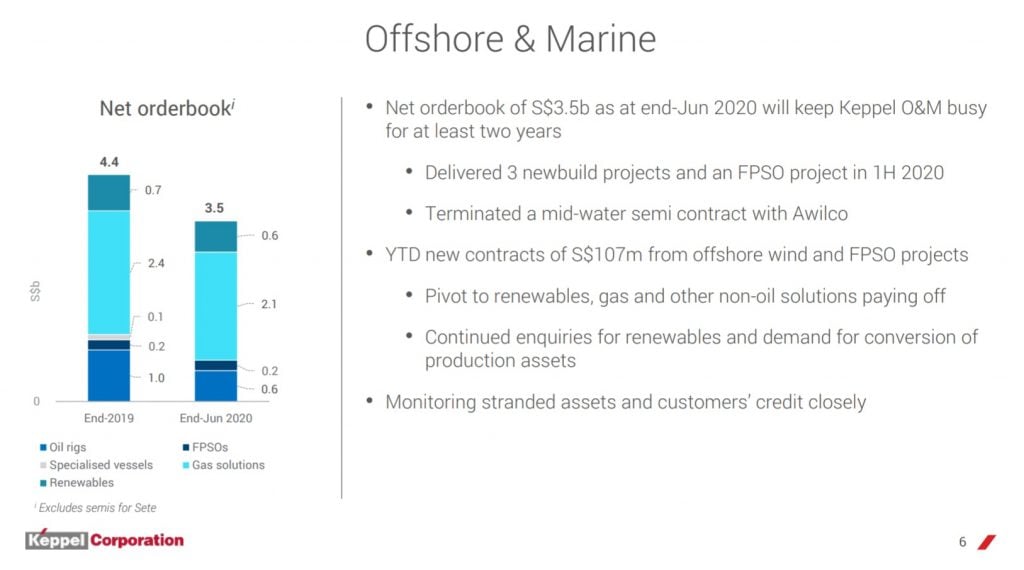 Property
Property is probably the most attractive business unit in Keppel – which says a lot given how badly the entire real estate sector is doing.
Keppel Land doesn't have significant retail or hospitality exposure, so they actually haven't been too badly affected by COVID-19.
Trading revenue is down because nobody was buying or selling commercial real estate during the first half of the year, because nobody knew what the true prices were. That's understandable, and we see the same for property developers like CapitaLand as well.
Home sales in Vietnam dropped a lot, but China is still doing very well.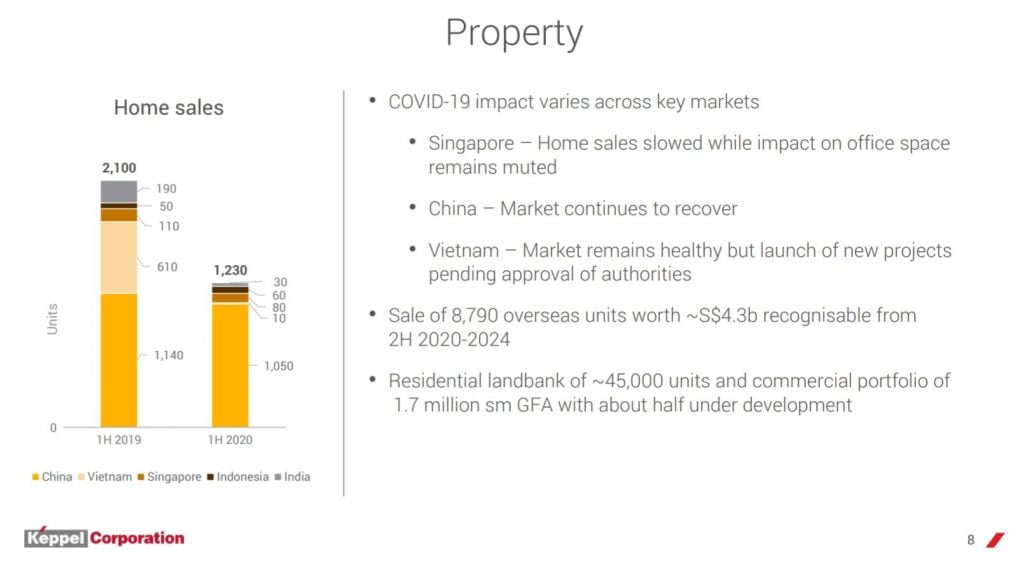 Infrastructure
Infrastructure has been decent too.
A big part of the jump in profit in 1H2020 is due to one-off reclassification gains, and the sale of Keppel DC units. This cannot be replicated going forward, so I don't expect this jump to last.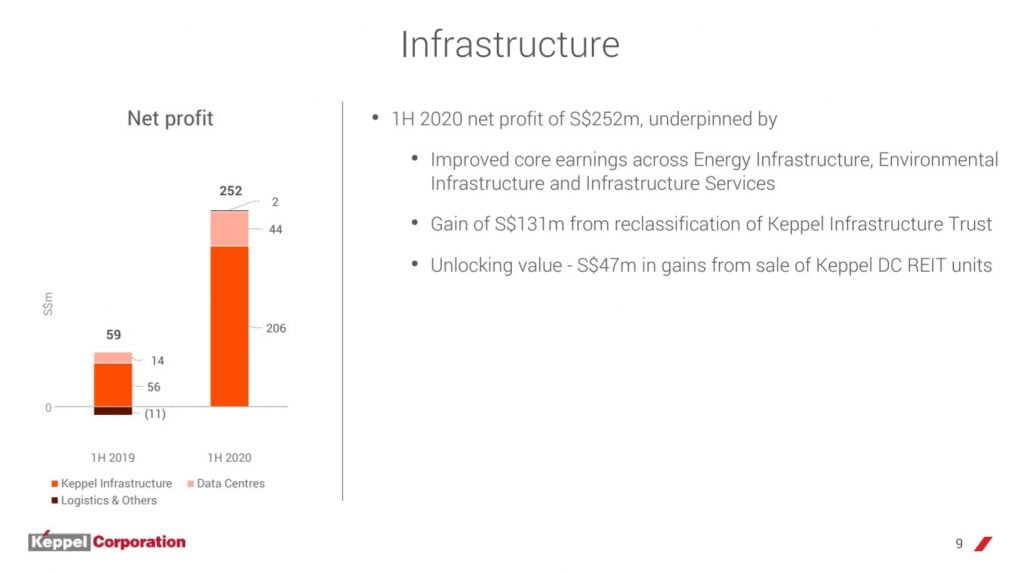 Investments
Investments isn't a big part of the business so we won't dwell on it. M1 seems to be doing pretty well though.
What does this mean?
It's quite a lot to digest, so I will sum it up quickly.
In terms of revenue, Property, Offshore & Marine, and Infrastructure are big parts of Keppel.
But in terms of profit, only Property is able to contribute consistently to the bottom line.
Offshore & Marine struggled to breakeven even pre-COVID, and post COVID looks like a complete disaster.
Infrastructure can hold its own and turn a small profit, and is improving post COVID. But ultimately, it cannot contribute to the same extent as the Property business.
Investments holds some promise, but it really is too small a part of the business to be meaningful for now.
So the property business is sound, and the infrastructure business is okay. But the offshore & marine business is really weighing the stock down.
Is there insolvency risk for Keppel?
Keppel also has a high gearing ratio at 1.0x
They do have a healthy $2.4 billion cash position, with only $1.1 billion in loans coming due over the next 12 months (balance sheet below).
That said – because Keppel is Keppel, I don't think they will run into liquidity issues. Either Temasek or DBS will probably step in to provide emergency funding if things get rough. The bigger concern here will likely be earnings based and not solvency based.
How to value Keppel?
Before we go into valuations, I just wanted to say that Keppel is a really tough stock to value.
It has 4 different business units – Offshore & Marine, Infrastructure, Property, Investments that are all very different.
Just asking me to value one of this business unit would be super tough in these COVID times. Having to value all 4 of them, and put them together, is a really tough ask.
Because of that, I would take any valuations of Keppel with a healthy pinch of salt.
The simple answer on valuations is that even the best analyst will have trouble valuing Keppel accurately right now.
What do the professionals think of Keppel?
I've extracted some professional valuations below.
DBS puts it at $5.5
UOB puts it as $6.72

Financial Horse's valuation of Keppel Shares?
I think both UOB and DBS are being overly optimistic with their valuations.
I like UOB's analysis more though.
But what I would do is that I would half their Offshore & Marine valuation to track where Sembcorp Marine is trading on the open market (0.4x book value). And I would use 0.9x P/B ratio for Infrastructure (instead of 1.2x), and I would use an 8 times P/E Ratio for Property (instead of 12).
This would give me an adjusted UOB valuation of $4.66.
For the DBS analysis, I think the book value and P/E ratios they're using for each business unit are too optimistic. I would add a 20% discount to their ratios, which gives me a fair value of $4.4.
What does this mean?
So the Financial Horse fair valuation for Keppel is $4.4 to $4.66.
At today's price of $4.35, this implies some upside, but not much because the share is close to fair value.
Any big growth in share price has to be due to multiple expansion, or earnings growth.
I genuinely doubt we see meaningful earnings growth short term. Sure there will be big quarter on quarter gains because of the big write-offs done in Q2 2020, but it will be a while before we see meaningful growth in the underlying core business.
Multiple expansion may be possible though because this stock is so oversold.
Anything like vaccine news or the lack of a second wave can cause the stock to jump.
The Elephant in the Room – Will Temasek come back with a revised offer?
So that's the fundamentals analysis for Keppel.
But realistically, we are in this business to make money. We don't care how we make money, as long as we make it.
No analysis for Keppel will be complete without talking about the elephant in the room – Is Temasek going to come back with a revised offer to buy Keppel?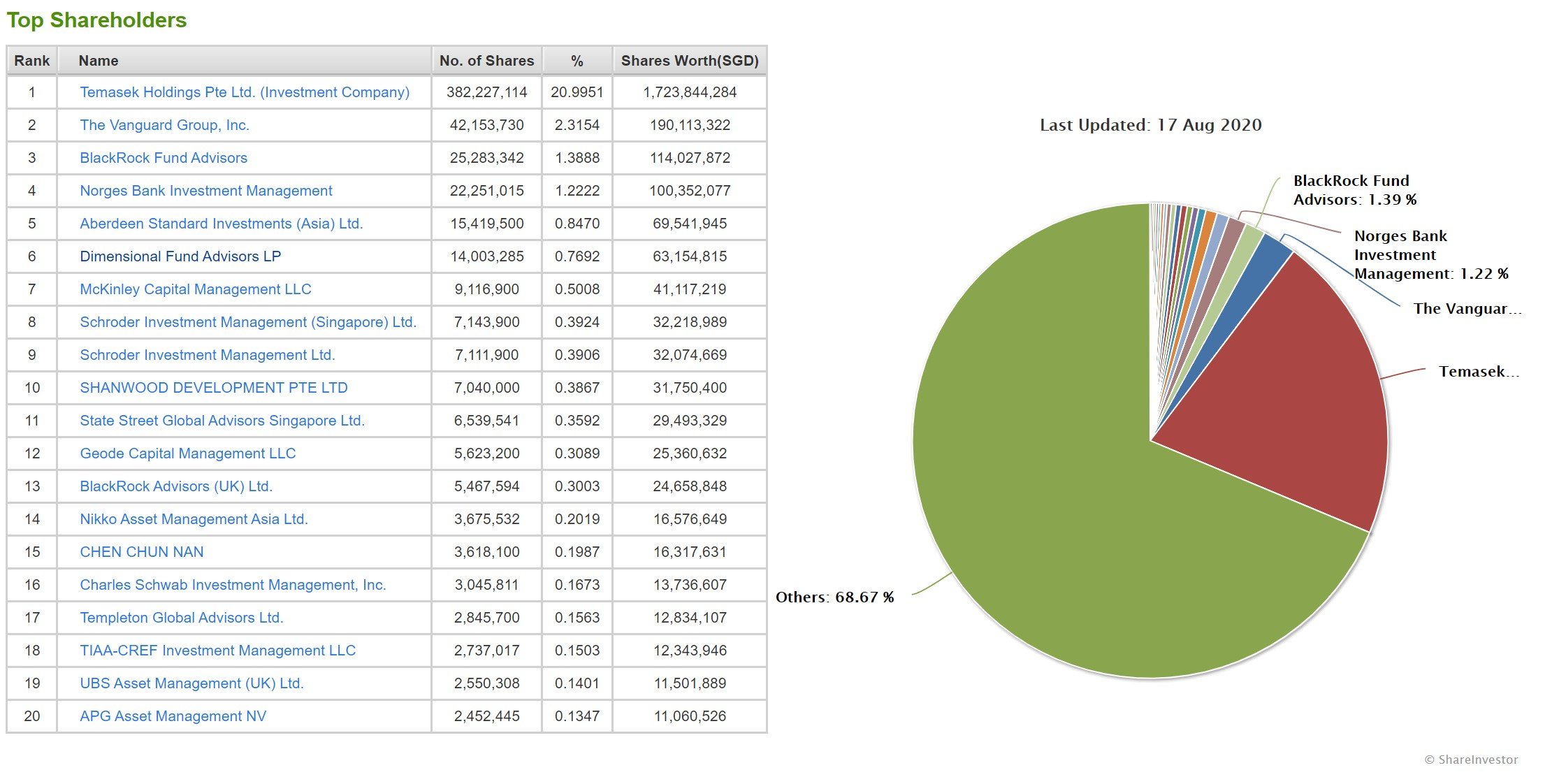 Temasek owns 20% of Keppel today, which is too low a stake to execute any meaningful corporate restructuring.
They will need about 51% which is exactly what they tried to buy (full coverage on why the deal failed here).
Consent from SIC required
Temasek just pulled their offer, so if they come back with a new offer within 12 months, they need to get consent from SIC:
16.7 Council's consent for subsequent offers. Any person who intends to make a partial offer for the same offeree company within 12 months from the date of the close of a previous partial offer (whether successful or not) must seek the Council's prior consent. The Council will not normally grant its consent unless the subsequent partial offer is, as would be normally required, recommended by the board of the offeree company and proposed to be made by a person not acting in concert with the previous offeror. All such subsequent partial offers must comply with all the requirements in this Rule.
It's not impossible to get, but it does add to the hassle.
Optics are not good
The bigger problem I suspect, is the optics.
If Temasek pulls their $7.35 offer price, and comes back 6 to 12 months later with a new offer at a much lower price, the optics of the deal do not look good.
It can look like they're trying to disadvantage the mom and pop retail shareholders by getting a better deal.
Now I don't profess to know how Temasek thinks, but I were them I wouldn't do it, especially when there are many other options on the table here.
What will happen?
A lot of people are expecting a Temasek to come back with a revised offer.
Again, I could be wrong here, but I don't think this is as likely as what people are expecting.
I think more likely if something happens, it will be a different kind of corporate restructuring. Perhaps a spin-off of the marine business. Or perhaps nothing at all.
Short term, this would remove a big catalyst for the Keppel stock.
Insider Activity
A couple more points to touch on, then I'll share my views on whether to buy Keppel.
Insider Activity doesn't look good.
Big institutional shareholders like Blackrock are selling down their stake.
No meaningful insider buying from Directors – apart from what they're entitled to under their share plan and director's pay.
This isn't a good sign. As an investor, I always want to see top management put money where their mouth is and make substantial purchases of stock with their own money (not as part of share plan or remuneration).
Note: ShareInvestor WebPro is a great and very cost-effective way to do analysis like this – beats trawling through the SGX announcements one by one. If you do such analysis regularly, well worth checking it out. Our review on WebPro (and Promo Code) here.
Share Buyback
Interestingly, Keppel has been buying back quite a bit of their own stock. Almost $5 million over the past week or two.
Not meaningful enough to make a big difference, but interesting to note.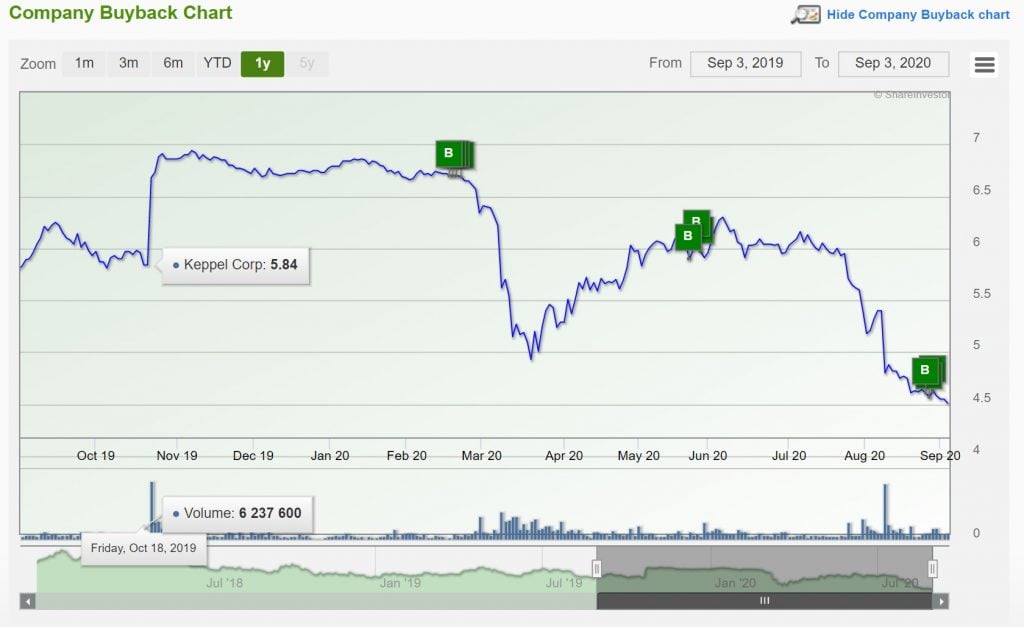 Dividend Analysis
Historical dividend is about 3%, and has been on a downtrend since the oil crash in 2015. Payout ratio is at about 50% which is pretty sustainable.
As a shareholder though, I would rather that Keppel cuts the dividend entirely and uses it to shore up their core business. No point paying out the meagre dividends if the core business is going to continue its decline.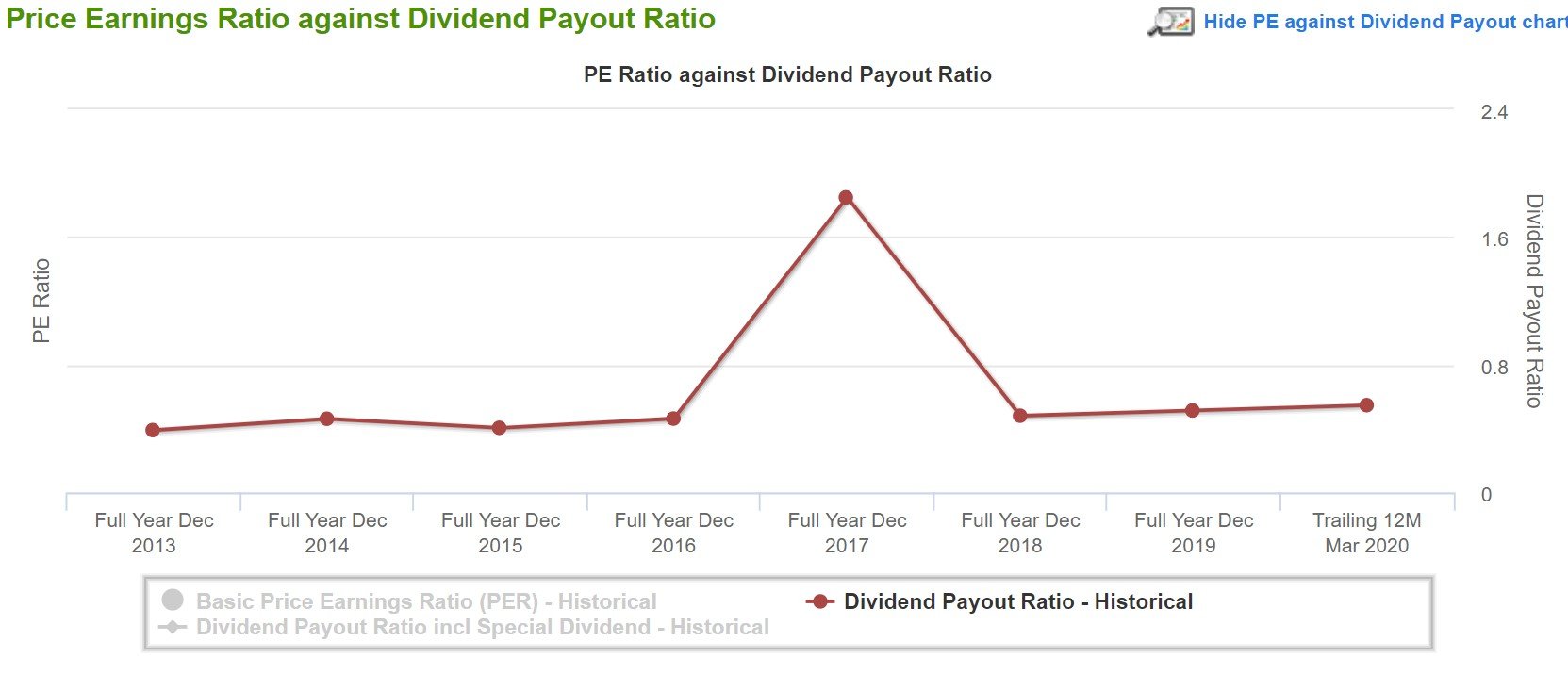 Will I buy Keppel Corp shares?
Frankly speaking, I am not optimistic on the future prospects of Keppel's core businesses.
Property is property, it will always be around and will do decently well. But I can get exposure to real estate via a specialised developer like CapitaLand, CDL or Frasers Property (all trading at depressed valuations now), or I can also own real estate via a REIT structure and enjoy the tax transparency. All of which are better options.
Offshore & Marine is really bad now. It may rebound with a 3 – 5 year horizon (like it did in 2015), but no telling how bad the short term will get.
Infrastructure is an okay business, but the margins are nothing to shout about. If I wanted utilities exposure I can simply buy something like Netlink and get a 5% yield with much lesser risk of capital loss. Or Singtel if I want the upside potential with risk of capital loss.
So mid to longer term, Keppel's core business is just not something I am keen to invest in.
That leaves the short term.
Short term, the stock is quite oversold. Maybe we get some vaccine related news heading into Nov and everything jumps. Maybe there is a separate corporate restructuring for the offshore & marine business.
Short term, I do agree that the price could go up, much like how the SIA/SATS style plays can go up based on technical / fund flows. So I can see why someone would want to buy into Keppel at these prices.
It all goes back to risk-reward though.
And personally, I don't like how risk-reward looks.
Closing Thoughts: 2 Horse Rating for Keppel Corp Shares
I'm giving Keppel Corp a 2 Horse Rating.
The property business here is decent, and the data center business is great.
The Infrastructure business and investments are acceptable.
The Offshore Business is horrible.
But that said, on a historical basis, this stock is very oversold, and very cheap. It can still drop more, but at these prices I do think the downside is limited to a certain extent. So I can see why some investors want to buy in as a turnaround / rebound play.
I'll sit this one out though.
If there's money to be made here, it's not for me.
And as always – this article is written on 4 Sep 2020 and will not be updated. Latest thoughts (and my personal stock watch and portfolio) are available on Patron.
Share your comments below!
---
Financial Horse Rating – Keppel
Financial Horse Rating Scale


---
Support the site as a Patron and get access to my personal stock watch list, as well as my personal portfolio allocation.
Do like and follow our Facebook Page, or join the Telegram Channel. Never miss another post from Financial Horse!
Join our Facebook Group to continue the discussion, everyone is welcome!
Looking for a comprehensive guide to investing that covers stocks, REITs, bonds, CPF and asset allocation? Check out the FH Complete Guide to Investing.
Or if you're a more advanced investor, check out the REITs Investing Masterclass, which goes in-depth into REITs investing – everything from how much REITs to own, which economic conditions to buy REITs, how to pick REITs etc.
Both are THE best quality investment courses available to Singapore investors out there!