So… the next T-Bills Auction is on 21 December.
If you're keen to buy, you need to get your cash applications in by 9pm, Tuesday 20 December.
For CPF-OA applications you probably want to play safe and get it done by Monday, 19 December.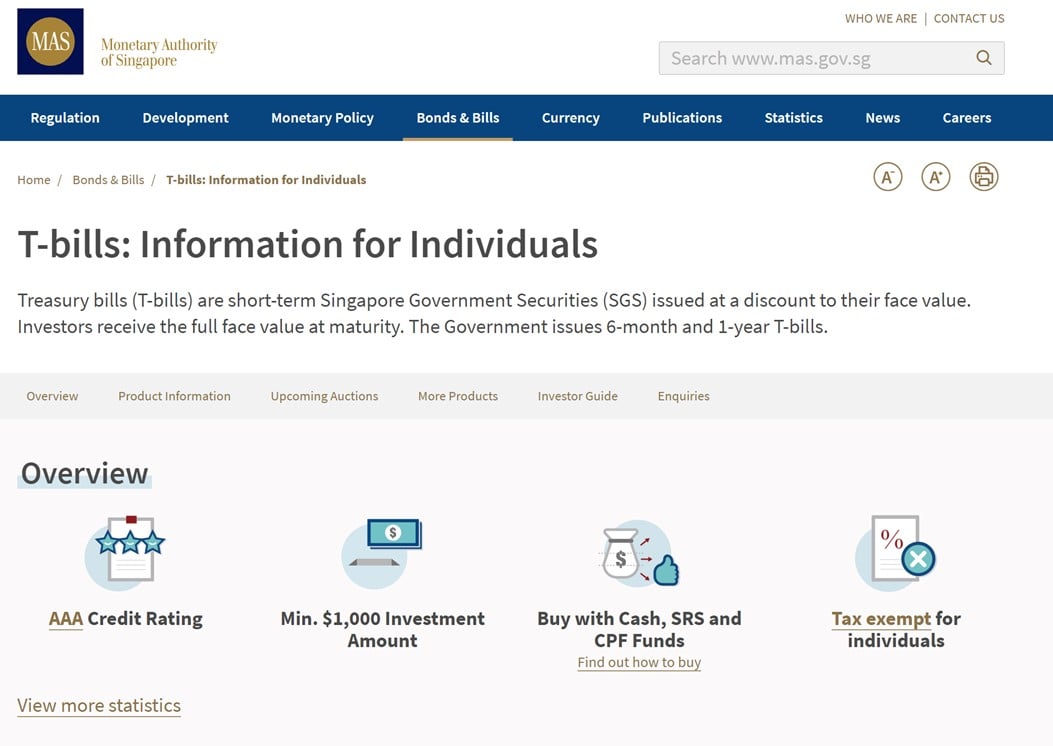 But who are we kidding – let's address the elephant in the room.
The last T-Bills auction closed at a mind blowing 4.4% yield, which was the highest in over 34 years of Singapore history.
At 4.4% yield, I think T-Bills are a great buy and I would happily add more.
BUT – will we see yields stay at 4.4%, or will they come down?    
What is the estimated yield of the next T-Bills Auction?
For the record – T-Bills cut-off yields are determined by auction.
So demand and supply are matched to determine the final yield.
This makes it close to impossible to predict the exact yield ahead of time, unless you know what every bidder is going to bid.
But… we can still get some clues from market pricing, and make educated guesses from there.
Previous T-Bills Auction – 4.4% yield
The previous T-Bills auction on 8 Dec closed at 4.4% yield, the highest since 1988.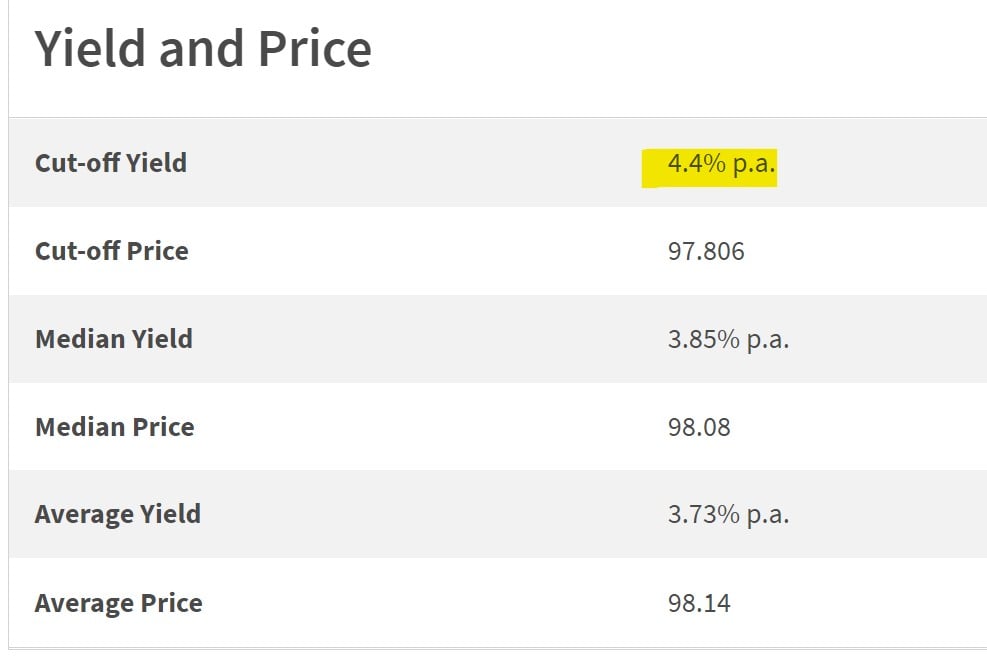 12 week MAS Bills – 4.28%
The latest 12 week MAS Bills are trading at 4.28%.
MAS Bills are only available to institutional investors, so they give you a general idea of what the market is pricing in as fair value – without the noise that comes from retail investors.
Unfortunately though, the pricing shows a clear downtrend in yields since early December.
Why are short term yields dropping despite the Feds raising rates by 0.5%?
I get a lot of questions as to why yields are dropping even though the US Federal Reserve just raised rates by 0.5% this week.
The simple answer – is that the 0.5% raise was already priced in by the market.
What the market wasn't so sure about, was whether it was going to be a 0.5% or 0.75% raise.
And once Powell confirmed it would be only 0.5%, short term interest rates came down as it took away the possibility of a 0.75% short term rate rise.
Market Price of 6 month T-Bills – 4.22%
Market pricing for 6 month T-Bills have softened a bit based on the logic above.
It's come down to 4.22%.
Estimated fair value for T-Bills?
Assuming no curve ball from retail investors?
I would expect it to come in slightly below the 8 December's 4.4% because of the slower pace of Fed rate hikes.
I would probably say 4.2% – 4.3%, fair value.
Wild card will be retail demand
But of course, no discussion on T-Bills will be complete without discussing retail demand.
There are 2 schools of thought here.
The first is that at 4.4%, and with all the newspaper reports covering it – retail investor demand is going to pour in, bringing yields down.
The other is that retail investor liquidity has been all sucked up by a mix of Fixed Deposits, Singapore Savings Bonds, and older T-Bills.
And that too many of them are on leave / holiday to bother putting in real bids.
This means yields might stay high.
Frankly a tough call, and I have no easy answers for this one.
What I do know, is that there was a clear downtrend in application amount the past 3 T-Bill auctions.
But whether this holds true for the next T-Bill auction on 21 December, is frankly anyone's guess.

Suggest to submit Competitive Bids for T-Bills only
Because of this, I would strongly suggest to submit competitive bids only, if you are serious about buying T-Bills.
The problem with submitting non-competitive bids, is that you're going to get allotted at whatever the cut-off yield is.
If there is a freak result and the T-Bill yields close at 3.5%, you're still forced to buy.
So yeah… just save yourself the headache and go with a competitive bid.
With a competitive bid you only get allotted if the final yield is above your bid yield
Example – if you bid competitive at 4.2%, you'll only get allotted if the final yield is 4.2% or above. And if the cut-off yield closes at 4.4%, you'll get allotted at 4.4%.
There's very little reason not to use a competitive bid for T-Bills.
BTW – we share commentary on Singapore Investments every week, so do join our Telegram Channel (or Telegram Group), Facebook and Instagram to stay up to date!

I also share great tips on Twitter.
Don't forget to sign up for our free weekly newsletter too!
[mc4wp_form id="173″]
What yield to bid for competitive bid for T-Bills?
Which leads us to the next question.
What yield should you input for competitive bidding?
I know there are some investors who suggest bidding as low as possible (say 1.0%), to guarantee allotments.
I'm not a fan of this kind of thinking because if enough people think this way, T-Bills yield is going to close at 1.0%.
So I suggest to approach this question by thinking about your next best alternative.
Think seriously about where the money will go instead of T-Bills, for example Fixed Deposit or Singapore Savings Bonds.
And then use that as your baseline yield.
Which is more attractive? T-Bills vs Fixed Deposit
CIMB offers up to 4.00% for a 6 month Fixed Deposit.
Fixed Deposits are SDIC insured up to $75,000, and can technically be "withdrawn" any time subject to payment of a small penalty fee (usually lower interest). And you don't need to bother with auction mechanics.
So at the same yield, I think Fixed Deposits are more attractive than T-Bills.
Which means T-Bills only make sense if they are issued at a premium to 4.00%.
So competitive bidding wise, 4.00% is probably our floor price, otherwise we'll just chuck the money in Fixed Deposit and be done with it.
Which is more attractive? T-Bills vs Singapore Savings Bonds
The latest Singapore Savings Bonds are a real disaster.
2.95% for the first 3 years, for an average return of 3.26% over 10 years.
But for what it's worth, Singapore Savings Bonds do have their own advantages.
There is liquidity because you can get the money back at any time (with accrued interest), and you get it back the first business day of the following month.
And you also have the option to hold up to 10 years, and lock in the higher interest rates.
So it's quite a different product from T-Bills / Fixed Deposit frankly – which are intended more as a way to benefit from high short term interest rates.
What yield to bid for competitive bid for T-Bills?
So to answer this question simply.
Fair value for the 21 Dec T-Bills is probably 4.2% – 4.3%.
And the best 6 month Fixed Deposit pays 4.0%, so it doesn't make sense to submit below 4.1% – 4.2%.
I don't want to tell you specifically what yields to input because ultimately it would depend on each investor.
But for me personally, I probably would only buy if the T-Bills are at 4.2% or above.
And that's how I will structure my competitive bids.
There is no limit on the number of T-Bill bids you can make
Just a quick note that there is no limit on the number of bids you can make for T-Bills.
I know DBS waives the $2 application fee, so you can submit as many bids as you want without worrying about the fee.
For example you can bid:
$10,000 at 4.2%
$20,000 at 4.3%
$50,000 at 4.5%
And so on.
Which means the higher the cut-off yield, the more you can.
Note that the money is deducted from your account at the time the bid is made, so you must have the cash on hand.
But as long as you submit your bids just 1 day before the auction (20 Dec), the money is only deducted from your account for a day (refunded after the auction).
So the opportunity cost of the funds is low.
That's usually what I do for these T-Bill auctions, and you can decide if it makes sense for you as well.
How long will interest rates stay high?
The final question worth discussing – is how long will interest rates stay high?
This question matters because it determines duration.
For example if you think interest rates will drop in Q1 2023, then you might as well go all out and lock in an 18 month Fixed Deposit at 4.2%.
What does the Federal Reserve think?
Jerome Powell made it clear that while they are slowing down the pace of rate hikes in the short term, the mid term goal remains very much fighting inflation.
And despite a slower pace of rate hikes, they now see the terminal interest rate closing at 5 – 5.25% some time in 2023.
Or in plain English – higher, for longer.
This is what the Federal Reserve sees.
Rates peaking at 5 – 5.25% in 2023, and then decline to ~4% in 2024, and ~3% in 2025.
What does the market predict?
The market though, is much less sanguine, and see rates dropping to 4.25% – 4.5% by end 2023.
So… who is right here?
My personal views?
The answer to this question will be your playbook on how to invest in 2023.
And it's a very tough one.
I think what is clear, is that the worst of inflation is probably behind us.
With Fed Funds at 4.5%, the economy is slowing, and inflation will start to come down.
As we move into 2023, you'll see the emphasis shift away from inflation, and into growth / recession fears.
The million dollar question now, is whether inflation drops from 7% to 2% in a straight line the next 12 months.
Or whether it bounces around for a bit, settling in a 3 – 4% kind of range.
That kind of scenario could be a total nightmare for the Feds, forcing them to keep rates at 5% for longer than expected.
Remember – the official inflation target is 2%, so 3 – 4% inflation doesn't really cut it.
Invest to cover a range of probabilities – not a binary outcome
As investors though, you don't need to bet on an either or outcome.
You can spread your bets around, such that you do decently well in a range of probabilities.
With Fed funds at 4.5%, we're close to the terminal of 5.25%.
So yes, interest rates can still go higher from here, but the bulk of the move is already done.
So at these rates, I would be locking in the higher short term interest rates.
As to whether the Feds cut to 0% in 2023?
I don't think that will happen, but I will still hedge by buying all the Singapore Savings Bonds I can get my hands on.
This way I have the option to lock in current yields for up to 10 years.
And so on.
Play the long game.
Trust Bank Account (Partnership between Standard Chartered and NTUC)
Sign up for a Trust Bank Account and get:
$35 NTUC voucher
1.5% base interest on your first $75,000 (up to 2.5%)
Whole bunch of freebies
 Fully SDIC insured as well.
It's worth it in my view, a lot of freebies for very little effort.
Full review here, or use Promo Code N0D61KGY when you sign up to get the vouchers!
WeBull Account – Free USD150 ($212) cash voucher
I did a review on WeBull and I really like this brokerage – Free US Stock, Options and ETF trading, in a very easy to use platform.
I use it for my own trades in fact.
They're running a promo now with a free USD 150 (S$212) cash voucher.
You just need to:
Sign up here and fund S$2000
Make 1 US Stock or ETF trade (you get USD100)
Make 1 Options trade (you get USD50)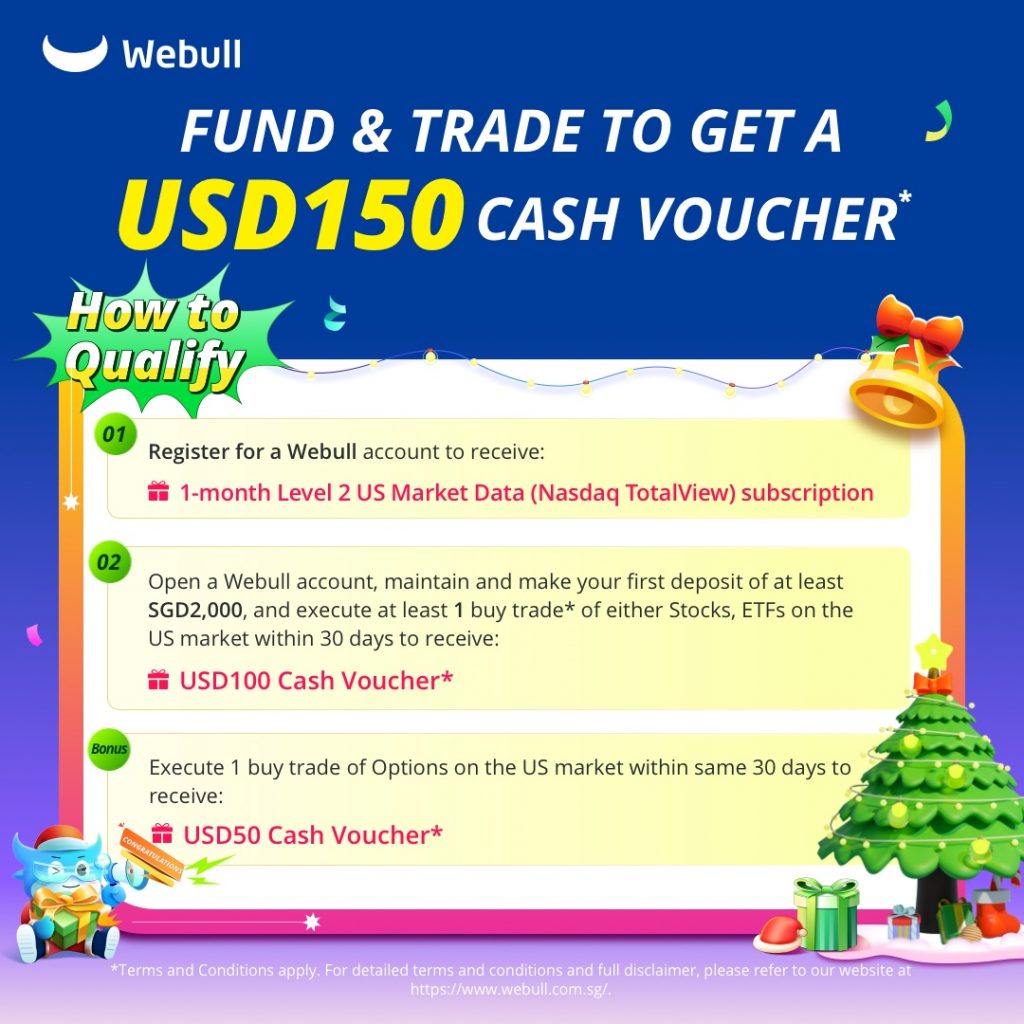 Looking for a low cost broker to buy US, China or Singapore stocks?
Get a free stock and commission free trading Webull.
Get a free stock and commission free trading with MooMoo.
Get a free stock and commission free trading with Tiger Brokers.
Special account opening bonus for Saxo Brokers too (drop email to [email protected] for full steps).
Or Interactive Brokers for competitive FX and commissions.
Do like and follow our Facebook and Instagram, or join the Telegram Channel. Never miss another post from Financial Horse!
Looking for a comprehensive guide to investing that covers stocks, REITs, bonds, CPF and asset allocation? Check out the FH Complete Guide to Investing.
Or if you're a more advanced investor, check out the REITs Investing Masterclass, which goes in-depth into REITs investing – everything from how much REITs to own, which economic conditions to buy REITs, how to pick REITs etc.
Want to learn everything there is to know about stocks? Check out our Stocks Masterclass – learn how to pick growth and dividend stocks, how to position size, when to buy stocks, how to use options to supercharge returns, and more!
All are THE best quality investment courses available to Singapore investors out there!