This article was submitted by a Guest Contributor. The opinions expressed in this publication are those of the Guest Contributor.
Andreseen Horowitz (a16z), a venture capital firm, just released its inaugural "State of Crypto" report.
The 56-page deck is worth reading in its entirety. It provides an overview of the crypto landscape, from macro outlook, development of L1 blockchains, DeFi, NFTs, and more.
If you're unfamiliar with a16z, they are one of the most prolific tech VCs in the world. They've invested in many household tech companies: Stripe, Airbnb, Facebook, Coinbase and Slack, just to name a few.
As crypto started to reach mainstream adoption over the last few years, a16z saw an opportunity to bet big on what they saw as the next major computing cycle. This comes after PCs in the 1980s, the internet in the 1990s, and mobile computing in the early 2000s.
In 2018, they created a16z Crypto together with the launch of a $300 million crypto fund. They launched two more funds in 2020 and 2021, each growing progressively bigger.
Not uncoincidentally after releasing its "State of Crypto" report, a16z announced a new $4.5 billion crypto fund – its biggest investment to date.
With that background, this report provides an insight into what a16z sees as the biggest trends and opportunities in the crypto space. Here are four key takeaways.
#1 a16z unfazed by the market downturn
With the recent market downturn, the report acknowledges the bearishness in the crypto market now. Although crypto can seem volatile and chaotic, there is an underlying order. They call it the 'price-innovation' cycle.
This is based on a blog Chris Dixon and Eddy Lazzarin penned in 2020. In summary, the crypto space evolves in cycles, alternating between peaks in activity and "crypto winters". There have been three cycles so far. The first peaked in 2011, the second in 2013, and the third in 2017.
In their study, they found that even during a crash –  metrics like developer, social media, and startup activity remain steady. This data can be translated into a story. The authors often heard the same anecdotes from crypto founders: "At first, I thought it was just about money, but then I started reading white papers and blog posts, learned more about the potential of the technology, and eventually fell in love with it."
In short, there's reason to be optimistic even during a bear market. That's when the best opportunities emerge, because people can focus on building rather than being fixated on token prices, said Arianna Simpson, a general partner at a16z.
The report states that we are in the middle of the fourth 'price-innovation' cycle. They are confident that in the long-term, growth in these key metrics will generate steady growth of "new ideas, code, projects and startups – the fundamental drivers of software innovation".
#2 Ethereum is leading blockchain, but faces competition
Ethereum dominates the web3 conversation. But developers also have multiple options to build on blockchains. Some of the upstarts include Solana and BNB Chain, which actually have more active addresses and daily transactions than Ethereum.
That said, demand for block space on Ethereum is unmatched. On a 7D average, Ethereum users paid $15m in transaction fees. This is more than 10x the fees that are paid on the second-highest blockchain, BNB Chain.
This can be read in two ways. One highlights Ethereum's lack of scalability. High gas fees are the result of a blockchain that prizes decentralisation over scalability. These exorbitant fees allowed other blockchains to entice users with promises of better performance and lower fees. On the other hand, the high gas fees are also a reflection of the demand on Ethereum. People are willing to pay a hefty premium in exchange for the added security it  provides.
Ethereum's dominance also shows in terms of its ability to attract developers. This chart shows Ethereum clearly in the lead. But several emerging ecosystems — namely Solana and Avalanche — are also on a similar trajectory.
# 3 The NFT market remains hot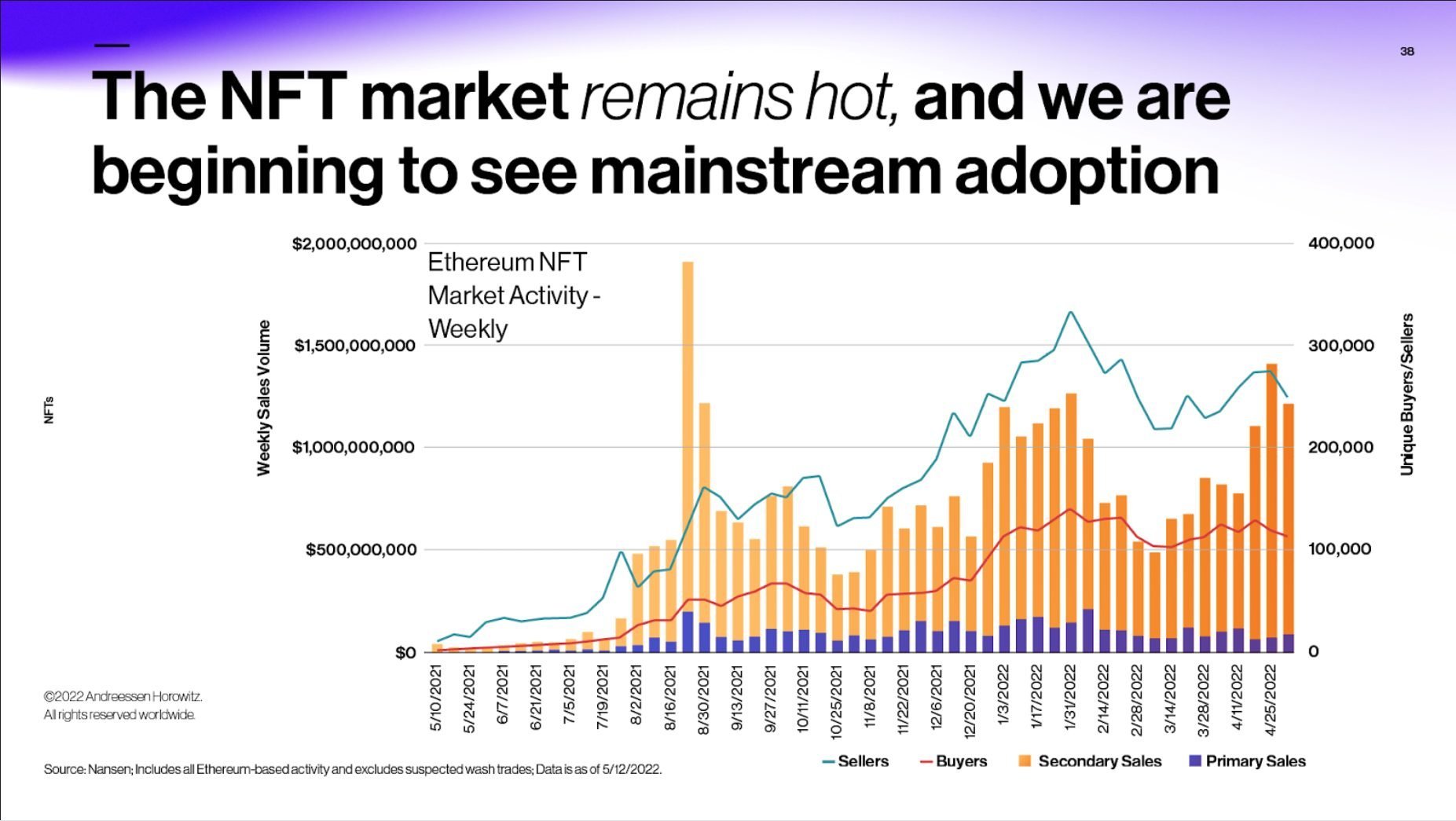 Contrary to what news outlets like the WSJ reported, the report argues that there's growing interest in NFTs. The chart of weekly Ethereum NFT market activity shows NFTs reaching its peak in August 2021. The craze died down, bottoming out two months later in October. After which, weekly activity grew at a relatively steady pace. As of May 2022, NFTs generated over $1 million in weekly sales volume and attracted over 100,000 unique buyers. 
What's driving this growth? There are 3 main reasons:
New use cases for NFTs.
NFTs are most associated with digital art, but creators are finding new ways of using the technology. Its current applications include representing virtual world assets, unique in-game assets, and profile pictures to represent an online identity. With the rapid pace of innovation, new use cases will continue to pop up. Some promising examples include airdrops and music royalties.
Web3 platforms have drastically lower take rates than the internet giants today.
NFTs cut out the middleman between creators and their fans. Web 2 platforms like the Apple app store and YouTube take up to 30% and 45% from creators respectively. Meanwhile, NFT marketplace OpenSea only takes 2.5%.
NFTs offer creators a whole new way to monetize directly with their fans.
The most lucrative source of creator revenue is YouTube, which doled out $15 billion in 2021. That averages out to $405 per channel. In comparison, NFTs generated $3.9 billion in 2021. Divided among the 22,400 creators, that averages out to $174K per creator.
#4 What's next for Web3?
It is still early days for Web3. There are around 7 to 50 million Ethereum users today, a fraction of the 1 billion internet users. The report identifies 5 things to look out for.
Web3 infrastructure will continue to improve. A key development to watch is the Ethereum merge, due to happen this year. If successful, it will improve performance and cut down on energy usage – thus removing the environmental objection to using this L1.
More creators of all kinds will embrace NFTs when they discover how superior it is to sell directly to their fans compared to web2 monetisation methods.
More Web3 games will launch, especially from founders from top game studios.
DeFi will continue to grow, as users choose it over traditional finance due to the better rates and user experience.
Just as NFTs were the Web3 craze of 2021, expect many more categories to break out in the coming years. Current experiments include DAOs, social tokens, decentralised social networks and web3 media.
Conclusion
Against the backdrop of fear and uncertainty in the crypto markets, a16z doubled down on their conviction of Web3's potential.
Their main argument is that these cycles are part of the process. As long as builders continue to push the pace of innovation, there's a wealth of opportunity in multiple sectors in the crypto space.
This article was submitted by a Guest Contributor. The opinions expressed in this publication are those of the Guest Contributor.
For more investing content, follow Financial Horse on Social Media!