Let me just put it out there and say that I am not the biggest fan of REITs at today's prices.
Regular readers of Financial Horse will know my views on interest rates.
I think that interest rates will need to go higher, and stay there for longer – as a result of the Fed mistake by "pivotting" too early in Jan 2023.
Goldman Sachs just revised their base case for Fed Funds Rate to hit 5.25% – 5.5% by June 2023. I think there is a risk the Feds are forced to go even higher, potentially 6%.
Which means that a blue chip REIT priced at 5-6% yield, makes very little sense when the global risk free rate might go as high as 6% this cycle.
Price is everything in this new climate
Because of that, I think investors need to be much more discerning when buying REITs in this new regime.
Both in terms of what REITs you pick, and what price you buy at.
With the right REIT – you can treat it like an investment grade corporate bond.
If underlying cash flows are stable, you can keep receiving a stable dividend income every year, regardless of where the price may go.
The only problem of course, is that yield may get hit by higher financing costs (for the REIT).
Which is why price is also crucial, you want to build in a margin of safety into the dividend yield.
Rules for picking the Top 3 REITs to buy in 2023 (as a Singapore Investor)
A couple of ground rules to frame the discussion.
Why 6% Dividend Yield minimum?
Frankly 6% is a bit of an arbitrary number.
The current 10 year SGS trades at about 3.2%, so this is a 2.8% yield spread.
Call me a shallow horse, but I like the sound of 6% yield.
Why Top 3 REITs to buy?
I do want to stress that this list is very subjective.
I like these REITs, but that doesn't mean every investor will like them. Nor does it mean that they are guaranteed to do well.
Please do your own research before buying any REIT on this list.
I decided to keep to 3 REITs so I can do a deeper dive into each.
But me being me, I couldn't help but include a very honourable mention for a 4th REIT.
Top 3 REITs I will buy in 2023 – 6% Dividend yield minimum (as a Singapore Investor)
Lendlease Global Commercial REIT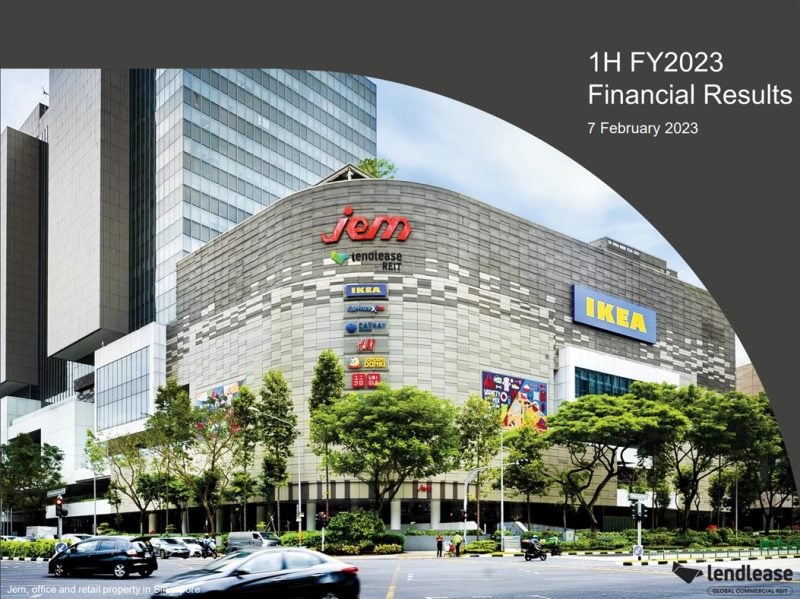 Price: $0.69
Price / Book: 0.88x
Dividend Yield: 7.15%
I shared previously that I bought a position in Lendlease REIT last year, so I'm kind of talking my book here.
Simply put, I like Jem.
A lot.
In Jem I think Lendlease REIT has a best in class retail mall in the Jurong Lake District.
Which if the long term plans for the Jurong Lake District pan out, could see a lot of upside.
And Jem being 61% of revenue – is probably the reason you are buying Lendlease REIT.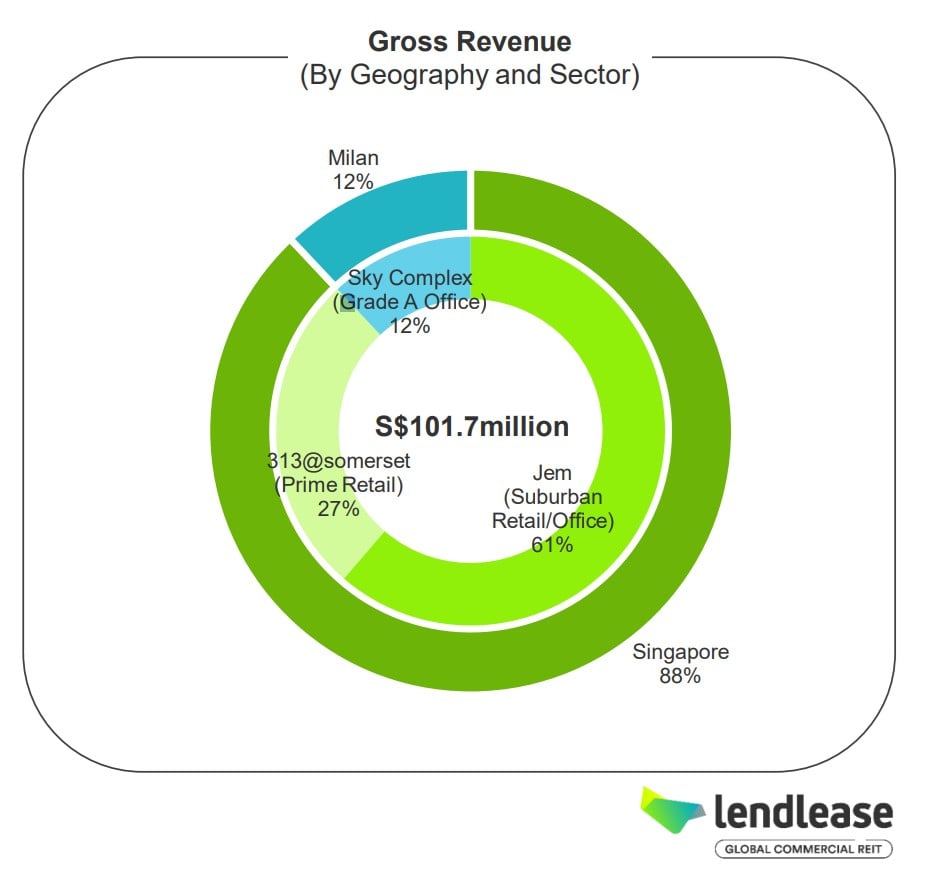 The other 2 properties are not too shabby either.
313@Somerset is one of the better Orchard malls, having carved out an interesting niche catering to the younger crowd.
Sky Complex Italy is long term leased out to Sky Italia, which hopefully should remain stable for the foreseeable future.
Pipeline from Lendlease is very strong too – with Paya Lebar Quarter and Parkway Parade as potential future acquisitions.
Valuations of Lendlease REIT
Valuations wise, Jem is valued at a 4.5% cap rate (retail).
313 Somerset at a 4.25% cap rate.
And Sky Complex at a 5% cap rate
From the latest transactions – Jurong Point and Serangoon Nex were sold at a high 4% cap rate.
So realistically, I think Jem and 313 Somerset should probably trade at a high 4% cap rate too.
That said Lendlease REIT trades at a 0.88x book value today, so even if we adjust the book value down slightly you're probably buying Lendlease REIT at book value.
At this price, dividend yield is about 7.15% (annualised), which is pretty decent.
Debt profile of Lendlease REIT
The bright side is that there is no debt due for refinancing in FY2023.
The not so bright side, is that there is a massive 285 million euro loan coming up for refinancing in FY2024.
Only 61% of borrowings hedged to fixed rates is on the slightly lower side too, as many of the big REITs these days have 80% fixed rate loans.
Weighted average cost of debt now is 2.35%, which you can bet is bound to go up in the years ahead.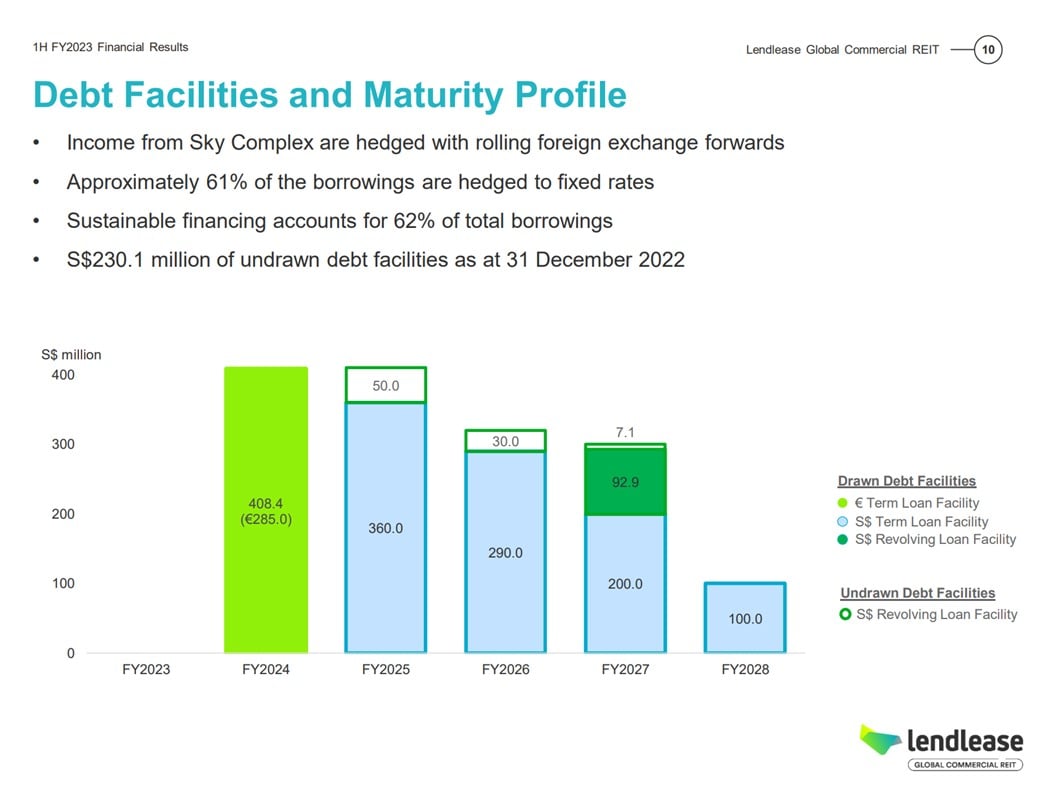 What price would I buy Lendlease REIT at?
As a long term investor, I probably don't mind picking up Lendlease REIT at current prices.
That being said, this is a less established REIT (compared to the behemoths from CapitaLand and Mapletree), which means the stock price can get volatile.
Just look at the massive 50% plunge during COVID.
I might get greedy and see if I can pick Lendlease REIT up at low to mid 60s, which would work out to a ~8% yield.
Don't know if it will go there, but like I said this rate hike cycle is not over yet.
And I think investors are too sanguine on how higher interest rates will go, and how long they will stay there.
So let's see.
Mapletree Pan Asia Commercial Trust
Price: $1.68
Price / Book: 0.94x
Dividend Yield: 5.76% (trailing yield is 7.2%)
Mapletree Pan Asia Commercial Trust is an interesting REIT.
What used to be a best in class Singapore commercial REIT under Mapletree Commercial Trust.
Was for lack of a pleasant word, butchered when they merged the Hong Kong assets from Mapletree North Asia Commercial Trust to create this new REIT.
I shared that I was not a biggest fan of the merger previously, and even after they revised the terms to benefit unitholders, I still wasn't exactly in love with the deal.
But it is what it is.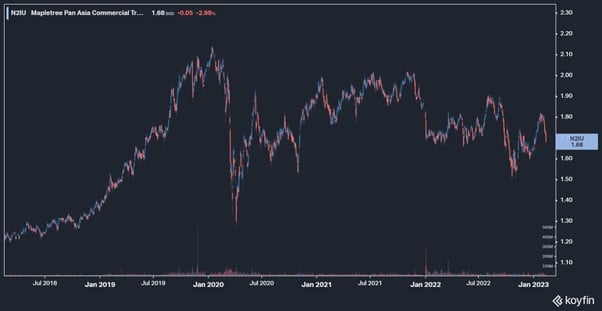 Mapletree Pan Asia Commercial Trust's share price has languished for the past year, largely due to the Hong Kong exposure.
To put it in perspective, Hong Kong's Festival Walk is 27% of the REIT's AUM.
While only contributing 16% of net property income.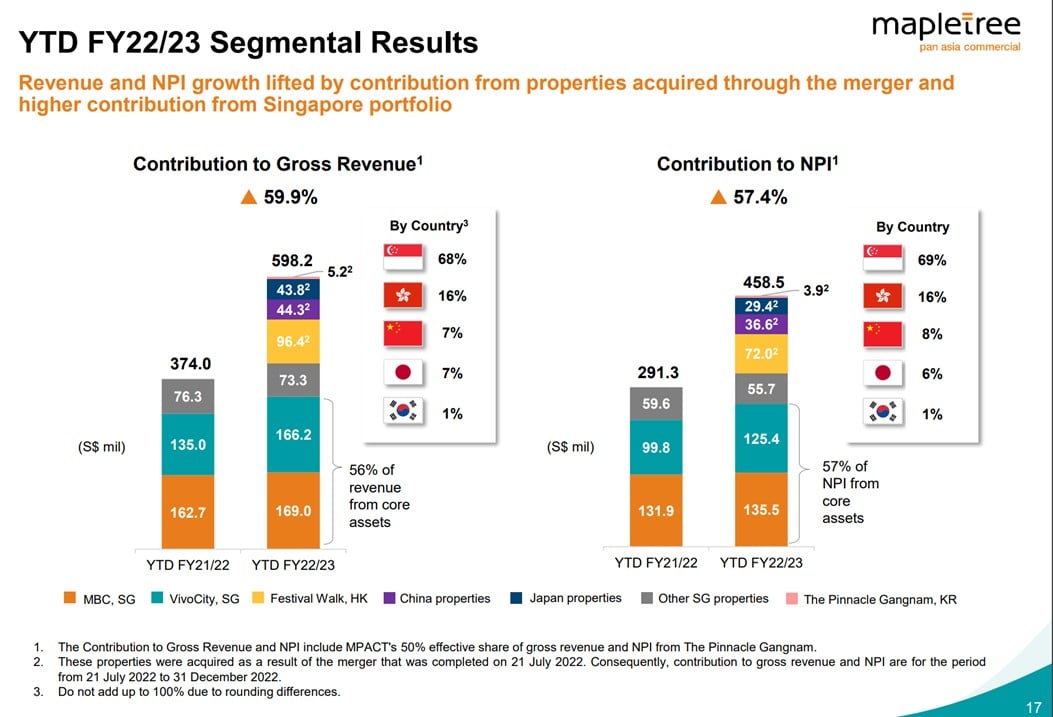 Long story short – the Hong Kong Festival Walk is underperforming, majorly.
Just look at the below – negative 12.7% rental reversion for Festival Walk.
Versus 7.9% rental reversion for Vivocity.
It's very hard for share price to do well when one of the supposed crown jewels is performing this poorly.

I suppose the million dollar question is whether the worst is over for Hong Kong, and Festival Walk.
Initial signs look promising, especially with the broader China and Hong Kong reopen.
Valuations of Mapletree Pan Asia Commercial Trust
At current prices Mapletree Pan Asia Commercial Trust trades at 0.94x book value.
And an annualised dividend yield of 5.76% (trailing yield is 7.2%).
Of course the numbers are pulled down by Hong Kong's poor performance, so if there is a meaningful recovery you could be looking at 6-ish yields at current price.
What price will I buy Mapletree Pan Asia Commercial Trust?
For a REIT with exposure to best in class assets in Vivocity and Mapletree Business City, both of which are well positioned to benefit from the longer term Greater Southern Waterfront rejuvenation.
Not too shabby.
Although I might just get greedy and hold out for 1.5 – 1.6ish prices.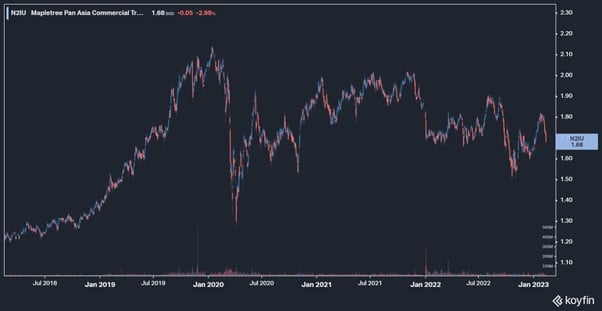 BTW – we share commentary on Singapore Investments every week, so do join our Telegram Channel (or Telegram Group), Facebook and Instagram to stay up to date!

I also share great tips on Twitter.
Don't forget to sign up for our free weekly newsletter too!
[mc4wp_form id="173″]
Keppel REIT
Price: $0.91
Price / Book: 0.67x
Dividend Yield: 6.48%
Okay full disclosure that I have positions in all 3 REITs above, so I am talking my own book here.
Keppel REIT is one of the rare few pure play Singapore office REITs left.
The properties they own – Ocean Financial Centre, Marina Bay Financial Centre, One Raffles Quay, should be familiar to those who work in the CBD.
The tricky part is that Keppel REIT doesn't own 100% of the buildings, it only owns a stake in them (which means less control).
The one office building it does own 100% of, is Keppel Bay Tower, which probably is a less amazing property.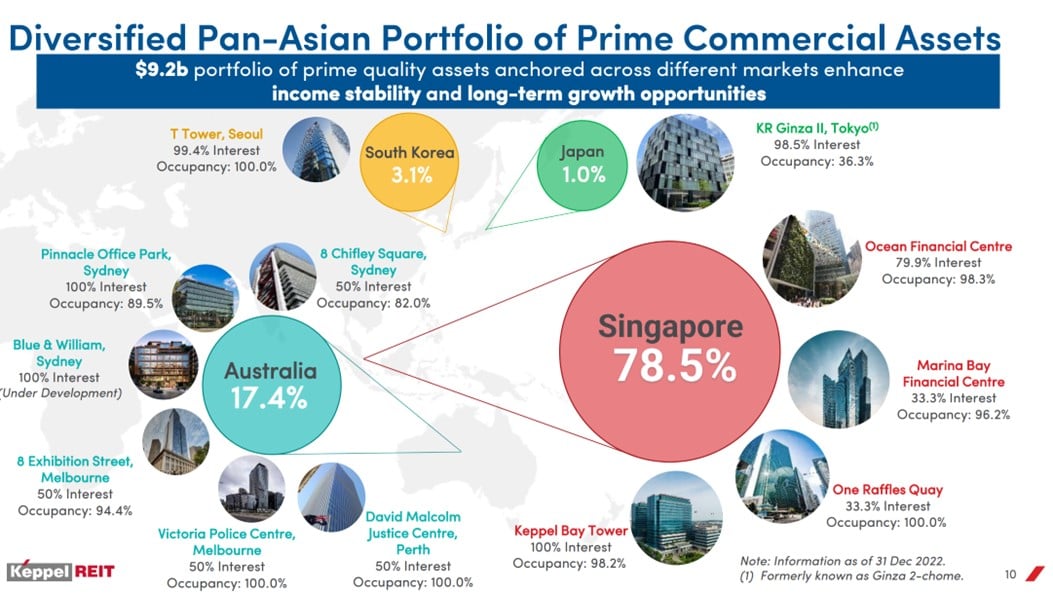 Valuations of Keppel REIT
You can look at the cap rates used below.
About 3.5% across the board.
Does this really make sense in a climate where I'm already getting close to 4% on a risk free T-Bill?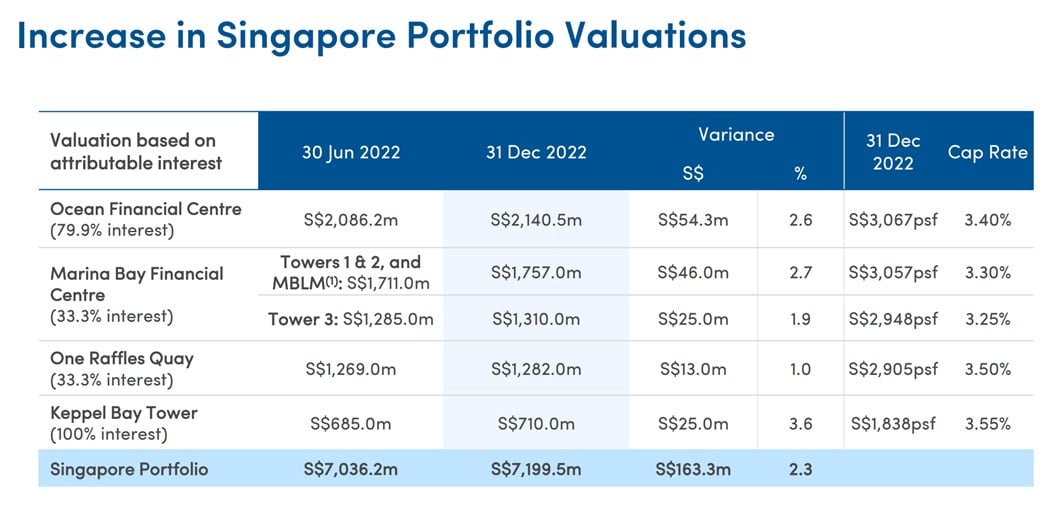 Let's say we adjust the cap rates to 4%+.
Keppel REIT would then be trading at about 0.8x adjusted book value.
Could be acceptable, especially in light of the 6.5% trailing dividend yield.
The market is not the biggest fan of this REIT though, as it's been trading below book value for most of its life.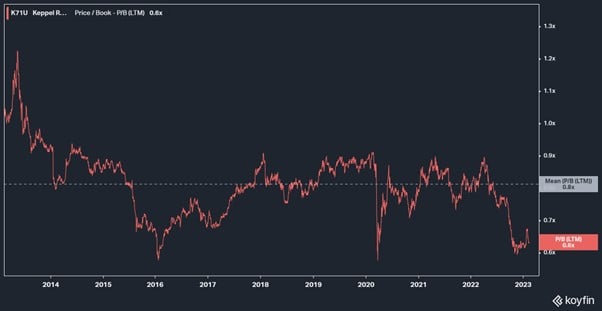 What price will I buy Keppel REIT?
That said, it all goes back to pricing.
If it drops back to the 0.8s range, that would work out to a 7%+ yield which could be attractive.
What I do want to say though, is that whether I buy Keppel REIT (or any of the other REITs on this list), depends very much on how the macro plays out in 2023.
Value is always relative you see.
Keppel REIT may look cheap today because all the solid blue chips from CapitaLand and Mapletree are very richly priced.
If that changes down the road, I may easily see better value in those REITs instead.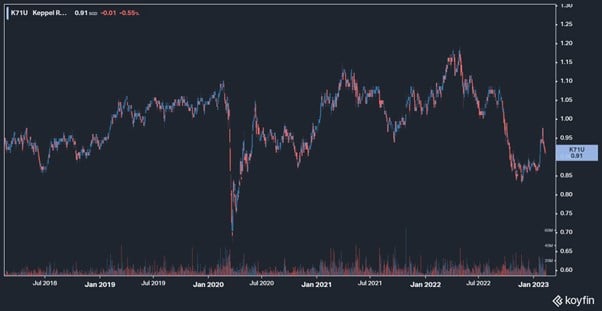 Very Honourable Mention: Frasers Centrepoint Trust
Price: 2.13
Price / Book: 0.92x
Dividend Yield: 5.77%
And finally, a very honourable mention for Frasers Centrepoint Trust.
I love Frasers Centrepoint Trust's acquisition of Nex.
Nex to me, is a fantastic mall.
A best in class suburban mall.
Following the acquisition, Frasers Centrepoint will solidify its position as the premier suburban mall REIT in Singapore.
Holding 2 best in class assets in Punggol's Waterway Point, and Serangoon's Nex.
There's a lot to like about that.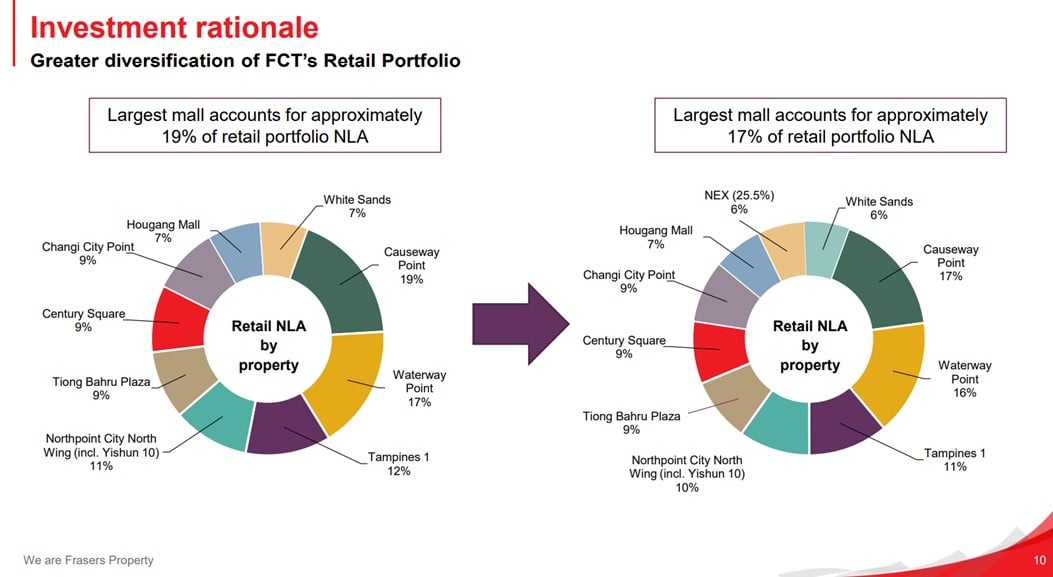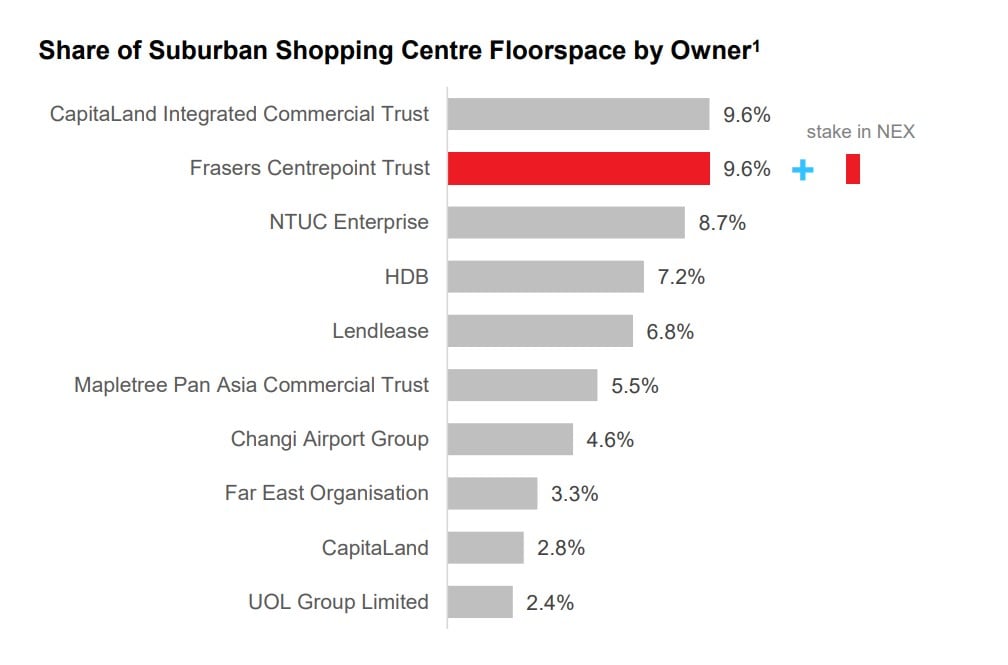 As shared on Twitter a while back (do follow me on Twitter if you haven't already) – the icing on the cake is how Frasers Centrepoint REIT did the acquisition.
Unlike Link REIT which bought Jurong Point all at one go
Frasers Centrepoint REIT only bought 50% of Nex, and it further split that purchase with its Sponsor Frasers Property.
So effectively, Frasers Centrepoint REIT only bought 25.5% of Nex.
This is great because financing costs are expensive now, and the market will absolutely murder you if you try to do a big equity fundraise.
So I really like this strategy of buying a small stake, and slowly digesting the rest of the property over time.
Really nice of the Sponsor to lend its balance sheet to the REIT in this way too.
Frasers Centrepoint Trust is buying Nex at a high 4% cap rate too, which is in line with what Jurong Point was sold for, and I think is fair for current market conditions.
The problem with Frasers Centrepoint REIT though, is that I think the price is on the high side for now.
Much like all the other blue chip REITs like CICT and Ascendas, I think investors are slightly too sanguine on the path of interest rates going forward.
So I like this REIT, but not necessarily at this price.
Interesting though, this is the only REIT on this list that I do not have a position in.
Let's see if 2023 gives me an opportunity to change that.
Why no Industrial REITs?
A notable exception from this list is industrial REITs.
Simply put, at these prices, I don't think industrial REITs are sufficiently attractive.
You can see the REIT on my watchlist below – 5% – 6% dividend yield just doesn't look very attractive given my anticipated path of interest rates.
With the Fed mistake in Jan 2023, I think you may see the Fed Funds Rate go as high at 6% this cycle.
That's not exactly the climate I want to be loading up on REITs unless the prices are attractive.
In any case, the list above is not meant to be exhaustive.
The REITs I am interested to buy, and the price to buy at, will without a doubt change over time as 2023 plays out.
This article will not be updated going forward, so if you are keen do sign up as a Patreon for my latest REIT watchlist and macro views.
Closing Thoughts: This is no longer a rising tide lifts all boats macro environment
I sometimes sit in on discussions on REIT valuations, and I can't help but think that many investors are missing the point.
Many people are still seeing REITs from the lens of the past decade.
A decade of low inflation, and secular low interest rates.
In my view – COVID has thrown that entire regime out of the window.
This new regime we are in, is one of more stubborn and sticky inflation.
And where interest rates are never going back to the zero bound.
And the implications for REITs – a highly levered investment in an interest rate sensitive asset class, are ground shattering.
I've said this above, and I'll say it again.
Without a decade of low interest rates, this will no longer be a rising tide lifts all boats situation.
You'll probably see the returns a lot more unevenly distributed across REITs.
This decade – You want to be more selective on what REITs you buy, and what price you buy at.
As always, this article is written on 17 Feb 2023 and will not be updated going forward.
If you are keen, my full REIT and stock watchlist (with price targets) is available on Patreon, together with weekly premium macro updates.. You can access my full personal portfolio to check out how I am positioned as well.
Trust Bank Account (Partnership between Standard Chartered and NTUC)
Sign up for a Trust Bank Account and get:
$35 NTUC voucher
1.5% base interest on your first $75,000 (up to 2.5%)
Whole bunch of freebies
 Fully SDIC insured as well.
It's worth it in my view, a lot of freebies for very little effort.
Full review here, or use Promo Code N0D61KGY when you sign up to get the vouchers!
WeBull Account – Free USD150 ($212) cash voucher
I did a review on WeBull and I really like this brokerage – Free US Stock, Options and ETF trading, in a very easy to use platform.
I use it for my own trades in fact.
They're running a promo now with a free USD 150 (S$212) cash voucher.
You just need to:
Sign up here and fund S$2000
Make 1 US Stock or ETF trade (you get USD100)
Make 1 Options trade (you get USD50)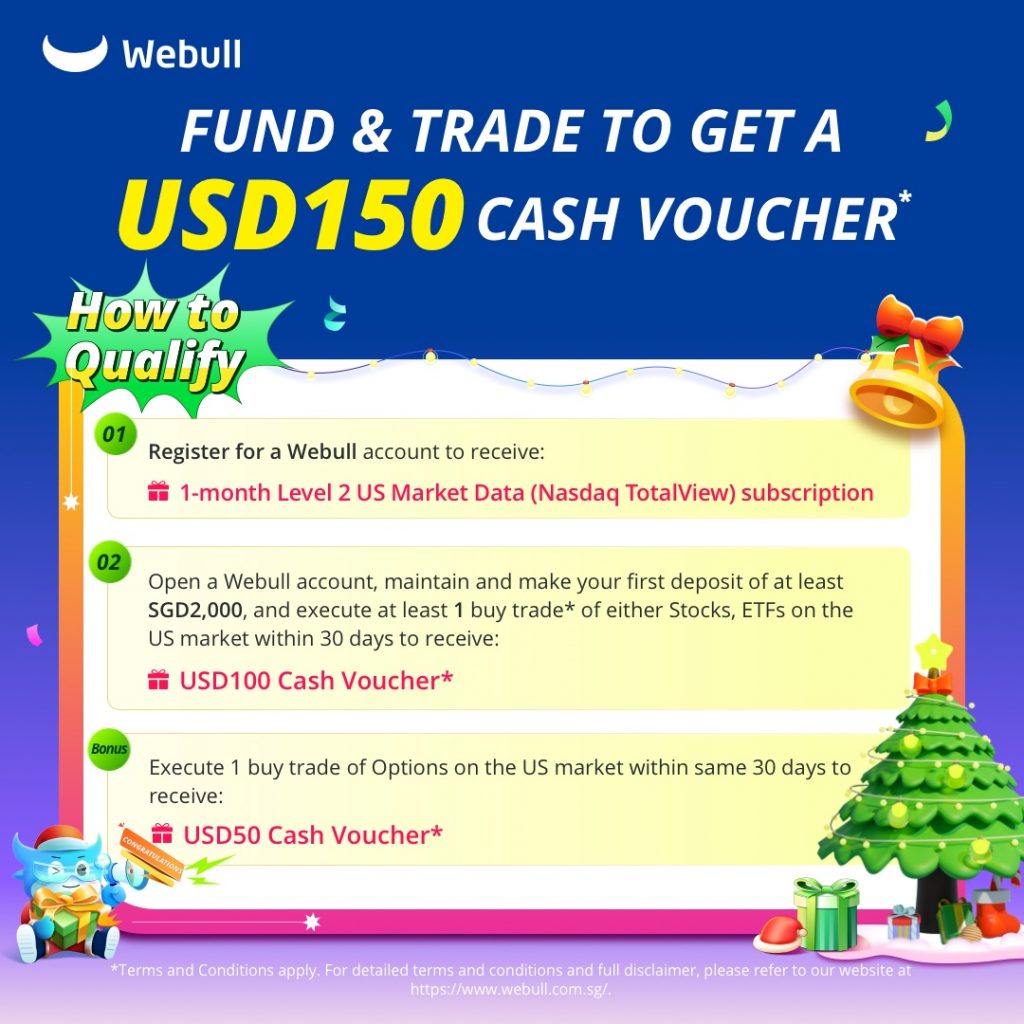 Looking for a low cost broker to buy US, China or Singapore stocks?
Get a free stock and commission free trading Webull.
Get a free stock and commission free trading with MooMoo.
Get a free stock and commission free trading with Tiger Brokers.
Special account opening bonus for Saxo Brokers too (drop email to [email protected] for full steps).
Or Interactive Brokers for competitive FX and commissions.
Do like and follow our Facebook and Instagram, or join the Telegram Channel. Never miss another post from Financial Horse!
Looking for a comprehensive guide to investing that covers stocks, REITs, bonds, CPF and asset allocation? Check out the FH Complete Guide to Investing.
Or if you're a more advanced investor, check out the REITs Investing Masterclass, which goes in-depth into REITs investing – everything from how much REITs to own, which economic conditions to buy REITs, how to pick REITs etc.
Want to learn everything there is to know about stocks? Check out our Stocks Masterclass – learn how to pick growth and dividend stocks, how to position size, when to buy stocks, how to use options to supercharge returns, and more!
All are THE best quality investment courses available to Singapore investors out there!