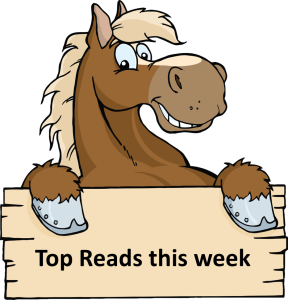 Rounding up top reads from around the web, including articles shared by fellow investors in the Financial Horse Facebook Group.
---
Sea plans to offer 11 million American Depositary Shares, with the option to sell another 1.65 million, according to a statement. The offering would total US$2.2 billion at Wednesday's closing price or US$2.6 billion with the additional shares. Goldman Sachs Group and JPMorgan Chase & Co are bookrunners for the deal. Sea, a games company that has expanded into e-commerce, has surged to a market valuation of US$100 billion with its shares rising more than 400 per cent this year alone. It intends to spend the proceeds from the new offering on business expansion, "including potential strategic investments and acquisitions", the company said in its statement. Sea's first self-made mobile game, a battle royale called Free Fire, has attracted tens of millions of players and its gameplay is now one of YouTube's most-watched attractions. Investors have been betting on Sea becoming its region's Tencent Holdings and Alibaba Group Holding rolled into one, though the company's most recent quarterly results showed a slight slowdown in its prodigious growth rate.
---
More than 1,600 passengers who were aboard the Royal Caribbean's Quantum of the Seas cruise ship disembarked on Wednesday (Dec 9) night in an hours-long process that began nearly 12 hours after the ship returned to Singapore a day ahead of schedule. The four-day cruise to nowhere was cut short by a day after a passenger tested positive for Covid-19. However, two subsequent tests conducted by the National Public Health Laboratory came back on Wednesday night with negative results – suggesting the initial test could be a false positive. 
---
Singapore is set to host the world's first electric-powered air taxi service by the end of 2023, according to Volocopter GmbH, which is developing the vertical-takeoff craft. The German manufacturer is committed to starting operations within three years once it completes flight trials, evaluation and certification in collaboration with the city-state, it said in a statement Wednesday. Tickets for a 15-minute trip costing 300 euros ($364) are already on sale.
---
Media company mm2 Asia, which owns eight cinemas under the Cathay brand, announced on Wednesday (Dec 9) it has entered into a Heads of Agreement for the possible merger of its cinema business with Golden Village cinemas in Singapore, which is owned by Orange Sky Golden Harvest Entertainment. The merger would make the combined business the largest cinema operator in Singapore.
---
In mitigation, the defence said that the new owners, India-based Dhunseri Group, had repaid the foreign employees the full sum owed to them. He alleged that the new owners had continued the practice that was installed by the previous management – celebrities Daniel Ong and Jaime Teo. Twelve Cupcakes was founded in 2011 by former DJ Daniel Ong and his then-wife, actress Jaime Teo. Dhunseri Group acquired 16 outlets from the couple in December 2016 and grew the outlets to 35 in Singapore today.
---
Singapore's economy will grow by 5.5 per cent in 2021 to end the nation's worst recession ever, induced by the coronavirus pandemic, according to a central bank survey of professional forecasters.
---
The 16th Joint Council for Bilateral Cooperation (JCBC), held on Tuesday (Dec 8), was co-chaired by Singapore's Deputy Prime Minister Heng Swee Keat and Chinese Vice-Premier Han Zheng. Among the numerous agreements signed were two memoranda of understanding (MOUs) focused on deepening cooperation in public health – a new pillar of partnership under the JCBC.
In his discussions with his Chinese counterpart, Mr Heng said he noted three areas for further cooperation with China – in connectivity, digitalisation and sustainable development – which would be crucial for a post-COVID world. They also discussed ideas to further open up borders between the two, including better utilising fast lanes, increasing the frequency of flights and restoring normal people-to-people exchanges "at an appropriate time".
---
GULF Oil International, part of the India-based Hinduja conglomerate, has inked an agreement to acquire a lubricant blending plant with wharf access, a storage tank farm and a terminal facility from Hin Leong-linked Ocean Tankers. Ocean Tankers, one of the biggest tanker owners in the world, is part of the troubled Hin Leong empire and has been placed under judicial management.
---
The Competition and Consumer Commission of Singapore (CCCS) is seeking public feedback on a proposed cooperation agreement between Singapore Airlines (SIA) and Vistara. A joint venture between Tata Sons and SIA, Vistara began operating direct flights between Singapore and Delhi, as well as between Singapore and Mumbai in 2019, prior to the COVID-19 pandemic. The competition watchdog on Tuesday (Dec 8) said it received a joint application from the airlines on Nov 30 and is now assessing whether the proposed cooperation would infringe section 34 of the Competition Act. 
---
Frasers Logistics & Commercial Trust (FLCT): Its manager said on Thursday it has entered into sales and purchase agreements to divest three leasehold industrial properties in South Australia for A$29.6 million (S$29.5 million). FLCT's units closed at S$1.35 on Wednesday, down 0.7 per cent or S$0.01.
mm2 Asia: The owner of Cathay Cineplexes is proposing to merge its cinema business with Golden Village cinemas, in a move that would create the biggest cinema operator in Singapore. mm2 Asia shares closed at 16 Singapore cents on Wednesday, up 1.3 per cent or 0.2 cent, before this filing.
Top Glove Corporation: The mainboard-listed Malaysia glove maker is looking to reduce its dependence on foreign workers and employ more locals as dormitory issues surface, managing director Lee Kim Meow said at a press conference. For Q1 FY21, Top Glove reported net profit of RM2.38 billion (S$781.5 million) – up from RM111.4 million in the same period last year. Top Glove shares closed at S$2.27 on Wednesday, down S$0.05 or 2.2 per cent.
---
The Bank of Japan has taken over as the biggest owner of the nation's stocks, with the total value of its holdings climbing well above $400 billion. Massive exchange-traded fund purchases by the BOJ to support the market amid the pandemic this year combined with subsequent valuation gains pushed its Japanese equity portfolio to 45.1 trillion yen ($434 billion) in November, according to estimates by Shingo Ide, chief equity strategist at NLI Research Institute.
---
Anybody who has heard of Singapore likely thinks of it as home to glitzy skyscrapers, futuristic gardens, and a population of so-called crazy rich Asians. But one French expat is working to change that perception by documenting its more relatable side. For 14 years, Marie Dailey, 56, has explored nearly every nook and cranny of the Lion City on foot with her Canon 5D or Leica M10, from the streets of Geylang at nightfall to watch Singaporeans indulge in durians, to dip her toes along with other Sembawang residents in the only hot springs before the area became modernized. Dailey finds charm in simple Singapore, including places like the vast Choa Chu Kang cemetery she calls the "countryside," as well as neighborhood corners where bird owners watch their pets compete in "singing" competitions.
---
Airbnb, the company that allows users to book short-term rentals and experiences while traveling, sold shares in its IPO at $68, pricing above its range, according to people familiar with the matter. The offering on Thursday values the company at $47 billion on a fully diluted basis. The company previously said it expected to sell shares at between $56 and $60. Airbnb made $219 million in net income on revenues of $1.34 billion last quarter. That was down nearly 19% from $1.65 billion in revenue a year prior. Despite primarily turning net losses, the company has had other occasional quarters of profitability, including the second and third quarters of 2018 and the third quarter of 2019
---
China's official consumer price index (CPI) fell to minus 0.5 per cent in November from a year earlier – down from 0.5 per cent growth in October
The decline was driven by improvements in pork supply, but the mild deflation has not painted a 'picture of consumer spending exuberance', one analyst says
---
Amid the busiest December for IPOs ever–and a red-hot market that's soaring to new highs–shares of food delivery app DoorDash are surging 80% on Wednesday during the firm's long-awaited first day of trading on the New York Stock Exchange, catapulting the firm's market capitalization to more than twice its last private valuation six months ago. Founded in July 2013 by a group of Stanford students, DoorDash says it plans to use its IPO proceeds to up its game in smaller local markets such as suburbs, where it's largely outperformed competition from rivals such as UberEats, Postmates and Grubhub.
---
Shares of JD Health, the health-care arm of Chinese e-commerce giant JD.com, surged on their debut in Hong Kong.
JD Health issued 381.9 million shares pricing them at 70.58 Hong Kong dollars each.
The stock closed at 110 Hong Kong dollars, nearly 56% higher than the offer price.
The company said net proceeds from the initial public offering (IPO) were 26.46 billion Hong Kong dollars ($3.41 billion).
---
Tesla unveiled a $5 billion capital raise, its second such move in three months.
The additional shares will be sold "from time to time" and "at-the-market" prices, Tesla said in a filing with the Securities and Exchange Commission.
With Tesla's market capitalization at $598 billion, the new offering represents less than 1% of the company's value.
---
Starbucks is expecting adjusted earnings per share growth of 10% to 12% in 2023 and 2024.
CFO Pat Grismer also reiterated the company's prior forecast for fiscal 2021.
The projections assume that Starbucks will not experience any additional business interruptions.
---
Seventeen states told the Supreme Court that they support an effort by Texas Attorney General Ken Paxton to sue to effectively reverse President-elect Joe Biden's projected win in the Electoral College. The filing came a day after Paxton asked the Supreme Court for permission to sue Georgia, Michigan, Pennsylvania and Wisconsin over their election results, which Biden won in all instances. Trump defeated Biden in the popular vote of the states supporting Paxton's bid.
---
The Pfizer vaccine is one of four U.S.-backed candidates in phase three trials. Next up is one from U.S. biotech firm Moderna, which has also submitted its EUA application. Trial participants in the Moderna and Pfizer studies told CNBC they developed more significant symptoms following the second dose.
---
Looking for a comprehensive guide to investing? Check out the FH Complete Guide to Investing and FH REITs Masterclass for Singapore investors. (XMAS PROMO ongoing NOW!)
2021 Stock Watch: Support the site as a Patron and get market updates. Like our Facebook Page and join the Facebook Group to continue the discussion!