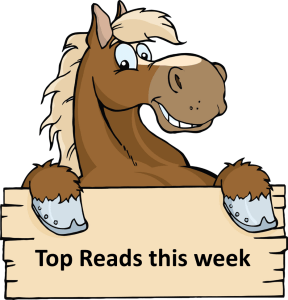 Rounding up top reads from around the web, including articles shared by fellow investors in the Financial Horse Facebook Group.
---
So it's December again.
Every year I'm amazed at how quickly time passes, and 2019 was no exception. It seems just yesterday that I was picking investments back in Jan 2019, and in the blink of an eye a whole year has gone by, and I'm sitting on a year of gains (or losses) and a year's worth of dividends.
All that talk about a market crash never seemed to materialise, which really just goes to show that in the long run, it's best to just stay invested, instead of procrastinating and waiting for a market crash.
So in today's article, I wanted to do a roundup of the top Financial Horse articles in 2019.
Some of you may have missed them, but there really are some gems lying around. If nothing else, it also serves as a way for me to ruminate on the top investment ideas of 2019, and why they worked – or if they failed, why they failed.
Enjoy!
---
Using MMT as a basis, they argue that countries should be able to borrow and spend more freely, and not be as concerned by things like the national debt or the deficit – the difference between a government's income and outgoings. The idea is fiercely contested.
"I'm not a fan of MMT – not at all," billionaire investor Warren Buffett told Bloomberg News in March. MMT is "wrong" Federal Reserve chairman Jerome Powell said a month before that. But MMTers say they do believe in being fiscally responsible, and that critics misunderstand.
---
According to the Inland Revenue Authority of Singapore (IRAS), more than 100 overseas digital service providers have already registered for GST as of 9 December, and will start charging GST to Singapore consumers from 1 January. Through a check on IRAS' portal, we found that Netflix, Spotify and Airbnb are among the providers who have been registered.
---
Just over 2 months after its launch in Malaysia, Lazada has now launched their credit card with Citi in Singapore. Simply called the 'Citi Lazada credit card', cardholders are promised 12x the Reward Points for every $1 spent on Lazada expenditures during the launch period from Dec 2019 to Feb 2020.
---
It would seem that the GrabPay Card is more to enhance the GrabPay system, intended to widen the scope of merchants GrabPay is accepted at. It's not exactly meant to compete with banks in the credit card space (not for now, at least). In fact, it's actually more of a debit card. Just that instead of debiting from your bank account, the money is deducted from your GrabPay e-wallet. There are 2 versions — a digital and physical one — and both are being rolled out in batches. 
---
Singapore ranks second in the world for both food affordability and availability, according to the Global Food Security Index 2019. The change in average food costs from 2010 was 19.2% – far lower than the world average of 86.4%. Global food prices have been rising steadily over the past five years. However, Singapore came in 25th for food quality, due to the unhealthy diets of people here, which are carb-heavy and lack quality protein.
---
Condo rental prices inched up 1.2% MoM in November as all regions posted rental growth, according to an SRX Property report. On a YoY basis, overall condo rents edged up 4.6%. SRX also noted that the monthly figure is still 16% lower compared to its peak in January 2013. Meanwhile, rental volumes dipped 7.6% MoM to 3,980 units in November from 4,307 units in October. It is also 3.1% lower YoY.
As for HDB rents, it posted a 0.1% MoM slip in November despite rental growth in most room types. Three-room, five-room and executive rents inched up 0.4%, 0.1% and 0.7%, respectively, whilst four-room rents fell 0.5% over the same period. Mature estates rents grew 0.1%, whilst non-mature estates rents were down 0.4%.
---
AI specialist, robotics engineer and full stack engineer are the three fastest growing jobs in Singapore for 2019, according to a study by LinkedIn. Amongst the top 15, the jobs included are backend developer, data scientist, devops engineer, data engineer, cyber security specialist, community specialist, partnership specialist, clinical specialist and ecommerce specialist.
This is said to show that whilst technical and hard skills are most in-demand in the job market, soft skills (such as community specialist and partnership specialist) remain relevant and are increasingly in-demand in the tech profession.
---
Japanese retailer Muji has been ordered to pay 626,000 yuan (US$89,000) and issue a public apology to a Chinese company after losing its appeal against an earlier court ruling on a trademark infringement. At a hearing last month, the Supreme People's Court in Beijing upheld a 2017 ruling in favour of Natural Mill, whose parent company Beijing Cottonfield Textile Corp owns a trademarked name used by Muji.
When Muji entered the mainland China market in 2005, it registered its international brand name "MUJI" – in block letters – and took out a local trademark – represented by four Chinese characters spelling out "Wuyinliangpin", or "no brand, quality goods" – to cover most, but not all, of its goods. However, Chinese company Hainan Nanhua had registered the Wuyinliangpin trademark for certain woven fabric products, including bed covers and towels, in 2001. It later transferred the rights to the name to Beijing Cottonfield Textile Corp. In 2015, the two companies sued Muji for breach of the trademark, and in 2017 the appeal court for intellectual property disputes in Beijing ruled in their favour.
---
The job review site published its first-ever local Best Places to Work 2020 ranking on Wednesday (Dec 11), naming the American tech giant, Google, as the Republic's top workplace. In second place was Facebook, followed by Shell, Amazon, and Microsoft. Rounding out the top 10 were Visa, insurer AIA, HubSpot, JP Morgan, and HP. Eight of these companies (excluding AIA and Visa) also placed among the top 10 workplaces in other countries Glassdoor published rankings for.
---
The United States on Wednesday warned North Korea of consequences if it makes good on threats of a spectacular weapons test in the New Year, while offering flexibility if it stays in talks.
Frustrated by the lack of sanctions relief after three summits with President Donald Trump, North Korea has vowed an ominous "Christmas gift" if the US does not come up with concessions by the end of the year.
---
The South Korean government is planning to implement new taxes on capital gains earned through cryptocurrencies. If the bill is given the green light during the Assembly's plenary session, it will come into effect one year after the regulation has been made official.
---
Berkshire exited the third quarter with nearly $130 billion in cash. Although Buffett hasn't made a splashy acquisition since Precision Castparts in 2015, he has spent some of Berkshire's cash hoard. Buffett has amassed a sizable investment in Apple (AAPL) and has added Amazon's (AMZN) stock to his equity holdings. Berkshire spent $700 million buying back its own stock in the third quarter. And earlier this year, Buffett plunked down $10 billion to invest in Occidental (OXY) to help it takeover Anadarko.
---
Top S&P 500 Stocks Analysts Think Will Rise Most In 2020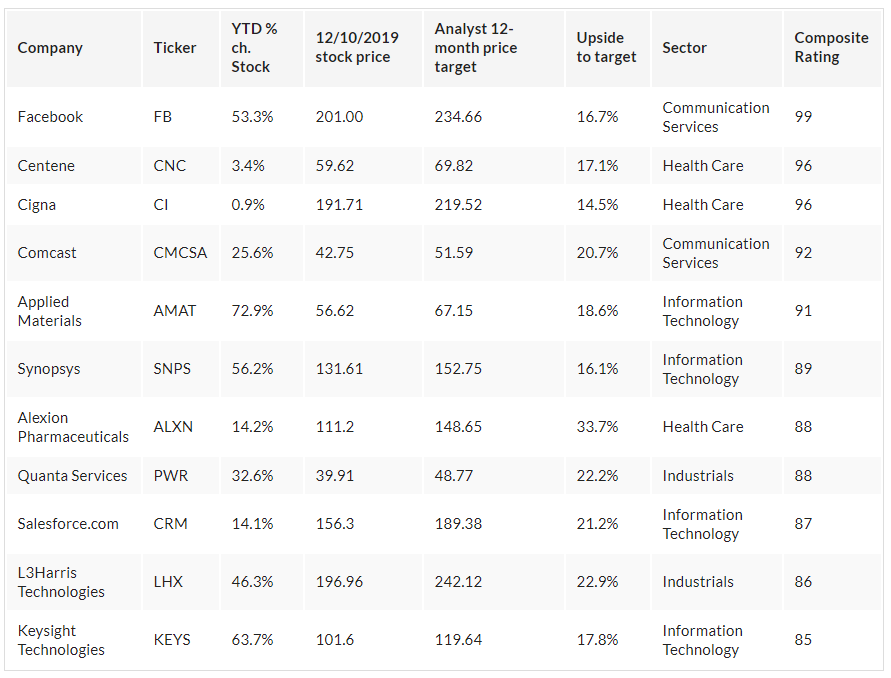 ---
Wealthy people are stocking up on physical gold, as in bullion, coins and bars, according to a recent note from Goldman Sachs. As a result investors who are bullish on gold say it's the precious metal's moment to shine. "I think gold's going to $2,500, $3,000 an ounce in the 2020s because the climate—the landscape for gold is so hugely supportive." Paul Schatz, Heritage Capital president, told Yahoo Finance's On The Move.
In a recent note Goldman Sachs presented reasons for owning gold citing recession concerns and political uncertainty as catalysts for an investor shift to gold. Over the past year, gold prices have risen nearly 20% and gold is on pace for its best year in a decade.  By 2020, Goldman thinks the price of gold will reach $1,600 an ounce.
---
Company
Ticker
FactSet industry category
Total return – Dec. 31, 2009, through Dec. 5, 2019
Years ranked within top 10 performers
Netflix Inc.
NFLX, 

+1.98%

Cable/Satellite TV
3,767%
3
MarketAxess Holdings Inc.
MKTX, 

+1.84%

Investment Banks/Brokers
3,182%
2
Abiomed Inc.
ABMD, 

-0.49%

Medical Specialties
2,121%
3
TransDigm Group Inc.
TDG, 

+0.14%

Aerospace & Defense
2,065%
0
Broadcom Inc.
AVGO, 

+1.48%

Semiconductors
1,919%
1
Align Technology Inc.
ALGN, 

+0.58%

Medical Specialties
1,458%
1
United Rentals Inc.
URI, 

+2.07%

Finance/Rental/Leasing
1,434%
1
Regeneron Pharmaceuticals Inc.
REGN, 

+1.59%

Biotechnology
1,430%
2
Ulta Beauty Inc.
ULTA, 

+0.51%

Specialty Stores
1,233%
1
Amazon.com Inc.
AMZN, 

+0.55%

Internet Retail
1,209%
1
Extra Space Storage Inc.
EXR, 

-0.44%

Real Estate Investment Trusts
1,166%
1
Constellation Brands Inc. Class A
STZ, 

+0.38%

Beverages: Alcoholic
1,124%
0
Nvidia Corp.
NVDA, 

+1.57%

Semiconductors
1,117%
2
Take-Two Interactive Software Inc.
TTWO, 

+0.09%

Recreational Products
1,114%
1
Ross Stores Inc.
ROST, 

-0.09%

Apparel/Footwear Retail
1,081%
0
Fortinet Inc.
FTNT, 

+0.57%

Computer Communications
1,079%
1
Mastercard Inc. Class A
MA, 

+0.50%

Finance/Rental/Leasing
1,078%
1
Charter Communications Inc. Class A
CHTR, 

+0.90%

Cable/Satellite TV
1,077%
0
O'Reilly Automotive Inc.
ORLY, 

+0.62%

Specialty Stores
1,060%
1
Cintas Corp.
CTAS, 

+0.84%

Other Consumer Services
1,053%
0
---
Support the site as a Patron and get market and stock watch updates.
Like our Facebook Page and join the Facebook Group to continue the discussion!
Looking for a comprehensive guide to investing? Check out the FH Complete Guide to Investing for Singapore investors.