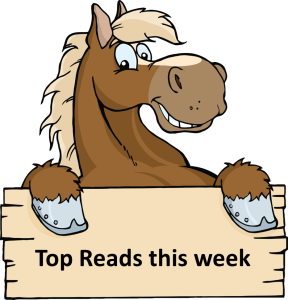 Rounding up top reads from around the web, including articles shared by fellow investors in the Financial Horse Facebook Group.
---
DBS said on Thursday that its first-quarter net profit fell 29% year-over-year to 1.17 billion Singapore dollars ($829.2 million) in January-March this year.
The fall in earnings was a result of the Singaporean bank setting aside 1.09 billion Singapore dollars ($772.5 million) to cover potential losses from the coronavirus pandemic.
DBS said two-thirds of that money were for "general allowances to anticipate a deeper and more prolonged economic impact from the pandemic," while the remaining was mainly "for new exposures recognised as non-performing during the quarter."
---
Imagine travelling to your holiday destination on a plane that is only half filled with passengers, served by cabin crew wearing masks. That could be the "new normal" for airlines which are likely to continue with safe distancing measures even after the COVID-19 outbreak dies down, said aviation analysts. Already, budget carrier Jetstar Asia, which resumed partial operations last Tuesday (Apr 21), said no more than 112 seats will be available on each passenger flight. That's about 60 per cent of capacity, as part of efforts to ensure safe distancing on board. Passengers and crew members will be required to wear masks. Onboard services such as meals will also be cut back, with only water served on flights. 
---
 Singapore's total employment in the first quarter saw its sharpest drop since the severe acute respiratory syndrome (SARS) outbreak in 2003, according to preliminary estimates released on Wednesday (Apr 29). Total employment, excluding foreign domestic workers, contracted by 19,900 in the January to March period. This was due to a significant reduction in foreign employment, said the Ministry of Manpower (MOM) in its quarterly update on the labour market.
---
Forlines says that people tend to put off decisions until the last minute and, especially with investing, rush in at the wrong time.
He says these decisions will be made even worse by another human tendency: "availability bias." Simply put, that means humans tend to overvalue the importance of recent events. This can lead to an investor chasing headlines at the expense of their long-term strategy. 
---
If you're tempted to pull money out of the market, first consider what you would do with the funds, said Sara Stanich, a Montauk, New York-based certified financial planner and founder of Cultivating Wealth. "For a concrete goal such as a major purchase, it could make sense to pull from investments and set aside the funds needed," Stanich said. "For a long-term goal such as retirement, the portfolio probably needs to last a long time, and a portion should be invested for the long term."
Let's be a little more specific about "short-term" and "long-term." Scott Weiss, a CFP at Weiss Financial Group in Mahopac, New York, said he's recommending that clients who need to meet a financial goal within the next 12 months go to cash. And generally, he said, his rule of thumb is that "any money needed within a five-year time frame should not be invested in risk assets." Ideally, you have a diversified portfolio blended between stocks and forms of fixed income, like cash and bonds, that allow you to live on the latter until the former recovers from the coronavirus' impact on the market.
---
Powered by this strong bullish sentiment, Tesla stock has gained more than 80% this year and more than doubled since the March 18 close. That rebound has put Tesla in the elite group of mega cap technology stocks, such as Amazon (NASDAQ:AMZN) and Netflix (NASDAQ:NFLX), that emerged unscathed from the steepest market slide on record. The stock fell more than 3% yesterday to finish the session at $769.12. But in order to support the overall momentum, Tesla needs to produce a blowout quarter, beating analysts' expectations. In a recent note, Barclays said that it expects Tesla to keep its full-year delivery guidance of 500,000 vehicles the same when it releases its earnings today, despite plant closures due to the pandemic. The company's Fremont, California production line won't remain closed for long, Barclays projected. Tesla paused production at the plant in late March after government officials said it was not an essential business.
---
Buffett said it is also important for investors to understand accounting, which he said he mostly learnt himself when he began investing back in his younger years. "You have to know what you are reading, unless you know that language, and some people have more aptitude than others for it. That is one thing I learnt by myself," Buffett said. 
Buffett also restated his well-known penchant for buying stocks for the long term, saying wannabe investors should ideally only buy a stock if they'd be happy not to be able to sell it for five years.
The Berkshire Hathaway boss may have ditched airlines and plowed more than $20 billion into stock buybacks, but probably hasn't bought many other stocks or struck any big bailout deals, according to a fund manager and Berkshire shareholder of more than two decades.
---
"We are going to see economic data for the second quarter that's worse than any data we've seen for the economy," Fed Chair Jerome H. Powell said in a video news conference. He called it "heartbreaking" to witness millions of job losses, especially in minority communities. There is widespread agreement that the U.S. economy is in the midst of its worst crisis since the Great Depression, and Commerce Department data released Wednesday revealed just how severe it is becoming. Consumer and business spending nosedived in the first quarter, even with the economy shuttered for only half of March. Household spending tumbled 7.6 percent, and business investment sank 8.6 percent. Although Americans flooded grocery stores to buy food and supplies, it was not nearly enough to offset lost spending on dining out, car sales, entertainment and other purchases.
---
China-Australia
relations 
have been wearing thin over the years, but it hit a low this week over Canberra's push for the 
independent international inquiry 
into the origins of the Covid-19 outbreak, an effort Beijing has blasted as a political manoeuvre to smear China. The public back and forth came after Chinese ambassador Cheng Jingye on Sunday told the
Australian Financial Review
newspaper that the Chinese public could boycott Australian wine and beef if Canberra pushed ahead with a probe – remarks interpreted by senior Australian government figures as a threat of economic retaliation. While some observers say the spat is likely to blow over, others warn it could spark a permanent trade stand-off.
---
More than half of Singapore will have 5G mobile network coverage by end-2022, offering surfing speeds more than 20 times what the current 4G networks offer, with the need to upgrade digital infrastructure driven home by the present partial lockdown. Singtel and a joint venture between StarHub and M1 won the rights to build the Republic's two nationwide networks yesterday and will have to scale up to provide nationwide coverage by 2025.
---
After a strong run last year, the profitability of Singapore banks is expected to fall sharply in 2020 due to the coronavirus pandemic and a crash in oil prices.
Estimates by Refinitiv showed that net profit at all three banks could fall by more than 20% in the first quarter, with DBS expected to take the largest hit of a 32% decline.
Such pressure on earnings could weigh down the banks' share prices, which have suffered losses of about 20% so far this year, analysts said.
---
The Caixin/Markit manufacturing Purchasing Manager's Index for China's factory activities in April was 49.4. Analysts polled by Reuters had expected the Caixin/Markit PMI to come in at 50.3.
The official manufacturing PMI came in at 50.8 for the month of April. Analysts polled by Reuters had expected official manufacturing PMI to come in at 51.0 in April.
The Caixin/Markit survey features a bigger mix of small- and medium-sized firms. In comparison, the official PMI survey typically polls a large proportion of big businesses and state-owned companies.
---
Shenzhen's technology-based economy was unable to avoid a hit from the coronavirus pandemic, shrinking 6.6 per cent in the first quarter of 2020. China's hi-tech hub across the border from Hong Kong is the home to the likes of Huawei, ZTE and Tencent.
Larry Hu, chief China economist of Macquarie Capital, said Shenzhen's weak economic performance was expected as the coronavirus has dealt a heavy blow to the young Chinese city with a huge
migrant population.
"The city was completely empty during the Chinese Lunar New Year, and the coronavirus has stopped many from returning on time," Hu said. At the same time, Hu said that as Shenzhen is at the forefront of the disintegration of the international value chain, the city is more exposed to decoupling risks between China and United States. "Factories already in Shenzhen may choose to stay, but it will be increasingly difficult for Shenzhen to attract new investors," Hu added.
---
Singapore has the capability to do tens of thousands of Covid-19 tests daily, industry players said, noting that increased testing could be a key enabler for the country as it looks to gradually lift the circuit breaker measures. Currently, the country can do more than 8,000 polymerase chain reaction (PCR) tests a day, up from 2,900 at the start of this month. But if circuit breaker measures are to be loosened, testing must be scaled up substantially, so that any new cases can be detected quickly. And until a vaccine is found, testing will have to be done regularly, experts said.
---
Faced with the prospect of not being able to swim in his condominium pool, which is closed because of Singapore's strict lockdown measures, the British expat cast around his neighbors' properties. He initially wanted to lease the entire S$30 million bungalow in Sentosa Cove, an upscale residential area on an island off Singapore's south coast. But the monthly rent of S$30,000 was too high, considering it would have been on top of the not insubstantial amount he was paying for a nearby apartment, according to Lester Chen, a real estate agent at Singapore Realtors Inc.
---
Looking for a comprehensive guide to investing? Check out the FH Complete Guide to Investing and FH REITs Masterclass for Singapore investors.
Stock Watch 2020: Support the site as a Patron and get market updates. Like our Facebook Page and join the Facebook Group to continue the discussion!