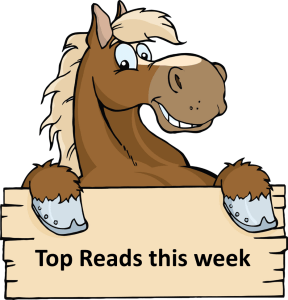 Rounding up top reads from around the web, including articles shared by fellow investors in the Financial Horse Facebook Group.
---
In a press statement released on Monday (Dec 2), the Ministry of Finance (MOF) confirmed the Budget 2020 is scheduled for presentation in February.
MOF indicated the upcoming Budget will focus on "business growth, training and employment, support for families, and support for seniors."
It also added that it is specifically looking at "how we can form stronger partnerships to address future opportunities and challenges facing Singapore."
Deputy Prime Minister Heng Swee Keat, who is expected to become Singapore's fourth Prime Minister sometime after the next election, said the Budget is a strategic financial plan to address both near-term issues and also how to build future Singapore together.
---
Larry Page and Sergey Brin just got a $2.3 billion  (AUD$3.35b) retirement gift from investors. The Google co-founders, who announced Tuesday they were stepping down from day-to-day management of parent Alphabet Inc., added more than $1 billion (AUD$1.45b) each to their net worth today as the firm's shares rose 1.9% in New York.
They each own about 6% of the internet giant and still control Alphabet through special voting shares.
The gains come as investors welcome Sundar Pichai's elevation to chief executive officer of Alphabet, replacing Page in the role. It means the three most valuable U.S. tech firms no longer have a founder at the helm.
Like Apple Inc.'s Tim Cook and Microsoft Corp.'s Satya Nadella, Pichai is a long-time lieutenant who steadily worked his way up the corporate ladder. More than 15 years after he joined the Mountain View-based company he's replacing Page in the top job. Brin is stepping down as president, leaving Pichai as the undisputed leader.
---
On Tuesday, December 3, 10 individuals will face charges in court due to their alleged participation in a housing loan scam that involved $11.4 million in mortgage loans.
In a statement dated December 2, Monday, the police described the scam as a housing loan cashback scheme in 2014 and 2015, which deceived a bank into releasing S$8.4 million in three mortgage loans. It involved property sellers, their agents, a conveyancing lawyer and nominee buyers.
---
Last year, homegrown ride-hailing platform Ryde allowed taxi drivers to join its RydeX feature and accept jobs at dynamic pricing. This opened up an additional source of income for taxi drivers, while reducing their idle time waiting in between street hail jobs.
Today, Ryde unveiled a new metered taxi service, RydeTAXI, which will be launched on 9 December 2019. Ryde will be offering this to taxi drivers at 0% commission.
Today, Ryde unveiled a new metered taxi service, RydeTAXI, which will be launched on 9 December 2019. Ryde will be offering this to taxi drivers at 0% commission. This means that drivers will take home 100% of their earnings for meter taxi bookings [on the Ryde app].
---
Chan Chun Sing, Trade and Industry Minister and Minister-in-charge of the Public Service, had a message for public servants yesterday, saying, "Our economic outlook remains uncertain and challenging with downside risks.
I am confident that with the right values and continued hard work, we will ride out the choppy waters together."
As the Government practices restraint when it comes to this year's bonus, this month civil servants will be getting the equivalent of 0.1-month annual variable component (AVC), in addition to a one-off lump-sum amount ranging from between S$250 and S$1,500.
---
Coffee chaff, the husk of the bean that comes off during roasting, usually gets turned into garden mulch or charcoal — or thrown away.
But McDonald's and Ford are taking a different approach. When heated and mixed with plastic and other additives, coffee chaff can be formed into pellets and then various other shapes. Ford is planning to use a chaff composite for interior car components and under the hood. As a result, the car parts will be 20% lighter — better for fuel efficiency — and provide the company with up to 25% energy savings during the molding of the parts.
---
Over 60 per cent of Singapore's millennials save at least 20 per cent of their salary, a new report has found.

Most are adequately prepared for retirement – if they can maintain their current savings and debt rates.

But 60 per cent expect to downgrade their lifestyle during retirement due to insufficient funds.
---
1. Cut losers short and let winners run — "There can be no such thing as hubris when investments go the way you want them; there's absolutely no room in your brain or portfolio for denial when they don't."
2. Investing without specific end goals is a big mistake — "The Wall Street mantra is 'never sell,' and as an individual investor you're a pariah if you do. However, investments are supposed to be harvested to fund specific goals."
3. Emotional and cognitive biases are not part of the process — "We are suckers for narratives. They possess the power to fuel fear, greed and our overall emotional state. Unfortunately, stories or the seductive elements of them that spread throughout society can lead to disastrous conclusions."
4. Follow the trend — "80% of portfolio performance is determined by the underlying trend… investors should understand how important an underlying trend is to the generation of returns."
5. Don't turn a profit into a loss — "The emotional whipsaw that comes from watching a profit turn to loss and then hoping for profit again, isn't for the weak of mind. I've witnessed investors who suffer with this affliction for years, sometimes decades."
6. Odds of success improve greatly when fundamental analysis is supported by technical analysis — "It's a challenge for investors to wait. It's a discipline that comes with experience and a commitment to be patient or allocate capital over time."
7. Try to avoid adding to losing positions — "Paul Tudor Jones once said 'only losers add to losers.' Cutting losers short, like pruning a tree, allows for greater growth and production over time."
8. In bull markets, you should be long. In bear markets, neutral or short — "To invest against the major 'trend' of the market is generally a fruitless and frustrating effort… It smacks of overconfidence. And overconfidence and finances are a lethal mix."
9. Invest first with risk in mind, not returns — "Investors who focus on risk first are less likely to fall prey to greed. We tend to focus on the potential return of an investment and treat the risk taken to achieve it as an afterthought."
10. The goal of portfolio management is a 70% success rate — "Portfolio management is not about ALWAYS being right. It is about consistently getting 'on base' that wins the long game. There isn't a strategy, discipline or style that will work 100% of the time."
---
Sales of existing homes will fall 1.8% compared with 2019, according to the forecast.
Home prices will flatten nationally, increasing just 0.8% annually, but in 25% of the 100 largest metropolitan markets, prices will fall. These include Chicago, Dallas, Las Vegas, Miami, St. Louis, Detroit and San Francisco.
As demand heats up in the spring, driven by the growing number of millennials entering the market, the supply of homes for sale could hit its lowest in history.
---
Chinese telecommunications giant Huawei asked a U.S. court on Wednesday to overturn a Federal Communications Commission (FCC) ruling that bans carriers from using federal funds to purchase equipment from Huawei and rival ZTE.
In Huawei's petition for review, filed in the U.S. Court of Appeals for the Fifth Circuit in Louisiana, the company argues the FCC order "exceeds" the agency's "statutory authority and violates federal law, the Constitution, and other laws."
---
Musk's wealth came up in the second day of his testimony before a federal jury in Los Angeles where the Tesla Inc. and SpaceX chief executive is on trial over a tweet in which he referred to a British cave expert as a "pedo guy."
After an unsuccessful objection from his lawyer, Musk told the jury he has Tesla stock, and SpaceX stock, with debt against those holdings, and his net worth is about $20 billion. But contrary to public opinion, he said, he didn't have much cash. Musk finished testifying after a total of about six hours on the stand over two days.
---
Gates' bedtime routine involves one hour of reading before going to sleep. "Like anyone who loves books, if you get into a good book, it's hard to go to sleep," he said in the interview.
1. "The Vital Question"
2. "Sapiens: A Brief History of Humankind"
3. "How to Not Be Wrong: The Power of Mathematical Thinking"
4. "The Power to Compete: An Economist and an Entrepreneur on Revitalizing Japan in the Global Economy"
5. "Seveneves"
---
Susan is the CEO of YouTube, Janet is a professor of pediatrics, and Anne is the co-founder and CEO of 23andMe. They rose to the top of ultra-competitive, male-dominated professions.
They tend to focus on money, because they think it will make them happy and fulfilled. It's the American idea: Get rich, then do nothing. Sit on a beach. Go out for an expensive dinner. Go to Las Vegas. But these kinds of pursuits turn people into narcissists and thrill addicts.
There seems to be a number of them here in Silicon Valley, people who worry about themselves before anyone else. They don't prioritize the good of the community, they don't fight for social causes and they aren't pursuing a life of meaning and purpose.
As a result, they often end up isolated and depressed. I've met lots of unhappy millionaires and even some unhappy billionaires. A lot of them probably started out as directionless kids.
---
Especially long bull markets aren't always followed by especially long or severe bear markets. In fact, more often than not, they're followed by shorter-than-average declines.
That's important information because many are worried about the bear market that eventually will follow the current U.S. bull market, supposedly the longest in U.S. history. Just this week, one of the investment newsletters I monitor noted that "long duration bull markets always create excesses."
If "the higher they go, the harder they fall" were true, then an exceptionally severe bear market is indeed in our future. But history doesn't support that argument: There is no correlation between a bull market's duration and the length and the severity of the subsequent bear market.
---
Looking for a comprehensive guide to investing? Check out the FH Complete Guide to Investing for Singapore investors.
Support the site as a Patron and get market and stock watch updates. Like our Facebook Page and join the Facebook Group to continue the discussion!