A couple of months ago we talked about how Shopee (Sea) laid off hundreds of staff in a bid to cut costs.
Well, the trend is continuing to play out, because last week Carousell was the next Singapore tech company to lay off staff.
Most Singaporeans will know of Carousell, a Singapore based consumer-to-consumer (C2C) platform operating across Southeast Asia -where you can go to buy / sell stuff.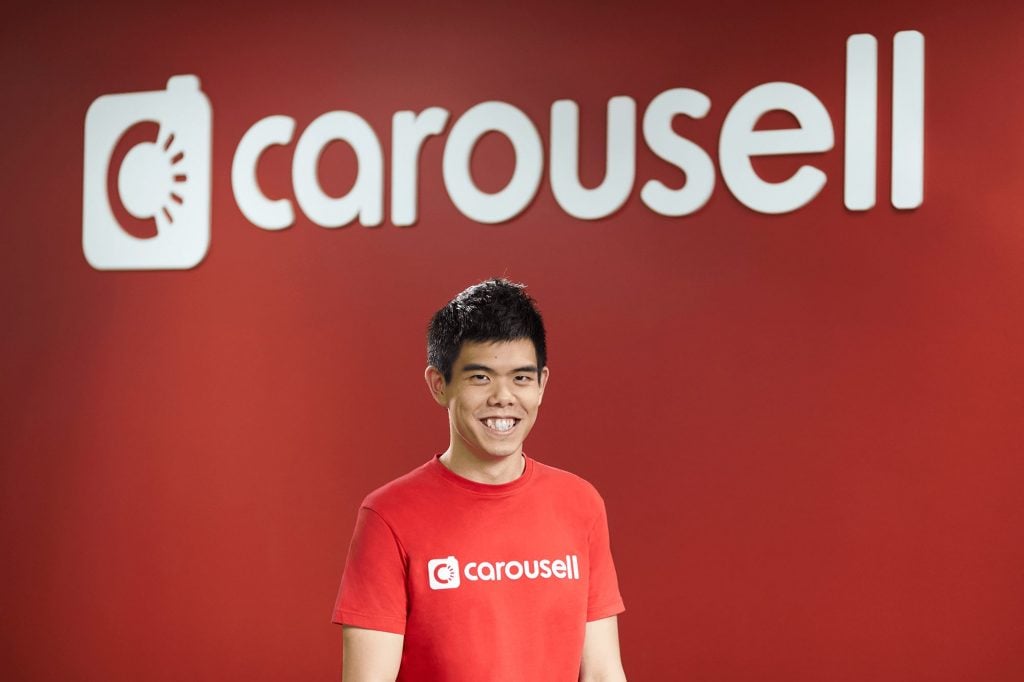 Last week, Carousell announced that they are letting go of about 110 employees, or 10% of its total headcount, in an effort to reduce costs amid a challenging market condition for the tech industry. 
It seems that many of these tech companies overhired in 2021 after the COVID driven boost in business, and are now having to "right size" as business growth slows.
Here's the full email from CEO (Siu Rui Quek) to his staff, originally published on the Carousell website:
"Earlier today, I sent the following note to all our teammates at Carousell Group.
Hello teammates of Carousell Group,
I'm writing today to share very difficult news with you. 
Together with my co-founders and group leadership, we decided to reduce the size of our team by about 110 roles, representing 10% of our group's total headcount. Only teammates from some business units are affected. 
In the next few minutes, emails will be sent to everyone in affected business units, clarifying if your role was impacted. For those impacted, the email will be a calendar invite to a meeting today with a leader in your team and a HR business partner. 
I am deeply sorry for this outcome, and I take responsibility for the decisions that have led us here. Parting with teammates, whom we are grateful to for joining us on this mission, is a very difficult decision. We will be sure to treat everyone impacted with compassion and to lend as much support as we can to them. More details will be provided later in this note. 
Why and how we got here
As we emerged from the Covid lockdowns of 2021 across key markets of our group, we were optimistic about the recovery to come and eager to reignite growth in our core classifieds business. Additionally, we doubled down on a number of new initiatives to make selling and buying more convenient and trusted, to make secondhand the first choice for even more people across the region. That meant creating more teams to work on these initiatives, which included new teammates that we had to hire. 
Looking back, I'd made the following critical mistakes: First, I was too optimistic about the pace of our impact versus our increase in investments. The reality is that we were quick to grow our expenses and hire, but the returns took longer than expected. Second, while it is easy to blame market conditions, I also underestimated the impact of growing our team size too quickly–larger teams lead to lack of clarity in decision making and the additional coordination required to get things done. 
It does not help that the worsening macroeconomic environment presents more headwinds to the growth expected. As early as March this year, we saw signs of what has been called the "perfect long storm": high inflation, geopolitical risks and supply chain disruption. In recent weeks, things have taken a turn for the worse. The global economy continues to face steep challenges, with economists expecting a broad-based slowdown in 2023. 
We cannot change the wind, but we can adjust our sails 
As we do not know when market conditions will improve, it is only prudent that we get to profitability as a group as quickly as possible, to be masters of our destiny and build an enduring company.
It is important to act swiftly, course correct, and right size our investment levels to better align with this new reality. Your leaders and I have spent the last few months finding as many non-people cost savings as possible–combing through our budget, line by line and business unit by business unit. We are moving to an office with significantly lower rent, and the co-founders and group leadership will take voluntary pay cuts. Yet, this is far from enough. 
In order to accelerate our path to profitability, we will need to reorganise to focus on critical priorities and operate more efficiently. Growing with more discipline and focus will exact a heavy price: we will have to part ways with some of you–our teammates, our supporters and our friends, who have believed and worked so hard on our mission together.
What we're doing for those impacted
Our main priority is to lend as much support as we can to those impacted as they find their next opportunity. To do so, for all impacted regular employees, we will:  
Offer 1 month of salary for every year of service, rounded up to the nearest half year. We will ensure that every impacted teammate will have at least 3 months of compensation, topping-up the difference where necessary.  
Encash all paid time-off balances and waive claw-backs on sign-on/retention bonuses and relocation support, where applicable.  
Accelerate ESOP vesting of 25% for teammates with ESOP grants and who have been with us for more than 6 months, but have yet to hit their first year cliff. 
Extend medical benefits and insurance coverage for teammates and their dependents up to June 30, 2023, subject to approval by local insurers and medical service providers. 
Encash the 2023 'Wellness Pocket' flexible benefit entitlement, if applicable
Provide tools for job search, including letting impacted teammates keep their office laptop and continue their LinkedIn Learning membership until June 30, 2023.
Provide access to an Employee Assistance Programme and counselling services for emotional and mental support. 
Make available our internal talent acquisition team and affiliated agencies to provide career counselling and employment assistance. 
Plan to have staff on employment passes serve their full notice so that their right to stay is not terminated early, unless they would prefer not to.
Continue to provide access to communication tools (Gmail and Slack) to let teams say goodbye to colleagues and friends, although we will be removing access to business and operations systems. 
If you are impacted, your HR BP will share more details in the meeting with you today.  
The way forward 
In the past decade, together we have been able to touch tens of millions of lives across Southeast Asia, and make more possible for our community. In the next decade, and especially in the difficult economic times ahead, we firmly believe that our mission is more relevant than ever. Carousell will be there to help people make ends meet by making selling accessible to all, help others afford and buy what they need, and create a more meaningful and sustainable future of consumption by making secondhand the first choice.
We will learn from our mistakes, adjust and course correct quickly to make the biggest impact we can for our community. Moving forward, we will sharpen our priorities as a company, keep a watchful eye on costs and only invest in high conviction initiatives that are properly set up for success. We will gather next week to reiterate our strategic choices and share the refinements we will be making to reflect our learnings. 
This week, let us focus on helping our impacted teammates who will be leaving us. 
To our teammates who are leaving, I am deeply sorry. This decision today is by no means a reflection of your contributions, dedication and hard work during your time with us. Please know how truly grateful we are that you chose to join us on this mission. You have our most heartfelt gratitude for being part of our journey.
best,
Siu Rui"
BTW – we share commentary on Singapore Investments every week, so do join our Telegram Channel (or Telegram Group), Facebook and Instagram to stay up to date!

I also share great tips on Twitter.
Don't forget to sign up for our free weekly newsletter too!
[mc4wp_form id="173″]
Trust Bank Account (Partnership between Standard Chartered and NTUC)
Sign up for a Trust Bank Account and get:
$35 NTUC voucher
1.5% base interest on your first $75,000 (up to 2.5%)
Whole bunch of freebies
 Fully SDIC insured as well.
It's worth it in my view, a lot of freebies for very little effort.
Full review here, or use Promo Code N0D61KGY when you sign up to get the vouchers!
WeBull Account – Free USD150 ($212) cash voucher
I did a review on WeBull and I really like this brokerage – Free US Stock, Options and ETF trading, in a very easy to use platform.
I use it for my own trades in fact.
They're running a promo now with a free USD 150 (S$212) cash voucher.
You just need to:
Sign up here and fund S$2000
Make 1 US Stock or ETF trade (you get USD100)
Make 1 Options trade (you get USD50)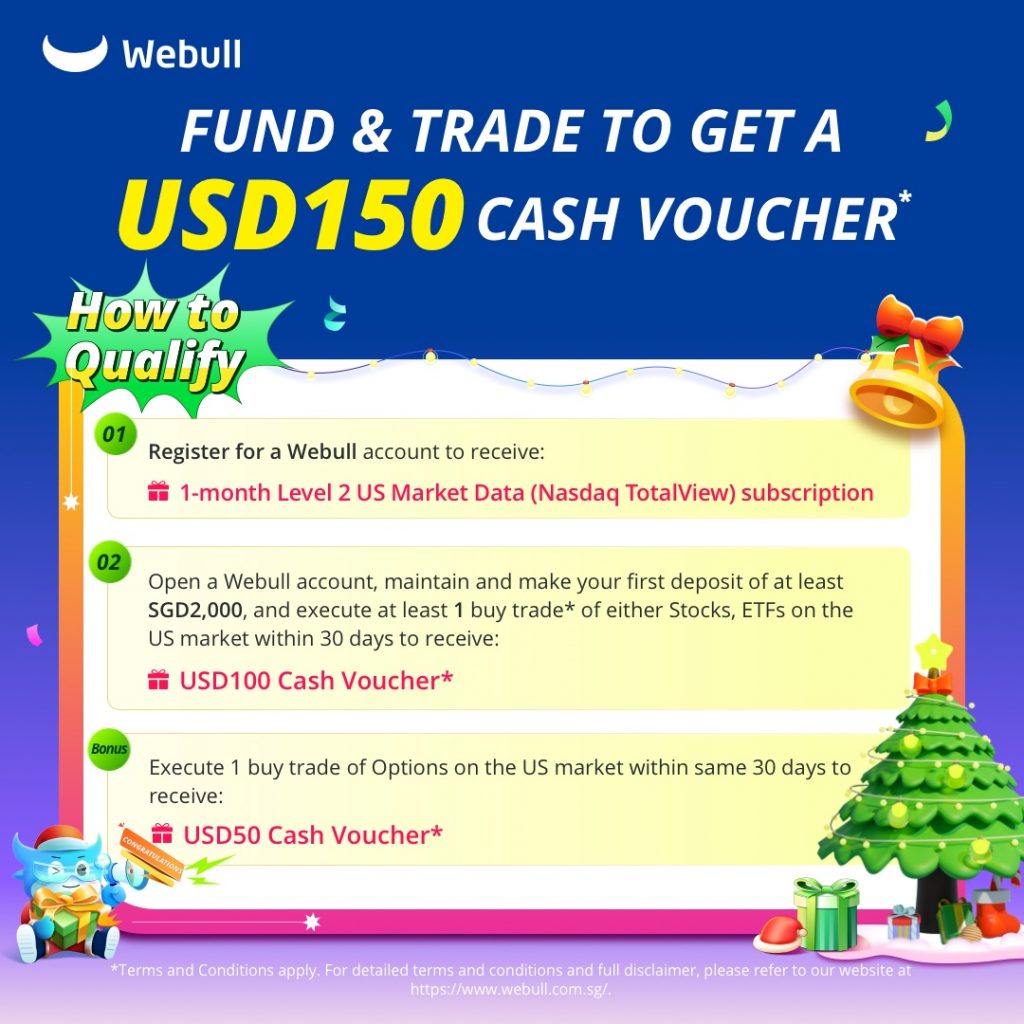 Looking for a low cost broker to buy US, China or Singapore stocks?
Get a free stock and commission free trading Webull.
Get a free stock and commission free trading with MooMoo.
Get a free stock and commission free trading with Tiger Brokers.
Special account opening bonus for Saxo Brokers too (drop email to [email protected] for full steps).
Or Interactive Brokers for competitive FX and commissions.
 Looking to buy Bitcoin, Ethereum, or Crypto?
Check out our guide to the best Crypto Exchange here.
 Do like and follow our Facebook and Instagram, or join the Telegram Channel. Never miss another post from Financial Horse!
Looking for a comprehensive guide to investing that covers stocks, REITs, bonds, CPF and asset allocation? Check out the FH Complete Guide to Investing.
Or if you're a more advanced investor, check out the REITs Investing Masterclass, which goes in-depth into REITs investing – everything from how much REITs to own, which economic conditions to buy REITs, how to pick REITs etc.
Want to learn everything there is to know about stocks? Check out our Stocks Masterclass – learn how to pick growth and dividend stocks, how to position size, when to buy stocks, how to use options to supercharge returns, and more!
All are THE best quality investment courses available to Singapore investors out there!
FYI – We just launched the FH Property Series. Everything you need to know to buy a property in Singapore, completely free of charge.