We have done previous reviews on Investor-One, and it's a great tool for retail investors to access information on SGX stocks. In particular, hidden gems within small and mid-cap companies.
The editorials cover exclusive content on specific companies and sectors within the Singapore market, while the performance tool, quick facts and IPO tools are useful for investors to research Singapore stocks.
Recently, Investor-One has launched a brand-new feature – the Investor-One Portfolio!
Note: This post was sponsored by Investor-One. All views and opinions expressed in this post are from Financial Horse.
Investor-One Portfolio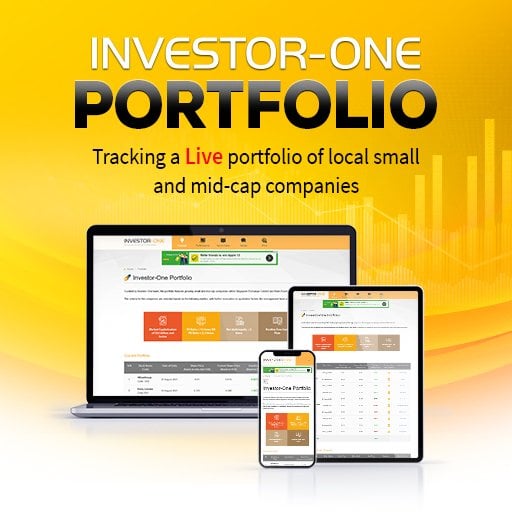 Curated by the Investor-One team, this portfolio features growing small and mid-cap companies listed on SGX Main Board and Catalist.
The criteria for the companies are selected based on the following metrics, with further qualitative factors such as management team and growth prospects:
The Investor-One portfolio can be used as a reference for your own stock picks, or to give you more ideas on counters to look into. 
What's in the current portfolio?
Based on an initial fund of S$100,000, these are the 6 counters:
HRnetGroup (CHZ)
Kimly (1D0)
Hyphens Pharma (1J5)
HG Metal (BTG)
InnoTek (M14)
Nordic (MR7)
Interestingly, the Investor-One team has also chosen different weightage for each stock in the portfolio.
The top two counters by weightage are HRnetGroup and Hyphens Pharma.
To further understand the selection of companies, you can simply click on "view" to get more insights into the company.
Investor-One Portfolio Stock Picks
Using the handy Quick Facts tool on the Investor-One site, let's take a closer look at the stock picks in the Investor-One Portfolio.
HRnetGroup was founded in 1992, with a vision to provide fully integrated, bespoke HR solutions to professional services, and is one of the leading executive search organizations in the region. They are represented in 10 cities across the Asia Pacific.
Sector & Industry: Personnel Services – Admin and Support Service Activities
Kimly was incorporated in Singapore in 2016 Act as a private company limited by shares, and in February 2017, the company was converted into a public limited company. The group was founded in 1990 by Executive Chairman, Mr Lim Hee Liat, together with several of his friends, including Mr Peh Oon Kee. With more than 25 years of experience, the founding shareholders have in-depth knowledge of the coffee shop industry, and grown from operating a single coffee shop to being one of the leading traditional coffee shop operators in Singapore.
Sector & Industry: Restaurants – Accommodation & Food Service Activities
Hyphens Pharma is one of Singapore's leading specialty pharmaceutical and consumer healthcare groups. The Group has a direct presence in five ASEAN countries, namely, Singapore, Vietnam, Malaysia, Indonesia and the Philippines, supplemented by a marketing and distribution network covering 10 additional markets, namely, Bangladesh, Brunei, Cambodia, China, Hong Kong S.A.R., Macau S.A.R., Myanmar, Oman, South Korea and Sri Lanka. Singapore is the regional headquarters.
The Group's core business comprises the following segments: specialty pharma principals, proprietary brands, and medical hypermart and digital.
Besides marketing and selling a range of specialty pharmaceutical products in selected ASEAN countries through exclusive distributorship or licensing and supply agreements with brand principals mainly from Europe and the United States, the Group also develops, markets and sells its own proprietary range of dermatological products and health supplement products. In addition, the Group operates a medical hypermart for healthcare professionals, healthcare institutions and retail pharmacies, to supply pharmaceutical products and medical supplies.
Sector & Industry: Pharmaceuticals: Major – Wholesale and Retail Trade
HG Metal Manufacturing Limited was founded in 1971 as a small retailer of steel products. Today, they are one of the leading steel stockists in Singapore. Via a "one-stop supermarket" stockyard and manufacturing facility, they carry more than 2,000 types of steel products, for a wide range of industrial and engineering applications.
Sector & Industry: Financial Conglomerates – Wholesale and Retail Trade
InnoTek Limited specializes in manufacturing precision metal components that are the building blocks for numerous devices that we use every day. The Group's Office Automation and Consumer Electronics Components Division, specializes in key precision stamped components, sub-assemblies and commercial tooling for both the office automation and consumer electronics industries. The division consists of 10 manufacturing facilities in China and Europe.
Sector & Industry: Industrial Machinery – Manufacturing
Established in 1998, Nordic Group Limited is an automation systems integration solutions provider serving marine and offshore. The Group also designs and builds tooling systems, and provides turnkey production solutions to customers in the marine, oil and gas, aerospace, medical and electronic manufacturing services industries.
Nordic Group Limited business are categories into three segments:- (i) systems integration (ii) precision engineering (iii) maintenance, repair and overhaul (MRO) and trading. Customers include ship owners, oil rig owners, shipbuilders and ship management companies such as Beihai Shipbuilding Heavy Industry Co Ltd, Keppel Singmarine Pte Ltd, STX Offshore and Shipbuilding, Shanhaiguan News Shipbuilding Industry Co Ltd, Yangzhou Dayang Shipbuilding Co Ltd, CAM Comopression Oklahoma City Cameron, Taizhou Sanfu Ship Engineering Co Ltd.
Sector & Industry: Marine Shipping – Prof, Scientific & Technical Activities
 Check out the Investor-One Portfolio!
With tools such as performance metrics, quick facts, and information on IPOs, Investor-One is a great resource for investors to keep updated on SGX stocks and discover growing companies.
With the new portfolio tool, you can join the ShareInvestor team on their journey as they curate stocks that feature small and mid-cap companies listed on Mainboard and Catalist.
Check out the LIVE Investor-One Portfolio here or subscribe to their updates here, to get alerts on movement within the portfolio.
Note: This post was sponsored by Investor-One. All views and opinions expressed in this post are from Financial Horse.
For more investing content, follow Financial Horse on Social Media!