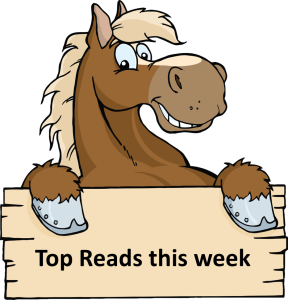 Rounding up top investing articles from around the web, including articles shared in our Facebook Group and Reddit Community: r/SingaporeInvestments.
---
Chinese gaming and social media giant Tencent Holdings has cut its stake in Singapore's Sea Ltd by selling US$3 billion (S$4.07 billion) in shares.
Ahead of the announcement, Sea said Tencent had also agreed to cut its voting stake in the company to less than 10 per cent. "We believe with a lower voting right control, it could reduce any potential conflict if Tencent's gaming teams plan to publish more games directly in global markets and help reduce any potential geopolitical friction if/when Sea plans to expand more strategically into new markets in more countries," Citi's analysts said in a report on Wednesday.
---
After growing competition and a wider profit loss, the latest blow came on Tuesday, when Tencent Holdings Ltd. cut its stake in the gaming and e-commerce giant, driving the stock to its worst slump in almost two years.
Tencent said Tuesday it is cutting its Sea stake to 18.7% from 21.3%, with its voting rights decreasing to under 10%. The move followed an earlier statement from Sea saying it is seeking to increase the voting power of its Class B shares and that Tencent would convert all such stock into Class A shares, resulting in Li becoming the beneficial owner of all outstanding Class B securities. The change, which is subject to a shareholders' vote next month, would effectively increase Li's voting power to about 57% from 54%.
---
The number of million-dollar Housing Board flats tripled last year and resale prices climbed for the 18th straight month as new property cooling measures kicked in at the tail end of 2021. Last month also saw 38 HDB resale flats changing hands for at least $1 million, the highest number of million-dollar flats sold in a month, smashing the previous record of 29 such units in November. The most expensive flat sold last month was a $1.36 million five-room Design, Build and Sell Scheme unit at Natura Loft in Bishan. It is currently the most expensive HDB resale flat on record.
---
Singapore's second-largest health insurer NTUC Income plans to convert its legal structure from a co-operative to a company governed by the Companies Act, to give it a firmer footing amid increased competition in the industry. Income said the planned corporatisation will give it more flexibility to raise funds for its expansion here and in the region, and enable it to offer more competitive products to customers.
---
A person's fully vaccinated status will lapse nine months after the last dose of their primary vaccination series, said the Ministry of Health on Wednesday (Jan 5).
---
"Because the current situation in Singapore is unknown, even fully vaccinated travellers may be at risk for getting and spreading Covid-19 variants," the CDC said in its advisory. It said that if a destination does not provide data, its THN level is designated as "unknown" and travellers are advised to follow THN Level 4 recommendations. Under the highest Level 4 classification, Americans are told to avoid travel to the destination because the infections are very high. Singapore, which was previously classified under THN Level 4, now joins the same classification category as Afghanistan, North Korea and Syria.
---
Novak Djokovic's chance to play for a 10th Australian Open title was thrown into limbo Thursday when the country denied him entry and canceled his visa because he failed to meet the requirements for an exemption to Covid-19 vaccination rules.
"The rule is very clear," Prime Minister Scott Morrison told a news conference Thursday. "You need to have a medical exemption. He didn't have a valid medical exemption. We make the call at the border, and that's where it's enforced."
---
3D Investment Partners, the second-largest investor in Toshiba, has called for a special meeting of the Japanese company's shareholders as it steps up its opposition to a break-up plan, people familiar with the matter said.
---
Mr Kiat Lim, the 28-year-old son of reclusive financier Peter Lim, and 37-year-old Elroy Cheo of the family behind edible oil business Mewah International have founded ARC to create the exclusive community. The pair envision an online club where membership is open to anyone holding the start-up's NFTs, from entrepreneurs to social media influencers.
---
Rajah, who is also Minister in the Prime Minister's Office and Second Minister for National Development, noted that "a desire for better work-life balance, more flexible work arrangements and a greater sense of fulfilment" has fuelled an exodus of employees in the United States and United Kingdom.
Studies commissioned ahead of the JTM launch identified 11 emerging job roles, such as information technology auditors, which will experience growing demand; as well as 13 roles at risk of automation, such as accounts assistants, which will need worker reskilling and job redesign in the next 2 to 5 years.
---
VinFast, a rather obscure automaker from Vietnam, revealed three new electric vehicle models at this year's CES in Las Vegas, the world's largest tech trade show. The move comes less than two months after the company unveiled two electric SUVs at the Los Angeles Auto Show.
It's a bold move by VinFast, a unit of Vietnam's largest conglomerate Vingroup, that was established less than five years ago. But in its home market of Vietnam, people are not surprised. Pham Nhat Vuong, founder and chairman of Vietnam's biggest conglomerate Vingroup, has a solid track record to show that he means business.
VinFast, the first domestic automaker in Vietnam, was started in 2017 with the groundbreaking of a 335-hectare manufacturing complex in the Vietnamese northern port city of Hai Phong. About a year later, VinFast showcased its first car—the state-of-the-art VinFast LUX SA2.0 sedan—at the Paris Motor Show 2018. Less than two years after the groundbreaking of the factories, VinFast delivered its first vehicles to customers in Vietnam. VinFast is now the second best-selling automaker in Vietnam, after Toyota, with 25,527 cars sold in the first nine months of 2021.
---
Minutes from the Fed's December meeting indicated that officials are ready to aggressively dial back policy help.
One key aspect, the central bank's balance sheet, was the subject of extended discussion, with policymakers pointing to a reduction in bond holdings in the coming months.
Members expressed concern about inflation and said the jobs market is nearing full employment.
Stocks slid following the release, while government bond yields rose.
---
Investors dumped shares in many of the technology companies that surged during the pandemic as the looming spectre of higher interest rates prompted them to buy into businesses more tightly linked to the economic recovery.
By contrast, investors have moved into the shares of carmakers Ford and General Motors, as well as banks, including Bank of America and Citigroup. The KBW Bank index is up almost 5 per cent this year, closing in on a record high. Companies in the travel and leisure industry, among the hardest hit during the pandemic, have also risen, with shares in American Airlines and United Airlines, as well as cruise operator Carnival, moving higher. A Goldman index of companies closely tied to the reopening of the US economy in 2021 — which includes mall operator Simon, the hotel group Marriott International and aeroplane maker Boeing — is up 2.5 per cent this year.
---
Sony confirmed its new virtual reality hardware will be called PlayStation VR2.
The headset will work with Sony's PlayStation 5 console, which was released late 2020.
The reveal comes as Facebook-parent Meta and others attempt to capitalize on the "metaverse."
---
The biggest gainer was Elon Musk, who started the year with a net worth of US$156 billion and ended it with around US$277 billion, according to the Bloomberg Billionaires Index. The Tesla founder said he's planning to pay more than US$11 billion in taxes.
His closest competitor and fellow rocket-building billionaire, Jeff Bezos, will enter 2022 worth US$190 billion. That's a mere US$4.5 billion gain since this time last year. The 57-year-old, who stepped down from his CEO role at Amazon in July, now spends most of his free time holidaying with girlfriend Lauren Sánchez.
French luxury goods magnate Bernard Arnault also saw his fortune leap to US$176 billion after hauling in more than US$61 billion. He's the only billionaire outside the US to have cracked Bloomberg's 2021 top 10 list in terms of total wealth.
Looking for a comprehensive guide to investing? Check out the FH Complete Guide to Investing, Stocks Masterclass and REITs Masterclass for Singapore investors.
2022 Stock Watch: Support the site as a Patron and get stock market updates. Like our Facebook Page and join our Telegram Channel for weekly updates!
Join Financial Horse's Investing Community!