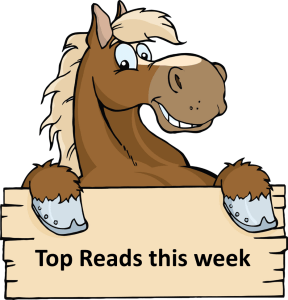 Rounding up top reads from around the web, including articles shared by fellow investors in the Financial Horse Facebook Group.
---
Shates of Yangzijiang Shipbuilding are getting a boost from executive chairman Ren Yuanlin's return to office after a four-month leave of absence to assist the authorities in a confidential probe in Beijing. At 3pm, China's largest non-state owned shipbuilder was trading seven Singapore cents or 6.5 per cent higher at S$1.14 on a volume of 57.7 million, making it the Singapore bourse's most active counter in an otherwise ho-hum session.
On Aug 1, a report by global shipping news service TradeWinds said that Liu Jianguo, who is chairman of Mr Ren's charity was being investigated for disciplinary violations by Beijing's anti-graft body. The report triggered panic selling by investors with Yangzijiang shares diving by as much as 20 per cent on Aug 8 before trading was halted. 
---
For Singapore, it defined the emerging affluent as those with monthly incomes between S$5,000 and S$10,600. Affluent individuals were those with monthly incomes above S$10,600, while high-net-worth individuals were those with assets worth S$1.3 million and above.
In Singapore, the top financial goal for the emerging affluent was saving for retirement, while the affluent prioritised saving for their children's education and high-net-worth individuals prioritised property investments.
Over 70 per cent of Singapore's emerging affluent used savings accounts to do so, with just over 20 per cent using real estate investment trusts (Reits).
Meanwhile, more affluent and high-net-worth individuals parked their savings in equities and Reits – a move that could have helped them grow their wealth faster, the report said.
---
Who is giving it? (and Why?) 
​The first thing to consider is who the giver of advice is - and his/her intentions. 

Generally, you want to be taking advice from (1) trustworthy people you know (2) people who know more than you. 

Everyone has an opinion, but it doesn't mean you have to listen to them. In times of crisis and problem-solving, be selective about whom you get advice from. ​
---
With only a week left for 2019 to close, European shares are on course to log their best gains in a decade as two of the biggest risks to global growth - a prolonged Sino-US trade war and a disorderly exit for Britain from the European Union - eased over the past few weeks.
Following the landslide Dec 12 election victory for Prime Minister Boris Johnson's Conservatives, Britain now looks certain to leave the EU on Jan 31 with a withdrawal deal that includes a transition period lasting until the end of 2020.
---
Former Uber CEO Travis Kalanick is on pace to fully exit his position in the company as he's rapidly sold stock since early November.
The founder's latest sale saw him cash in nearly 2.4 million shares on December 19, bringing his total stake down to about 5.8 million shares, according to a Securities and Exchange Commission filing.
Kalanick has offloaded as much as 10 million shares in a single day, signaling his next sale could liquidate the rest of his position in the company he founded.
The company announced Tuesday morning that Kalanick would resign from its board of directors on December 31, further separating the founder from the firm he created.
---
The sneaker resale market is projected to grow to $6 billion by 2025, with some sneakers are being sold at prices as high as US$50,000 (S$68,000).
Part of the reason sneakers can be so expensive is their rarity - Kanye West's limited edition Yeezy models, for example, sold out in less than 2 hours. Supply and demand ultimately determines the price of any commodity. As a result, we advise aspiring sneaker traders to stay up-to-date on industry news.

---
Microsoft's CEO, Satya Nadella, has a unique approach to his own work-life balance. Instead of separating work and life, Nadella likes to think of it as "work-life harmony." "What I'm trying to do is harmonize what I deeply care about, my deep interests, with my work," Nadella said.
Work-life "harmony" is also how Amazon CEO Jeff Bezos likes to look at things. "I prefer the word 'harmony' to the word 'balance' because balance tends to imply a strict tradeoff," Bezos said in an April 2018 interview with Axel Springer CEO Mathias Dopfner. "It actually is a circle; it's not a balance," he said. ″[I]f I'm happy at work, I'm better at home — a better husband and better father. And if I'm happy at home, I come into work more energized — a better employee and a better colleague," Bezos, who has four children with ex-wife Mackenzie Bezos, told Thrive Global in 2016.
---
Singapore Airlines has been known for decades for offering both Dom Perignon and Krug champagne in its glitzy first class.
It recently started offering a third option, which it plans to alternate with the others: Tattinger Comtes de Champagne.
---
Singapore is set to welcome the world's top 16 Dota 2 teams for the first time next June, with the teams to play for a prize pool of US$1 million (S$1.36 million) at a critical juncture of their season.
The June 20-28 Singapore Major will be the last of five major tournaments on next year's Dota 2 professional circuit that offer qualifying points for e-sports' most lucrative tournament, The International (TI). This year's TI in August featured a record US$34 million in prize money. The winning five-man team, OG, took home US$15 million.
---
Jay Leno refuses to spend on clothes
Graham Stephan hates buying coffee
Barbara Corcoran won't pay for first class
---
You may be surprised that you aren't that much happier.
Many people think that once they achieve financial freedom or leave a job they hate, they'll be permanently happier. But, as I mentioned earlier, research has found that any significant amount of elevated happiness is only short-term.
One a scale of one to 10, my happiness level skyrocketed to a 10 after I was able to negotiate a pretty solid severance. It was enough to pay for five years worth of living expenses. But not too long after that check hit my bank account, I reverted back to my normal post-retirement baseline of happiness.
---
"We don't try to predict macro trends. We're bottoms-up, fundamental long-term investors, and so we don't try to predict that … My guess is volatility will continue, somewhat like we've seen in the last 12 months, which again, I think is generally favorable towards high quality businesses and the businesses that we focus on."
"Most managers will tell you they're high quality and they'll talk about things like the business model and a competitive advantage and management. And those are all true, but they're fairly soft and subjective. We like to fall back on the earnings consistency over a full cycle and kind of 10 years of history.
"We are positioning for a slight cyclical recovery. We're not saying that it's going to be a very strong recovery, but just compared to what we've had in the last year or so. We're expecting a turnaround, so we're being more pro-cyclical in our approach."
"The biggest concern I probably have is that all of these low rates have led to a debt binge and loaded up asset prices everywhere — in private equities, public equities, and venture capital. And so you could have an impending corporate-debt crisis."
"The one sector that's of some particular interest to us is healthcare, for the obvious reasons. Healthcare has been a little bit weaker in terms of price, owing to a little bit of a preelection year, concerns about what might change in the healthcare system, and that has had the effect of putting pressure on healthcare stocks generally. That tends to be a good time to lean into these, and that's sort of what we're doing."
---
Some 18% of investors in Singapore feel that they don't have enough money saved up to retire, according to the Global Investor Study 2019 published by global investment manager Schroders. Even then, this is better than the global average, where 24% of people are concerned that they are not saving enough ahead of retiring.
Sangita Chawla, Schroders' Head of Retirement Savings says, "Singapore has the mandatory Central Provident Fund (CPF) scheme, which is a good foundation but may not be sufficient for most individuals, especially if they have invested most of their CPF savings in their property. Our study found that in order to sustain their retirement lifestyle, non-retired investors in Singapore expect to top up an average of $1,600 per month, while retired investors expect to top up an average of $1,100 per month. This is in addition to their CPF payouts."
"This disconnect is worrying and implies that people globally are not being realistic about the lifestyle they want to enjoy when retired. People are living increasingly longer in retirement and should be able to enjoy their lives after work, safe in the knowledge that their retirement savings will sustain them. However, this study suggests this may not be the case for many," adds Chawla.
---
$100 off

Complete Guide to Investing for Singapore investors
Support the site as a Patron and get market and stock watch updates. Like our Facebook Page and join the Facebook Group to continue the discussion!